The Sydney Desalination Plant in Kurnell has been reactivated.CREDIT:GETTY
CURRENTLY in Sydney despite Level 2 water restrictions our population is increasing, and recent per capita water usage rates have actually increased …
Infrastructure Australia in 2017 projected that household water bills would more than quadruple in real terms because of population growth and climate change, rising from $1,226 in 2017 to $6,000 in 2067. *
AGAIN with vested interests at the Top End … and Beryl's guvmnt pushing for de$al plant$ … over and above recycling …
IT isn't half obvious, is it, what the solution is?
RELATED ARTICLES …
Israel and NSW sign water deal
https://caanhousinginequalitywithaussieslockedout.com/2019/11/22/israel-and-nsw-sign-water-deal/
Australians will have to get used to drinking recycled water
https://caanhousinginequalitywithaussieslockedout.com/2019/07/02/australians-will-have-to-get-used-to-drinking-recycled-water/
UNSW: Sydney's water supply facing multiple threats
By Leith van Onselen in Australian Economy
January 29, 2020 | 3 comments
Emma Johnston, Dean of Science at UNSW Sydney, is the latest to warn that Sydney's water supply is under threat from a combination of population growth, reduced rainfall, greater evaporation, and contamination from bushfires. Therefore, more desalination plants will need to be built:
With water restrictions increasing around NSW and talk about Sydney moving to level three sanctions, people are starting to ask what happens if the city's water supply becomes critically low?

The prognosis is not good.

*Long-term climate forecasts show the drought continuing for a long time. In addition, our population is increasing and recent per capita water usage rates have actually increased.*

Now there is a new threat: the increased risk, severity and extent of bushfires in Australia as a result of climate change…

An enormous amount of ash and debris has built up in water catchment areas as a result of the fires. Our declining supply of fresh water has inevitably suffered some form of contamination, and this will only get worse when the first decent rains fall.

Compounding matters, the bushfires have destroyed much of the river-side vegetation, which acts as a barrier to erosion, meaning run-off and sedimentation will increase.

This combination of factors has very serious potential consequences for our drinking water…

Big cities, regional centres and small hamlets are all going to need more sources of potable water…

Desalination is expected to become an increasingly critical water source for many coastal populations.

Australia has an enormous coastline and we can afford to do desalination well.
Let's get real. The main driver of Sydney's budding water shortage is mass immigration.
Sydney's population has grown by around 1.3 million people (36%) since the Sydney Olympics, and it is projected to grow by another 4.5 million people over the next 48 years – all due to mass immigration: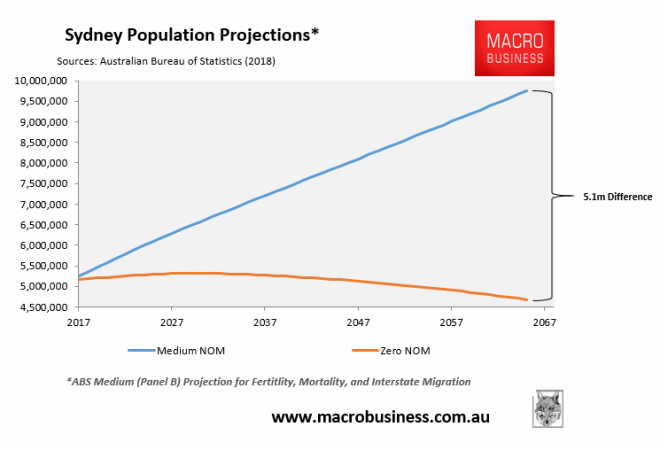 This population explosion will necessarily require a battery of desalination plants to be built along Sydney's coast. And given desalinated water is around four times as expensive as traditional dam water: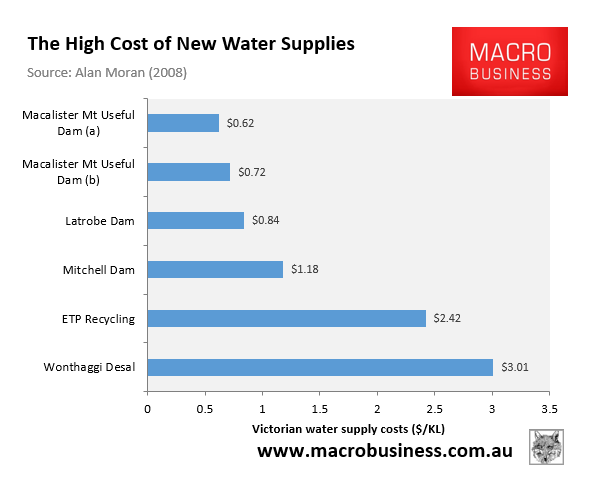 This necessarily means household water bills will rise dramatically, which will adversely impact lower income households in particular.
Indeed, modelling (Deleted?) by Infrastructure Australia in 2017 projected that household water bills would more than quadruple in real terms because of population growth and climate change, rising from $1,226 in 2017 to $6,000 in 2067. *
The report also warned that "the impact of these changes on household affordability could be substantial… and could lead to significant hardship":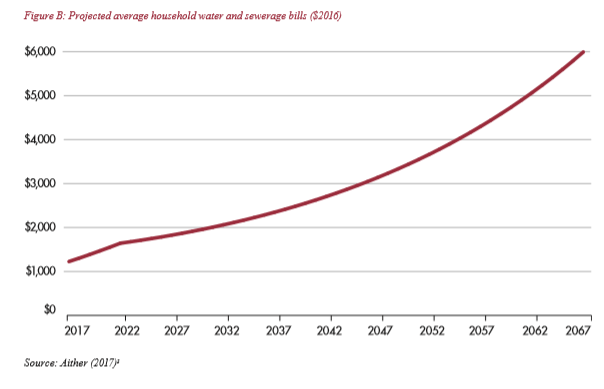 Here is another example of how the mass immigration 'Big Australia' policy is wrecking the living standards of the working class.
Australia's mass immigration policy is now the key threat to Australia's water security.
Leith van Onselen is Chief Economist at the MB Fund and MB Super. Leith has previously worked at the Australian Treasury, Victorian Treasury and Goldman Sachs.
SOURCE: https://www.macrobusiness.com.au/2020/01/unsw-sydneys-water-supply-facing-multiple-threats/
NSW Premier Mike Baird, pictured during an April 2016 trip to Israel.
IF you are fed up with the Housing PONZI Scheme and want to change this …. message us through our Facebook link here below for a Campaign Plan! 
CAAN FACEBOOK:
https://www.facebook.com/Community-Action-Alliance-for-NSW-744190798994541/?ref=aymt_homepage_panel
WEBSITE:
https://caanhousinginequalitywithaussieslockedout.wordpress.com/