MAKE No Mistake … this is an offensive report …
Many Australians are vexed … annoyed,  and offended by the disrespect and hatred for our Community, Our Society … and are outraged by the dirty BLACK MONEY awash in our domestic housing market … that has been allowed by the Scomo Government …
Australians have been shocked and dismayed by the hateful and politically damaging flyers circulated by the Chinese CDP across Sydney including Bennelong and Hurstville.  
 We are not aware of any prior migrant group conducting such an attack on our Democracy!  Why is this being ignored?
Chinese-Australians have had a gutful of politicians' tokenism
SHARE!
LO: When I got word about Bill Shorten's first live appearance on Chinese social media platform WeChat, I knew the Australian Labor Party was in damage control. To strengthen his appeal, Shorten rolled out Jennifer Yang, Labor's federal candidate for Chisholm (who is of Taiwanese-Australian heritage) and attacked the Coalition government's attempts to water down Section 18C of the Racial Discrimination Act and the emergence of hate speech, and professed the need to preference One Nation last and his commitment to a multicultural Australia.
CAAN:  Is the writer indicating a bias against the Taiwanese?  Australians have been shocked and dismayed by the hateful and politically damaging flyers circulated by the Chinese CDP across Sydney including Bennelong and Hurstville.  
We are not aware of any prior migrant group conducting such an attack on our Democracy!  Why is this being ignored?
This is but one example!
Is Australia still a Democracy?  Pull the 'Racist Card'!
https://caanhousinginequalitywithaussieslockedout.wordpress.com/2019/03/29/is-australia-still-a-democracy-pull-the-racist-card/?fbclid=IwAR3XU5LIGeQk3E-to9k2tZNzXG8naLIJSrZSOQ8R-2V0SCHVU0YTxpZ6X-s
LO:  When it comes to engaging multicultural voters, Shorten has made the same mistake that most of our politicians make – seizing on multiculturalism and migration as if these are the only issues we "ethnics" and "migrants" care about. Shorten's WeChat moment is political tokenism at best, a horrible insult to Chinese-Australian voters at worst.
It demonstrates the "us and them" mentality is alive and well in Australian politics.
It shouldn't be a surprise when I say Chinese-Australian voters are just like other Australian voters. We are interested in policies that affect our everyday lives, how our MPs present themselves and the election promises they bring to the table.
An exclusive poll conducted by media agencies Anomaly and Identity Communications on Chinese-Australian votes during the 2016 federal election found the top issues of concern were the economy, health and tax.
CAAN:  Why does Lo distinguish his people as 'Chinese-Australians', and not as Australians?  Australians do not describe themselves as anything other than Australians. Do we hear of Japanese-Australians, Welsh-Australians, French-Australians, German-Australians, New Zealand-Australians, Canadian-Australians?
Is it true that the top issues of concern for Chinese are the economy, health and tax? Is that because unlike prior migrant intakes they have enjoyed the opportunity to invest in Australian Real Estate and gain Permanent Residency?  To gain the benefit of Medicare, and minimise tax through business?
LO:  Labor's proposal to end negative gearing on existing homes and cut capital gains tax concessions were unpopular, which would have had a hand in Labor losing the multicultural seat of Chisholm in Melbourne's eastern suburbs, the only seat Malcolm Turnbull's team managed to snatch off Labor. 
CAAN:  More misinformation from Lo … Fact:  Investors with Established Homes will have their investments Grandfathered.  The Labor Policy is about encouraging investment in 'new homes'.
LO: In the NSW election, Daley's damaging comments aside, the fact is the Coalition government ran a more effective campaign, led by its $90 billion infrastructure program, including roads, rail, hospitals and schools.
CAAN:  The Berejiklian Government sadly was returned despite the destruction of Our Communities, Society, Heritage, Neighbourhoods, Bushlands, and Farmlands …
with OVERDEVELOPMENT … our local roads are choked, trains and buses are full-up, little children crammed into demountable classrooms with no air-conditioning, and these demountable buildings are covering where once there were playgrounds … a consequence of the population explosion!
LO:  Likewise, in my home state of Victoria, Daniel Andrews' Labor government invested heavily in big-ticket items in education, health, roads and public transport, including an airport rail. Andrews didn't merely retain government but increased Labor's majority by winning a number of seats in Melbourne's east – traditional Liberal heartland with a large Chinese-Australian population.
CAAN:   Under decades of neglect by a dogma-driven LNP Victorians were sick and tired of having no progress when it came to schools, hospitals and transport.  What Andrews is doing is rectifying what had been neglected for decades!
LO:  The Liberals not only out-campaigned Labor in NSW; they  had more candidates of Chinese heritage. There was tokenism in this, too. Most were relegated to marginal and non-winnable seats. But the Liberals used Scott Yung to full effect in  Kogarah, where he achieved an 8 per cent swing. It was not enough to oust Labor's Chris Minns – a strong contender to replace Daley as opposition leader – but Yung is now in the running to take federal Liberal preselection in Reid.
CAAN: Scott Yung sought promotion through China's state-run CCTV4, and by posting endorsements from big-name Chinese celebrities.  The CCTV story concluded seeking more opportunities for Chinese-Australians in Australian politics.
The story was promoted on *WeChat again including Chinese celebrities endorsing Yung, President of the Liberal Party Chinese Youth Council. 
Does it not seem that through an enormous state-run Chinese TV audience and WeChat that this is contrary to our Australian democracy?

Lo, who are you talking about?  A western democracy put under the microscope by an autocracy.  This is B.S.  …. looks like you have lost the plot, afterall is this Australia and Australians justifying themselves to the preferences of, or the prejudices of an autocratic state?   
LO:  I've been told by Chinese-Australian Sydneysiders that the state Liberals held regular business and community forums at the grassroots level, connecting with Chinese-Australian voters, while Labor was nowhere to be seen.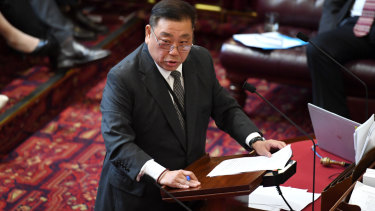 CAAN:   Are we talking about Australian-Chinese here? 
LO:  Labor dropped the prominent Chinese-Australian Upper House MP Ernest Wong and replaced him with a union official. That left the Chinese-Australian community with no representation in NSW Labor. If our community matters to state Labor, why not replace Wong with a prominent Chinese-Australian?
CAAN:  In reply to Mr Lo it would seem the following explains why Ernest Wong was dropped … upon reviewing our Website, there is a "deep and real concern" inside ASIO about the Chinese Communist Party's secret interference to influence operations in Australia.
Four Corners:  Asio Investigation targets Communist Party links to Australian political system
Mr Wong's fundraising and Chinese community leadership also brought him in the orbit of organisations controlled by the secretive lobbying arm of the Chinese Communist Party, the United Front Work Department (UFWD).
LO:  Chinese-Australians have had enough of the political tokenism displayed by all sides of politics.
We are not political cannon fodder and we no longer want to serve as cash cows and walking ATMs at fundraising dinners. We're tired of having candidates in non-winnable seats. We want to be recognised for our commitment to Australian democracy.
CAAN:  Does Mr Lo and his Cohorts see themselves as special?  Why does this community engage in fundraising dinners if not …. ?
Scomo Lost his Appetite for Chinese Fundraising Dinner
https://caanhousinginequalitywithaussieslockedout.wordpress.com/2019/03/30/9814/?fbclid=IwAR2WYAs8Hsa4Xd9TkzLxBSSRW2V_9ZvSlcuW0B-X4bV7O6k7bjC9Y_p6mRQ
CAAN FACEBOOK:
https://www.facebook.com/Community-Action-Alliance-for-NSW-744190798994541/?ref=aymt_homepage_panel
WEBSITE:
https://caanhousinginequalitywithaussieslockedout.wordpress.com/