WONDER how this MOU with Israel came about? Cough … cough …
At a time their president is being charged for corruption.
NSW is enduring its worst drought yet … exacerbated by the Growth of 100,000 Precinct slums … rapidly depleting our WATER Supply with having to quench the thirst and wash ever more vibrants …
More costly water rates due to the Housing Ponzi Scheme … from whence did that come about? Cough … cough … Costs in the $Thousands more for annual water rates …
How come they had to seek expertise from overseas … when we have leading scientists and engineers in Australia? The CSIRO?
NOTE … 'Circa. 40 years ago, Israel's farmers used Australian drip feed technology to water orchards and fields.'
MIKE BAIRD former NSW Premier in 2016 visited Israel … the envoy, the emissary for who/what?
'The NSW Government has confirmed that while in Israel, the Premier signed an agreement committing NSW and Israel to invest $2 million into co-operative start-up and innovation projects, including those focused on "agribusiness and water management".
View: https://newmatilda.com/2016/04/27/mike-baird-sponsoring-illegal-occupation/
Related Article:
https://www.aljazeera.com/news/2016/06/israel-water-tool-dominate-palestinians-160619062531348.html?fbclid=IwAR2b1aVN1kgDA1FTNXvRbalLQdAtgfUsXAuhuDrYjd472N5CQSu8mztTp0Y
HISTORIC' PARTNERSHIP
Israel and NSW sign water deal
A 'historic' memorandum of understanding on water cooperation was signed this week between Israel and New South Wales.
November 7, 2019
Yuval Steinitz and Melinda Pavey. Photo: Yossi Zamir
ISRAEL will help to solve Australia's water woes, as part of a new agreement signed in Jerusalem this week.
NSW Water, Property and Housing Minister Melinda Pavey ratified a memorandum of understanding (MOU) with her Israeli counterpart Yuval Steinitz, and hailed Israel as "the world leader" in water recycling and reuse, desalinating water, and in water efficiency. Her office called the agreement "historic".
Yechezkel Lifshitz, deputy director general of water resources at Israel's Energy Ministry, told The AJN that while the agreement was signed with NSW, he hopes it will lead to Israel helping Australia's water management nationally.
The Min. of Energy and Water of Israel and the Min. of Water Resources of New South Wales signed in Jerusalem an MOU on water cooperation. As a world leader in water technologies,we are indeed excited to share our experience with Australia, further cementing our bilateral ties.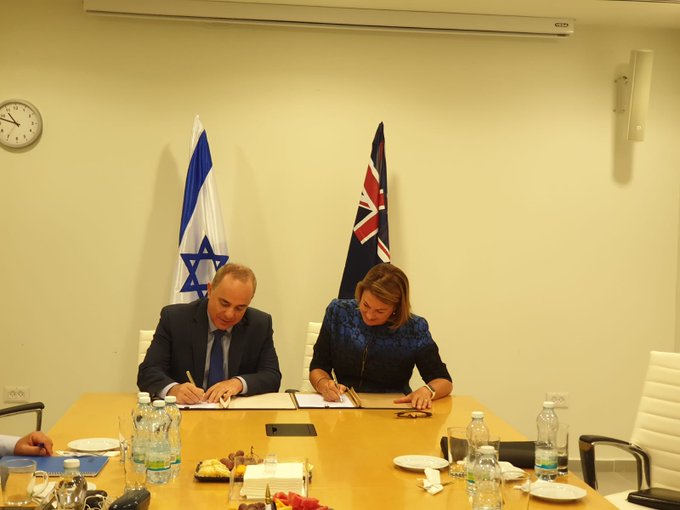 237:33 AM – Nov 5, 2019Twitter Ads info and privacySee Mark Sofer's other Tweets
The agreement is expected to thrust Israeli ideas and innovation to the centre of efforts to get NSW through the drought, and prevent future water crises. Pavey said that NSW has much to learn from Israel, which shares the experience of severe drought and faces "very similar challenges".
She marvelled that Israel "has virtually drought-proofed its cities and continues to provide farmers with water".
"In NSW, we're improving water security and efficiency, and this ongoing relationship with Israel will provide us with invaluable insights into how we can improve this."
Israeli drip irrigation is "probably one of the most water-efficient irrigation methods available", she said, adding that innovation in all areas of Israel's water management can help inform future water planning and infrastructure in NSW.

It was our pleasure and honor to host Hon Melinda Pavey, NSW Minister for Water, Property and Housing and her delegation in TaKaDu offices in Israel yesterday.

TaKaDu is proud to help our customers in NSW @SydneyWaterNews and @HunterWater in their water efficiency efforts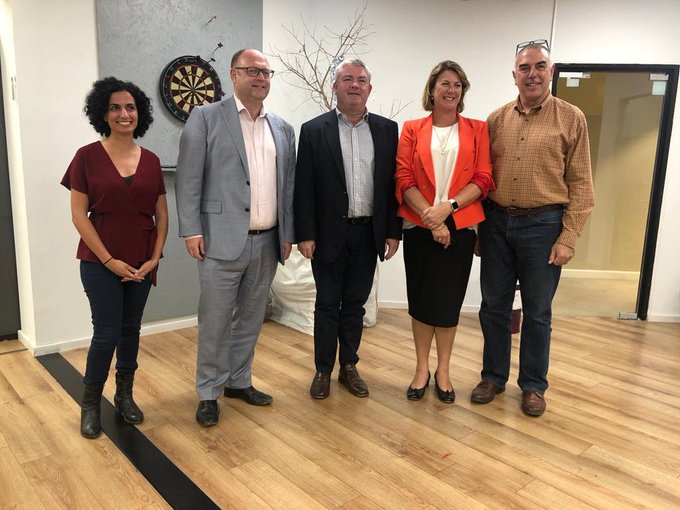 710:03 PM – Nov 4, 2019Twitter Ads info and privacySee TaKaDu's other Tweets
Pavey was in Israel for two days, and toured with the Australia-Israel Chamber of Commerce, visiting water recycling facilities and the offices of high-tech companies that work with water. "She loved it and wants to come back," said Paul Israel, the chamber's CEO.
Lifshitz said, "Australia faces severe drought now, and since Israel has also faced droughts in the past, including recently for five years in a row, we have lots of expertise that we are happy to share."
The MOU doesn't specify what form cooperation will take, but Lifshitz said that it is expected to start with experts from the two states meeting. Israeli water technology is expected to become more common in Australia.
Entrepreneur Amir Peleg hosted Pavey at his company TaKaDu, which provides systems that cut down leakage, and already sells to Australian corporations including Sydney Water and Hunter Water. He said he had "no doubt there will be an increase in cooperation".
Lifshitz said that his ministry outlined three main areas in which Israeli water management can provide ideas for Australia: reuse of water, making desalination commonplace, and reducing waste of water.
Meanwhile, the spokesperson of the Israeli Water Authority, Uri Schor, was in Sydney this week for a series of meetings with Sydney Water.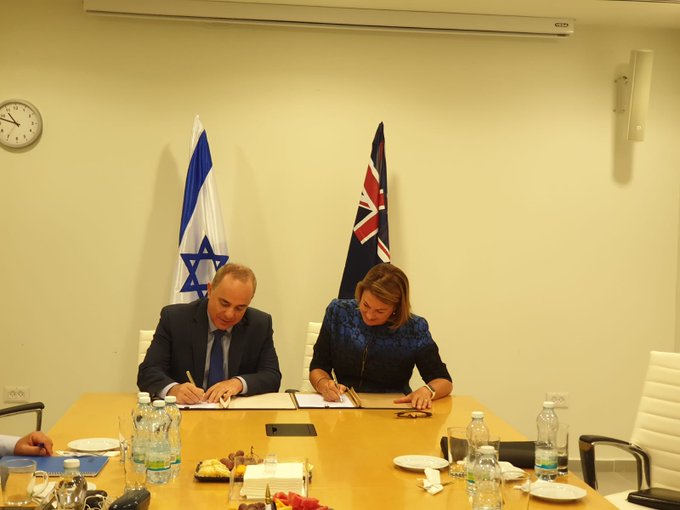 SOURCE: https://ajn.timesofisrael.com/israel-and-nsw-sign-water-deal/?fbclid=IwAR0zNwNnOo03sekJ8n-GeAZCLIe2kMTGfDGjgYSnFJAX5ZHD6f9Z1kTPO3I
CAAN FACEBOOK:
https://www.facebook.com/Community-Action-Alliance-for-NSW-744190798994541/?ref=aymt_homepage_panel
WEBSITE:
https://caanhousinginequalitywithaussieslockedout.wordpress.com/