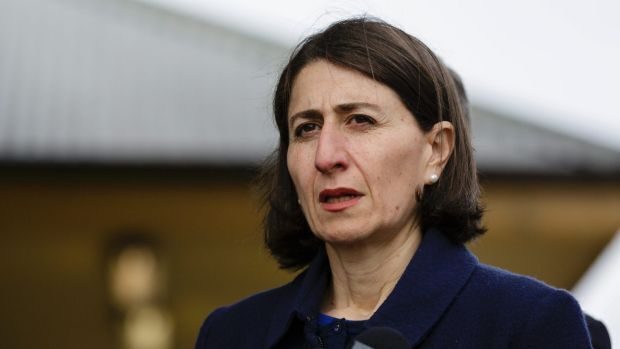 LINKS to reports from 'Sydney Criminal Lawyers' … on Teflon Gladys
NSW Premier's Office Accused of Corruption
30/10/2020 BY SONIA HICKEY
The potentially unlawful shredding of documents relating to $252 million in grants could finally be the nail in the coffin of New South Wales' Premier Gladys Berejiklian,
The story so far
A NSW Parliamentary Committee investigating the $252 million Stronger Communities Fund has been told by two senior staff members of the Premier's office that 'working notes' sent between Ms Berejiklian and her senior staff member Sarah Lau with regard to grant allocation, were physically shredded, and then digitally deleted, in what was "not routine practice".
The revelations have resulted in fresh calls for the Premier to resign, amid concerns her staff may have acted unlawfully in disposing of the papers.
READ MORE!
https://www.sydneycriminallawyers.com.au/blog/nsw-premiers-office-accused-of-corruption/
Teflon Gladys. Is it Time for the NSW Premier to Resign?
13/11/2020 BY SONIA HICKEY & UGUR NEDIM
NSW Premier Gladys Berejiklian has faced scrutiny recently over her involvement in – or at least wilful blindness in the face of – allegations of corruption by members of her Party.
Just a few weeks ago, NSW residents were polarised over whether the Premier should resign after admitting to a long-term, secret personal relationship with disgraced former MP Daryl Maguire; during which the pair discussed the latter's questionable business dealings.
Shielded by the mainstream media
The narrative put forth by parts of the mainstream media was that the Premier's personal life and poor relationship choice should not prevent her from continuing in her position.
But, perhaps the real question should have been: Did Ms Berejiklian know about, or at least turn a blind eye to, her partner's potentially corrupt conduct, and breach her duty under the law to report it?
READ MORE!
https://www.sydneycriminallawyers.com.au/blog/teflon-gladys-is-it-time-for-the-nsw-premier-to-resign/
Allocating Millions Without Documentation. So What? Says Berejiklian
02/12/2020 BY PAUL GREGOIRE
The rules pertaining to proper conduct applying to all citizens of this state, as well as less senior politicians, don't apply when it comes to the NSW premier, according to the suspect actions and excuses of current office-bearer Gladys Berejiklian.
The latest scandal to beset the state's leader – and perhaps the most damning – involves her signing off on a suite of council grants adding up to $141 million, much of which just happened to be allocated to councils in Coalition-held seats in the lead up to the last election.
Berejiklian is not the only minister to have signed off on the grants in order to "curry favour" within the community.
The $252 million grants rort – 95 percent of which was allocated to Coalition regions – saw deputy premier John Barilaro and a former local government minister giving biased approvals too.
READ MORE!
https://www.sydneycriminallawyers.com.au/blog/allocating-millions-without-documentation-so-what-says-berejiklian/
2021
NSW Premier's Office Acted Illegally, But Won't be Prosecuted
25/01/2021 BY SONIA HICKEY & UGUR NEDIM
An investigation by the State Archives and Records Authority (the 'SARA') has found that the New South Wales Premier's office broke the law when they shredded documents relating to $252 million in grants.
However, there is no indication any charges will be laid or that the premier or her office will be made legally accountable for their misconduct.
The law
The State Records Act 1998 (NSW) requires public officers to protect and retain a range of records.
Section 11 of the Act is titled 'Obligation to Protect Records' and requires that:
(1) Each public office must ensure the safe custody and proper preservation of the State records that it has control of.
(2) A public office must ensure that arrangements under which a State record that it has control of but that is in the possession or custody of some other person include arrangements for the safe keeping, proper preservation and due return of the record.
(3) A public office must take all reasonable steps to recover a State record for which the public office is responsible and that the public office does not have control of, unless the record is under the control of the Authority or of some other person with lawful authority.
Under the government's formal requirement for ministers' offices records, and a requirement of the act, "briefing notes or papers maintained in the Premier's Office" are "required as state archives."
Section 21 of the Act further requires that a person must not 'abandon or dispose of a State record', nor 'damage or alter a State record.'
The maximum penalty for the offence is a fine of $5,500, which applies to each breach.
The shredded documents are certainly state records for the purposes of the Act.
READ MORE!
https://www.sydneycriminallawyers.com.au/blog/nsw-premiers-office-acted-illegally-but-wont-be-prosecuted/
Teflon Gladys: Inquiry Hears Fresh Evidence of Corruption
02/02/2021 BY SONIA HICKEY
Premier Gladys Berejiklian has attracted media headlines yet again as the New South Wales parliamentary inquiry into the allocation of government grants heard fresh reports of corruption.
Summary approval
The inquiry into the Integrity, Efficacy and Value for Money of NSW Government Grant Programs heard that the Premier approved a $20 million grant in Wagga Wagga without going through the required approval process.
Moreover, the grant was announced during the Wagga Wagga by-election that was sparked by the resignation of Daryl Maguire over corruption claims; Mr Maguire is, of course, the person with which Ms Berejiklian had a 'secret relationship' during that time.
READ MORE!
https://www.sydneycriminallawyers.com.au/blog/teflon-gladys-inquiry-hears-fresh-evidence-of-corruption/
Gladys Berejiklian Referred to ICAC Once Again
19/03/2021 BY SONIA HICKEY & UGUR NEDIM
The New South Wales Upper House has referred Premier Glady Berejiklian to the state's corruption watchdog, which is already investigating the business dealings of her former partner Daryl Maguire.
Conflict of Interest
The motion asserts that the NSW Premier failed to declare a conflict of interest when dealing with road upgrades.
In that regard, there are concerns that Ms Berejiklian met with Mr Maguire about an upgrade to a road more than 100km from his Wagga Wagga electorate, which runs past two investment properties he hoped to use as short-term rental accommodation.
It also alleges the Premier failed to disclose a conflict of interest when planning the M9 Outer Sydney Orbital; a project in relation to which Mr Maguire stood to obtain a financial benefit from.
"Mr Maguire stood to profit from both the upgrade of the Cobb Highway and from knowledge of the M9's route. He was the premier's partner at the time," Labor leader in the Upper House Adam Searle said
READ MORE!
https://www.sydneycriminallawyers.com.au/blog/gladys-berejiklian-referred-to-icac-once-again/