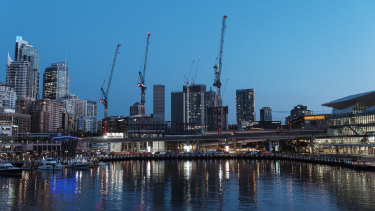 WILL a warning from the NSW Building Watchdog to shonky builders prove adequate? 
AFTERALL … one must question why NSW INC has struggled to implement the building industry reforms recommended by the Shergold-Weir Report over two years ago … and that of Michael Lambert?
WHAT or WHO have been stopping them?
IS it the Boss at the top of the pile? The UnderBoss, the Consigliere, Caporegime or Soldiers … or Associates?
Why hasn't the Clerk of Works position been restored for these high-rise and Precinct developments?
Angus Thompson and Matt O'Sullivan write, 'Dodgy builders warned against exploiting coronavirus construction push'
PRIOR to this Leith Van Onselen in his article, 'NSW Government lets dodgy builders off the hook'
Referred to …
'Geoff Hanmer, Adjunct Lecturer in Architecture at UNSW, claims that proposed NSW Government reforms to building certification will let dodgy developers off the hook.
The New South Wales government is struggling to implement building industry reforms recommended by the Shergold-Weir report over two years ago.
Developers are home free in its proposed legislation; the Design and Building Practitioners Bill doesn't even mention them. They still appear to be in a position to collect the profits and then phoenix themselves if something goes wrong.'
HOWEVER, now it seems Mr Hanmer has been listened to!   Because as revealed in this report of Angus Thompson and Matt O'Sullivan, 'Dodgy builders warned against exploiting coronavirus construction push'
'NSW Building Commissioner David Chandler said the government's plans to improve building quality, a separate legislative reform, would ensure there would be no "lessening of standards" in the sector while it sought to push through development applications during the COVID-19 crisis.
"I see all of this as terribly complementary," Mr Chandler said.
He added that a planned tool to identify "risky players" would help detect operators, including companies that close down and reopen as another to avoid debts and other liabilities, who would otherwise exploit the economic climate.
"Anybody who's been involved in phoenixing is going to get very, very early and intense attention," he said.
The government is moving to fast track significant developments, rezonings and development applications, and make more ministerial approvals, in a bid to stimulate the economy.
Mr Stokes said the government was redirecting resources and fast-tracking the assessment of projects that create jobs and investment.
"Let me be very clear: this process is not about approving projects without merit," he said.
"This is about identifying the best projects to promote jobs and opportunity in the right places for the people of NSW, through the same stringent safeguards and community consultation that ordinarily apply."
In response to the Urban Taskforce list of 'shovel-ready' housing projects, Bates  Smart architect and government advisor, Matt Davis raised the concern that the push to stimulate economic growth could come at a cost to good design.
'City of Sydney councillor and architect Philip Thalis echoed Mr Davis's sentiments, warning that fast tracking projects would save only a matter of weeks or months but leave Sydney stuck with developments for a long time.
"The government needs to be very careful about what they fast track, the last thing we need to be fast tracking are deals for developer mates," he said.
Labor planning spokesman Adam Searle said:
" … If fast tracking means you don't adhere to the existing planning controls or you reduce the standards, then you will simply be dooming us to the mistakes of the past. We have to learn the lessons of Mascot and Opal towers," he said.
If one views the URBAN TASKFORCE most recent list of 'shovel-ready' projects among the developers listed are those that have gained some notoriety … to say the least …
https://www.urbantaskforce.com.au/wordpress/wp-content/uploads/2020/04/200408-Treasury-DPIE-Submission-Public-version-1.pdf?fbclid=IwAR3WqEvU3XDRmUs1q-Sv3apKvxWZUR66CG3fQ3VI5NfKjwRkYdBw-0_ylbw
READ MORE! SOURCE: https://www.smh.com.au/national/nsw/dodgy-builders-warned-against-exploiting-coronavirus-construction-push-20200414-p54jqm.html