LOOKS like the CoronaVirus could foil the Urban Taskforce and NSW INC plan to fast-track more development for those from whence the contagion came …
NEWS Reports this evening that international travel is looking dead …
perhaps the Urban Taskforce and NSW INC sell-out plot for more development in NSW too will die despite the 'NSW Govt expedites Development … again … ' through the 'Environmental Planning and Assessment Act 1979' … No 203, 10.17 COVID-19 pandemic—Ministerial orders
THIS is their evil amendment to this butchered Act …
(1) During the prescribed period, the Minister may, by order published in the Gazette, authorise development to be carried out on land without the need for any approval under the Act or consent from any person.'
THIS was to maintain a pipeline of work through the Covid-19 crisis, but rather than addressing the demand from International Real Estate Tourists the development sector will need to concentrate on building homes for the local market of Australian First Home Buyers, those who have lost their homes in the recent BushFires, and others needing more suitable housing …
AND … what of Our Homeless with more than 100,000 homeless? Most of our Public Housing Estates bulldozed for private redevelopment … with reduced international demand OBVIOUSLY there will be less requirement to bulldoze our suburbs … hm?
WHEN Australia progresses beyond the lockdown the news reports today advised that future holiday travel will be within Australia … it will take a long time before other nations will be deemed 'trusted Nations' … and with that a return to 'international real estate tours' …
THE housing/population Ponzi began when the Howard Government threw open the flood gates in the early 2000s on the back of the solution developed by then Department of Immigration official Abdul Rizvi.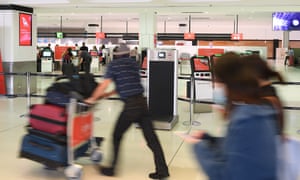 The Guardian: Photograph: Dan Himbrechts/AAP
Questions are raised as to why the alleged solution to everything is more immigration
Leith Van Onselen at Macro Business wrote, 'Abdul Rizvi's Solution to everything is more immigration'
'Australia has run one of the strongest immigration programs in the world since the Howard Government threw open the flood gates in the early-2000s on the back of Abul Rizvi's policy!'
Abul Rizvi was a senior official in the Department of Immigration from the early 1990s to 2007 when he left as Deputy Secretary. He was awarded the Public Service Medal and the Centenary Medal for services to development and implementation of immigration policy, including in particular the reshaping of Australia's intake to focus on skilled migration.
https://independentaustralia.net/profile-on/abul-rizvi,975
Key Points … following the Big Australia policy change:
-Australia's population growth has dwarfed other developed nations at more than 2.5 times the OECD average
-our GDP per capita growth lags behind that of the OECD; despite the once in one hundred year mining boom
-over the most recent decade Australia's per capita GDP growth lagging all other major advanced nations
–Australian households recording zero real disposable income growth over the past seven years
.the last decade providing the lowest annual average growth in 60 years
-the sluggish household income growth was driven partly by Australia's chronically high underemployment and labour underutilisation
.which has created chronic labour market slack and held down wage growth
.currently 2.3 million temporary migrants remain in Australia
.with high unemployment and underemployment
.108,000 places for 'skilled' workers from the permanent migrant intake
The consequences of the high immigration and visa manipulation have meant that both infrastructure and housing in the major cities are crush loaded.
'Once the coronavirus crisis has passed, and international travel bans are lifted, the Morrison Government must ignore Abul Rizvi and send large numbers of "temporary" visa holders back to their home countries, as well as halve the permanent migrant intake.
This is the only way to better balance labour supply with demand, as well as safeguard living standards. It would also merely return immigration levels back to sustainable historical norms.'
READ MORE!
Abdul Rizvi's Solution to everything is more immigration: https://www.macrobusiness.com.au/2020/04/abul-rizvis-solution-to-everything-is-more-immigration/