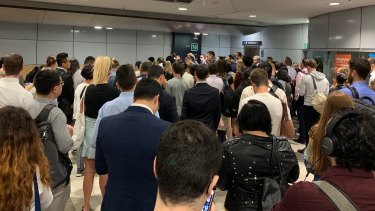 HOW RISKY IS IT LIVING IN A HIGH RISE APARTMENT?
APART from …
-the lack of personal space
-limited privacy
-noise intrusion
To name a few disadvantages … what about the following especially in this time of the Covid19 Pandemic …
This virus survives on metal surfaces so …
-how safe are those handrails on the stairwell?
-how safe are those handrails in the lift or the buttons in the lift?
-how safe are those front door handles at the main entry?
–how many times a day and night are all these surfaces disinfected?
AFTERALL high-rise high-density living was imposed upon us in Australia through developers lobbying to make a MOTZA (storey upon storey) by selling overseas particularly in China (with its 1.4 Billion People) up to 100% of the 'new homes'!
-*millions of Chinese have flown to Australia on Real Estate Tours at least *doubling the number of dwellings now on this Planet emitting Co2! *
KEY POINTS made by the Planning Professionals in this Report in 'The Fifth Estate':
'Planning in an era of COVID-19 and high density living'
-most likely, population density is playing a role in transmission rates
-densely populated places such as Hong Kong and Singapore managing the spread better than countries that have a more dispersed urban form
.however Singapore is now experiencing a second wave
-high density cities such as Barcelona and Madrid aren't faring so well; the key being social distancing and isolation
-coronavirus might make people reconsider the desirability of some of the most high-density housing stock
–people won't want to be riding in lifts or touching shared surfaces as much
-the pandemic has driven up the value of parks and other public spaces
–community infrastructure needs to be on an equal footing as with pipes and roads
-from development contributions and the "broader public purse"; developers must cut their massive profits from dwelling construction at estim. * $200,000 each *
–planning regulations were devised for public health
.for fresh air circulating, separation between dwellings, setbacks, lots of natural light, and to reduce crowding
-many high-density interior layouts "might not be ideal"; need for more private enclosed spaces within dwellings
-health implications of the development of Green Square; larger family units bought dwellings designed for singles or couples
NOTE … CAAN has learnt through notification of a Contributor who went to buy an apartment in ASQUITH recently only to learn that it was not available because buyers could only purchase 'a level'!
Level 1, 2, 3 … and that the development was marketed overseas not in Australia!
READ MORE: https://www.thefifthestate.com.au/articles/where-does-covid-19-leave-high-density-living/?ct=t%2826+march+2020_COPY_01%29&mc_cid=11813bc949&mc_eid=%5BUNIQID%5D&fbclid=IwAR2GMnmhkovm4RqX35utJzRCdltAX6wjW80J0wer6FN-vO5M6UyjmX-tdpI