AS we wrote earlier today … we have now located this ABC report for your information … 'Face masks debate: WHO consider evidence for widespread face mask use, as US set to change its advice' …
HERE it is from the Professionals who might know somethin' …
Australian Medical Association vice president Chris Zappala said evidence around coronavirus was emerging quickly.
"The AMA remains quite comfortable with the current advice around use of masks and limiting surgical mask use largely to healthcare facilities and people who are unwell," Dr Zappala told the ABC.
"But clearly this is a rapidly changing space, and we need to — with our epidemiologists and our healthcare workers — keep up to date with the evidence, and be prepared to shift our guidance if that evidence suggests so."
Dr Zappala said widespread face mask use could inadvertently give people a false sense of security.
"A huge number of people wear those masks improperly — they take them on and off, they touch them, they don't change them after a few hours … or when they get wet," he said.
"There is a whole mix of evidence that needs to be taken into account and it is being considered.
"Let's wait until we know for sure what the evidence is telling us … and then we can make the appropriate recommendations."
Dr. Mike Ryan, WHO Exec. Dir. of Health Emergencies Program: "There is no specific evidence to suggest that the wearing of masks by the mass population has any particular benefit. In fact, there's some evidence to suggest the opposite…"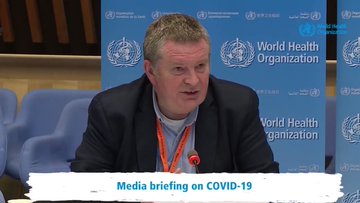 READ MORE! https://www.abc.net.au/news/health/2020-04-03/who-assess-face-mask-use-general-public-coronavirus/12118042?utm_medium=spredfast&utm_content=sf232302442&utm_campaign=abc_news&utm_source=m.facebook.com&sf232302442=1&fbclid=IwAR2phtgUr39foBEMbY2ig_vU11Ci2fWyeaeF9tiwIzmWsdEhT8lK8mQdUd0