UPDATE!
Nick McKenzie and Anthony Galloway write in the SMH, 1 APRIL 2020, "Profiting from a pandemic: former Chinese officer accused of huge COVID-19 mark-ups'
https://www.smh.com.au/national/profiting-from-a-pandemic-former-chinese-officer-accused-of-huge-covid-19-mark-ups-20200401-p54g4h.html
'A former Chinese military officer who sent tonnes of protective equipment from Australia to China during the height of the Wuhan coronavirus outbreak has been accused of profiteering from the disaster, with medical supplies allegedly inflated in price by up to 300 per cent.
Warnings circulated by several insiders allege that the company run by former People's Liberation Army officer Kuang Yuanping sold tens of thousands of medical protective coveralls in late February to Australian property developer Risland for $2.2 million.
Risland then flew the goods to China.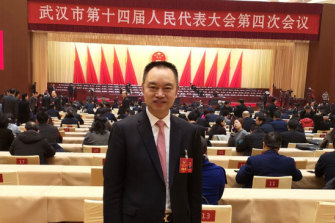 Leaked documents allege that Mr Kuang's sale price to Risland of $25 for each item was far higher than market value, with identical items on sale in Australia at the time for $10 or less. If the mark-up quoted in the warnings to Risland is correct, Mr Kuang could have made more than $1 million in clear profit.
The documents show that several insiders issued warnings to senior executives at Risland in late February and early March of the alleged profiteering in connection with the COVID-19 humanitarian work. There is no suggestion that Mr Kuang committed any criminal offences.
The documents include comparisons of the true price of the goods.
Mr Kuang, who has deep ties to the Chinese Communist Party, has not responded to multiple efforts to contact him while Risland's chief executive, Dr Guotao Hu, said he didn't know if his company had been overcharged because he was "running real estate" and had no knowledge of what medical goods should cost.
On Wednesday, The Age and The Sydney Morning Herald revealed that in February, Mr Kuang had helped co-ordinate several airlifts of medical supplies from Australia to Wuhan, the city at the epicentre of the crisis, and had called on "overseas Chinese in Australia to take action to contribute money, supplies and your kindness to your home country".'
-Home Affairs Minister Peter Dutton announced a major crackdown on profiteering from essential goods
-ABF to be given the power to require goods to be surrendered for provision to the national medical stockpile or be destroyed
-a further ban on price gouging to prevent daigou on-selling at extortionate prices
READ MORE!
https://www.smh.com.au/national/profiting-from-a-pandemic-former-chinese-officer-accused-of-huge-covid-19-mark-ups-20200401-p54g4h.html
.
.
EARLIER REPORT BY NICK MCKENZIE …
NOW it comes out!
THIS explains further why Australia's medical supplies were run low!
ARE they now being sent back here?
Nick McKenzie has written in the SMH, 'Former Chinese military man behind export of tonnes of medical supplies'
https://www.smh.com.au/national/former-chinese-military-man-behind-export-of-tonnes-of-medical-supplies-20200330-p54f8a.html?fbclid=IwAR2Hz6_3FDwS5ZIJ9zcS-vwKfSPhuL0nrgG_SG6LboSYtAUew8aTY6wrwOQ
'A former Chinese military officer worked with Chinese Communist Party agencies and a group with links to organised crime to export tonnes of Australian medical supplies to Wuhan at the height of the coronavirus epidemic there.
The former officer, Kuang Yuanping, is now planning to bring medical equipment to Australia given the peak of the COVID-19 crisis in China appears to have passed.
People familiar with his plans said he wanted to help Australia's efforts to contain the virus and assist China's soft power and political influence goals in this country through charitable activity.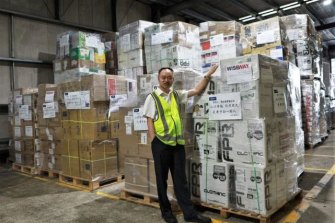 Sydney-based Mr Kuang is a former officer in the People's Liberation Army who runs a number of Chinese Communist Party-backed organisations in Sydney and Melbourne. These organisations include some that are loosely backed by China's soft-power agency, the United Front Work Department, which is charged with building influence for the CCP overseas and countering its critics.
One of the groups, the Hubei Association, was until recently run by former Chinese-Australia organised crime suspect, Tom "Mr Chinatown" Zhou.
As new coronavirus cases in China slow according to official statistics, Beijing is increasingly offering assistance to other countries battling the pandemic. China has offered aid to more than 80 countries and the World Health Organisation.
"What's galling is China's state propaganda arm repeating nonsense … claiming the Australian government is playing politics."

Swinburne University China specialist Professor John Fitzgerald ;



-in February Mr Kuang helped coordinate two air lifts of medical supplies to Wuhan
-party officials in Hubei authorised his company, Huaren Group, to supply China urgently with medical supplies
-key backers of Kuang include two Melbourne men who worked with Mr Zhou from Crown Casino
–Kuang has organised sending Australian milk powder, meat and produce to China and import medical equipment into Australia on return flights
READ MORE!
https://www.smh.com.au/national/former-chinese-military-man-behind-export-of-tonnes-of-medical-supplies-20200330-p54f8a.html?fbclid=IwAR2Hz6_3FDwS5ZIJ9zcS-vwKfSPhuL0nrgG_SG6LboSYtAUew8aTY6wrwOQ