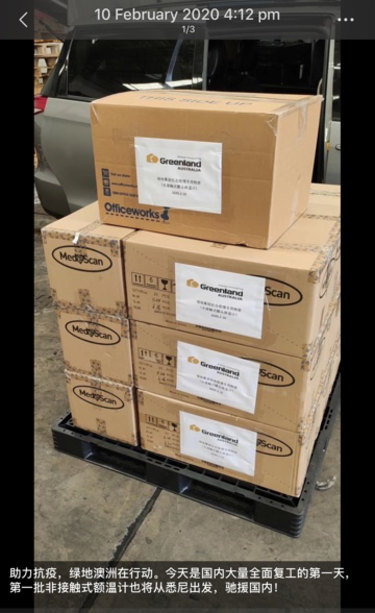 AUSTRALIANS are all talking about the Sting carried out by both the Greenland Group and Country Garden (aka Risland), and no doubt other Chinese business groups … to scoop up Australia's medical supplies to boost the Chinese stockpile at home … depleting Australian supplies to put our People at risk from the CoronaVirus!
Read more:
https://caanhousinginequalitywithaussieslockedout.com/2020/03/26/greenland-grabs-australian-medical-supplies/
WHEN we look back we wonder how it was that Chinese developers like Greenland were able to make such inroads into Australia? Scooping up large land sites in the midst of our Sydney suburbs … stomping all over rights!
Following the Coalition gaining power in NSW in 2011 they proceeded to change the planning laws robbing the Constituents of their community rights … then inviting them to 'have their say'!
SYDNEY was rezoned for higher density beginning with high-rise PRECINCTS!
THE SCOOP of our Medical Supplies is not the first time that Greenland has raised the ire of Australians … it has done so across Sydney suburbs with their intrusive high density housing projects as they vertically integrate … and rob established Australian residents of all their rights!
'GREENLAND to launch $1.6B Sydney Park Erskineville Sydney'

THE concept plan for Park Sydney in Erskineville … a $1.6B project was their largest Australian project in conjunction with GH Australia for some 1400 apartments.
-approved in March 2017; to comprise of 9 buildings; ranging between 2 and 8 storeys
https://www.dailytelegraph.com.au/newslocal/inner-west/federal-crackdown-queried-as-rezoning-changes-drive-property-market/news-story/aec08db847b5aefc31fb20edd0f5de0a?fbclid=IwAR3cyn6AkEAe576T6FvCz52ZKV3ZscJ6J6F1COcUF6c46-RRuNElgis7FKA
GREENLAND GROUP in 2014 was listed as one of eight Chinese Property Developers emerging across Australia.
The state-owned Shanghai based group is positioned 87th among the top 500 China enterprises since 1992, and has construction projects in 65 cities in 24 provinces of China.
Their aim is reportedly to enter the Fortune 200 list by 2015.
GREENLAND Launches Stage Two NBH Lachlans Line
One wonders despite much Ryde community-wide objection to this Chinese state-backed Precinct that it won out! What or how much persuaded the politicians and bureaucrats?
https://theurbandeveloper.com/articles/greenland-launches-stage-two-nbh-lachlans-line
LANDCOM Releases 'Super Lots' in NORTH RYDE
GREENLAND – China's largest Government State-backed Real Estate group in 2014 became the developer of "Lachlan's Line" Master Planned Community on the corner of Epping Road, Delhi Road and the M2, NORTH RYDE.
Then LANDCOM announced the sale of another two large development sites at Lachlan's Line to house 5000 residents in 2700 dwellings
INTERESTING with proximity to the the North West Metro Line that currently connects Tallawong in Sydney's north-west with Chatswood to connect to the City and South West Lines.
And housing hubs at all eight new stations between Tallawong and Epping currently being developed over the next 10 years to deliver 11,000 new homes …
VIEW RELATED ARTICLE on CHATSWOOD a city being built by the Chinese Communist Party …
https://caanhousinginequalitywithaussieslockedout.com/2019/09/01/a-geopolitical-strategist-on-the-mk-hong-kong-the-u-s-and-australia/?fbclid=IwAR10lD12mz0OZPkHTJtR2qjV-9XsPZPg5c8M86-348dp5zLJy9aZZWoOdXQ
AND this is what Greenland and other Chinese developers have done to North Ryde/Macquarie Park …despite much community objection to their 'Lachlan's Line', the Ryde Electorate does not have a bus interchange but Greenland has an onsite bus interchange, and their own bridge connecting the Precinct/gated estate to the North Ryde Metro Station
DESPITE thousands of objections, representations to politicians, meetings, submissions the rights of Australian constituents were discarded …
This development resembles developments in China, and the Ryde Community was sidelined by this giant Chinese developer. This precinct is an affront to this neighbourhood, and it is not yet completed.
A young Australian apprentice, Christopher Cassaniti was killed on site a year ago
This youtube bears out community concerns about the quality of these housing projects!
VIEW the Media Release from the Greenland Group which appears to be an attempt to appease … following Australian community fury
EXTRACT:
'Greenland Australia supported Greenland Group's initiative by arranging for medical supplies to be dispatched to China. Again, it should be noted that this proactive response occurred in late January and early February, at a time when the worldwide spread of the virus, and all response efforts, were focussed on China.
However, Greenland Australia also recognises that Australian people are currently at risk with the more recent and ongoing domestic spread of COVID-19, so the company is focussed on helping people in this country through a similar effort to that undertaken for China.
Greenland Australia continues to take this pandemic very seriously, and in conjunction with Greenland Group, we will continue to do everything we can to assist.'
READ MORE! Media Statement Re: Chinese-backed Company's Mission to source Australian Medical Supplies
https://www.greenlandaustralia.com.au/en/media-statement-re-chinese-backed-companys-mission-to-source-australian-medical-supplies/
LIKE CAAN ON FACEBOOK!
https://www.facebook.com/Community-Action-Alliance-for-NSW-744190798994541/?ref=aymt_homepage_panel
CAAN WEBSITE:
https://caanhousinginequalitywithaussieslockedout.wordpress.com/