THIS is an extract from an opinion piece written by an Italian writer currently in isolation in Lombardy, Italy …
We note there are no sources quoted – clearly (and proudly) the author has a dim view of the left and probably of anyone left of Genghis Khan …
Nevertheless – certainly it's on the money!
Even if it was partially correct …
-there are a lot of lessons in it for Australia, but are we listening?
Hopefully this virus will allow us and the body politic to reassess a lot of things like …
–why do we allow a foreign commie government and their proxy companies to buy just about whatever they like in Australia?
–why have Australian companies tethered themselves so tightly to the reigns of an economy run by a totalitarian regime that can so easily dictate terms and conditions, and the conditions of our prosperity?
–why don't Australian companies have a plan 'B'?
.with all their eggs in the same basket has meant we have lost our ability to source what we need from elsewhere particularly as we have systematically dismantled our own capacity to produce just about anything?
–why do we allow the export of the title deeds of our domestic housing to occur?
–why don't we enact further changes to Anti-Money Laundering Laws to tackle such interests in Australian domestic housing?
-when will our pollies and their parties stand up for Australian interests and stop allowing foreigners owning so much of our industries (the ones we still have), companies, real estate, resources and agricultural assets?

The age old 'fear' response, 'if we aren't careful they'll buy what they need from elsewhere' doesn't wash because
-they make sure they get the very best deal from us in the first place, they do foster competition and buy elsewhere, they most certainly do have plan 'B'!
READ THIS EXTRACT FOR THE FRIGHTENING ACCOUNT OF WHAT ITALY HAS LOST TO COMMUNIST CHINA!
EXTRACT … ITALY'S COMMUNIST RECIPE FOR DISASTER
'Sixty million of us are in lockdown…it is like a war zone here. We are being held prisoner in our 1 / 5 own homes by an unseen enemy that sneaked in unnoticed…by most of us. …
To The Point News The Oasis for Rational Conservatives
https://www.tothepointnews.com
Beginning in about 2014 … strange things were happening in Italy's economy. Banks were failing…but not closing. Retirement ages were being extended…for some reason the pension funds were dwindling or disappearing.
The national sales tax we call IVA (Value Added Tax) rose from 18% to 20%, then to 21% and again to 22%
And in the midst of all this financial chicanery, the Chinese began furiously buying up Italian real estate and businesses in the North. …
A blind eye was being turned to the way the Chinese were buying businesses in the financial, telecommunication, industrial and fashion sectors of Italy's economy, all of which take place in Milano.
To be brief …China was getting away with purchases and acquisitions in violation of Italian law and EU Trade Agreements with the US and the UK…and no one in either of those countries (not Obama in the US or Cameron in the UK) said a thing in their country's defense.
As a matter of fact, much of it was hidden from the public in all three countries.
In 2014, China infused the Italian economy with €5 billion through purchases of companies costing less than €100 million each. By the time Renzi left office (in disgrace) in 2016, Chinese acquisitions had exceeded €52 billion. When the dust settled, China owned more than 300 companies…representing 27% of the major Italian corporations
The Bank of China now owns five major banks in Italy… all of which had been secretly (and illegally) propped up by Renzi using pilfered pension funds!
Soon after, the China Milano Equity Exchange was opened and much of Italy's wealth was being funneled back to the Chinese mainland.
Chinese state entities own Italy's major telecommunication corporation (Telecom) as well as its major utilities (ENI and ENEL). Upon entry into the telecommunication market, Huawei established a facility in Segrate, a suburb of Milano. It launched is first research center there and worked on the study of microwaves which has resulted in the possibly-dangerous technology we call 5G.
China also now owns controlling interest in Fiat-Chrysler, Prysmian and Terna. You will be surprised to know that when you put a set of Pirelli tires on your car, the profits are going to China. Yep…the Chinese colossus of ChemChina, a chemical industry titan, bought that company too!
Last but not least is Ferretti yachts…the most prestigious yacht builder in Europe. Incredibly, it is no longer owned by the Ferretti family. But the sector in which Chinese companies invested most was Italy's profitable fashion industry. The Pinco Pallino, Miss Sixty, Sergio Tacchini, Roberta di Camerino and Mariella Burani brands have been acquired by 100%.
Designer Salvatore Ferragamo sold 16% and Caruso sold 35%. The most famous case is Krizia, purchased in 2014 by Shenzhen Marisfrolg Fashion Company, one of the leaders of high-priced, ready-to-wear fashions in Asia. …
Quite literally, tens of thousands of Chinese came in through Milano (illegally) and went back out carrying money, technology and corporate secrets.
Thousands more were allowed to enter and disappeared into shadows of Milano and other manufacturing cities of Lombardy, only to surface in illegal sewing shops, producing knock-off designer clothes and slapping 'Made In Italy' labels on them.
All with the tacit approval of the Renzi government. It was not until there was a change in the governing party in Italy that the sweatshops and the illegal entry and departure of Chinese nationals was stopped. Matteo Salvini, representing the Lega Nord party, closed Italy's ports to immigrants and systematically began disassembling the sweatshops and deporting those in Italy illegally. ….
Access was again provided to the Chinese, under the old terms, and as a consequence thousands of Chinese, the majority from Wuhan, began arriving in Milano. In December of last year, the first inklings of a coronavirus were noticed in Lombardy…in the Chinese neighborhoods. There is no doubt amongst senior medical officials that the virus was brought here from China.
Source: https://www.google.com/url?q=https://www.tothepointnews.com/2020/03/italys-communist-recipe-for-disaster/?format%3Dpdf&source=gmail&ust=1585220826215000&usg=AFQjCNH8SpGQ-C7BfNU1m1I48oX4cWlJkg
RELATED ARTICLE … 'CoronaVirus …Why Italy?'
Many Italians in Northern Italy have sold their leather goods and textiles companies to China. Italy then allowed 100,000 Chinese workers from Wuhan and Wenzhou to move to Italy to work in these factories, with direct flights between Wuhan and Northern Italy. This continued post outbreak, so is it mere coincidence that Northern Italy is now Europe's hotspot for Corona Virus?
https://www.altnewsmedia.net/news/corona-virus-exclusive-why-italy/?fbclid=IwAR1g6C4My3uWD07moQi3T1zmQUcJg8vtXlionGo9OB0N-9AX3ehydkOW72E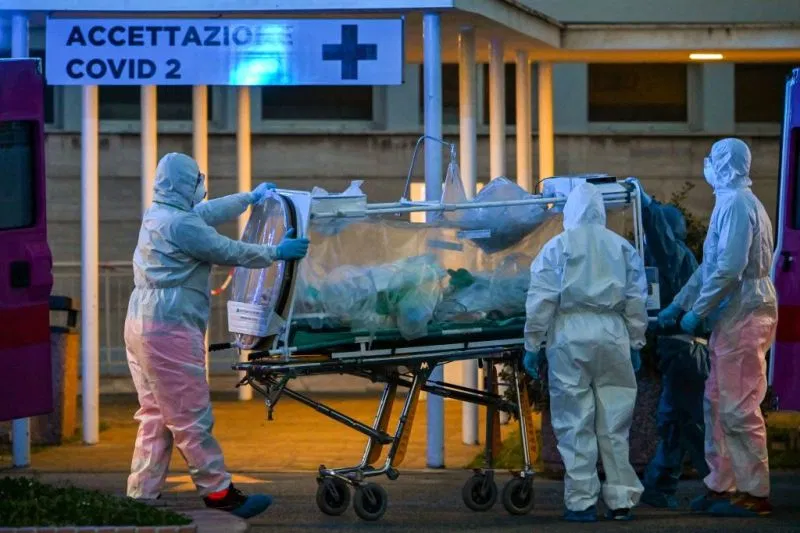 Photo: ITALY'S COMMUNIST RECIPE FOR DISASTER