The People of the Plains and the Blue Mountains have been opposing the Badgery's Creek Airport for decades … but there have been far too many assaults upon them since 2011/12 … not only this airport but OVERDEVELOPMENT …
AND Toll Roads, the Outer Sydney Orbital corridor, longwall mining, trains full-up with the constancy of ever more migrants and vibrants, the proposal for the Western Sydney incinerator to burn toxic waste products to generate electricity, and the raising of the Warragamba Dam wall for more development on the plains!
WHAT this airport at Badgery's Creek will mean … high-rise thermal mass slums for China's Belt and Road property money laundering SLUM CITIES … a Climate and Environment Disaster in the making …
https://www.afr.com/policy/foreign-affairs/china-eyes-new-sydney-airport-as-part-of-belt-and-road-plan-20170526-gweb65?fbclid=IwAR0hPW4aWLCavG7IG2Wxml-CwppE490VrnYfHNZyzSpCHCM4ztt4ufglWGA
SEARCH CAAN WEBSITE for more!
With flying foxes in the flight paths … a hazard for the airlines
A Commentator wrote …
-24/7 sleepless nights with noisy planes in front of my backyard in wilderness areas.
This is going to cause health problems and then Class Actions.
And they will refuse to pay for double glazed windows … of course!
That is FOOD GROWING LAND. FAMINE ON THE WAY.
Rolling countryside to be flattened for Sydney's new airport

'Turned a lush green by recent rains, the rolling countryside at Badgerys Creek in Sydney's outer west is about to be transformed again – this time permanently.
With the start of major earthworks on Wednesday, paddocks and hills dotted with trees and creeks will be flattened over the next two years to allow for construction of the $5.3 billion Western Sydney Airport, the first major capital city airport to be built in Australia in decades.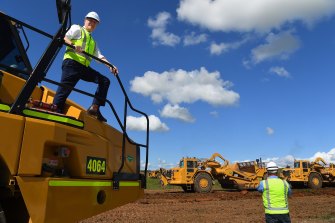 In a sign of the scale of the project, more than 200 scrapers, excavators, graders and trucks will shift 25 million cubic metres of earth – enough to fill 10,000 Olympic pools – to allow for the airport terminal, runway, roads and rail link to be built.
"We need to flatten what is a very hilly site – the difference between the highest and lowest points is equivalent to a 12-storey building – so we definitely have our work cut out for us," the airport's infrastructure executive, Jim Tragotsalos, said.
The state and federal governments have an ambitious timeframe to build a metro rail line from the airport to St Marys, where it will connect to the T1 Western Line. They have vowed to open the line – estimated to cost $8 billion – at the same time as the curfew-free airport in 2026.
Play video1:38Locals demand Western Sydney airport flight paths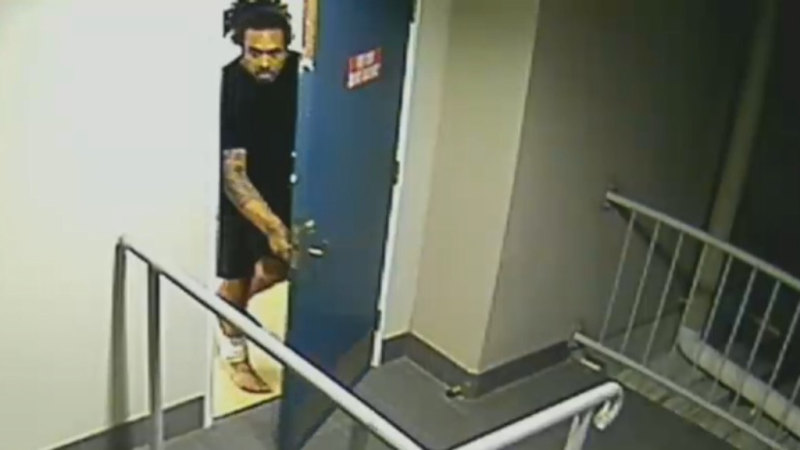 Local residents have demanded that the flight paths from the new Western Sydney airport be revealed.
The NSW Minister for Western Sydney, Stuart Ayres, said both the state and federal governments were sticking to their commitment for trains to be running to the airport when it opens.
"We've always said from day one, this isn't just about building an airport in a paddock. It's about making sure that we connect that airport properly to residents across western Sydney," he said.
The head of Sydney's metro rail agency said late last year that it faced a "really tight timeframe" to work through planning processes and then construct the rail line in time.
Delays, contract disputes and cost blowouts have been plaguing major infrastructure projects in Sydney and Melbourne.
But Deputy Prime Minister Michael McCormack said the government was working to ensure the airport, about 50 kilometres west of Sydney's CBD, was "built on budget, on time".
"We're looking forward to 2026 when we can open this airport in December of that year," he said. "This is going to be … the gateway for western Sydney to the world."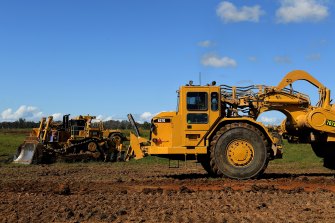 He declined to put a timeframe on when flight paths will be released to the public.
The contract for construction of the terminal is due to be awarded by May 2021. It is expected to be completed by 2025, the same time as the runway is finished, allowing for about a year to bed down operations before the first passengers pass through.
Residents near the 1780-hectare site are already witnessing major changes from $3.6 billion in road upgrades, including to the Northern and Bringelly roads. Construction of the 16-kilometre M12, which will connect to the airport, is due to start in 2022.
Matt O'Sullivan is City Editor at The Sydney Morning Herald.
SOURCE: https://www.smh.com.au/national/nsw/rolling-countryside-to-be-flattened-for-sydney-s-new-airport-20200311-p5490q.html?utm_medium=Social&utm_source=Facebook&fbclid=IwAR3gAxXa6Z4miVBBfleKp4lTjvoKkH_J5ULiD3Zbxc7Byrtp01Cv9yFVZNM#Echobox=1583908025
LIKE CAAN ON FACEBOOK!
https://www.facebook.com/Community-Action-Alliance-for-NSW-744190798994541/?ref=aymt_homepage_panel
CAAN WEBSITE:
https://caanhousinginequalitywithaussieslockedout.wordpress.com/