Photo: TUD
AUSTRALIA used to make 'everything' … will business learn from the CV? We are hearing that there will be changes! A return to onshore manufacturing … do we hear that?
AND so much of what is imported now is of a lesser quality, and we wonder why we have a landfill problem?
Virus to exacerbate building construction bust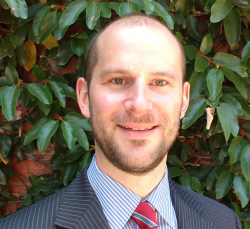 By Leith van Onselen in Australian Economy, Australian Property
March 10, 2020 | 4 comments
2020 was already shaping as a tough year for Australia's construction industry.
According to the ABS, dwelling approvals collapsed in the 2019 calendar year, down 28% from peak, with commencements following close behind: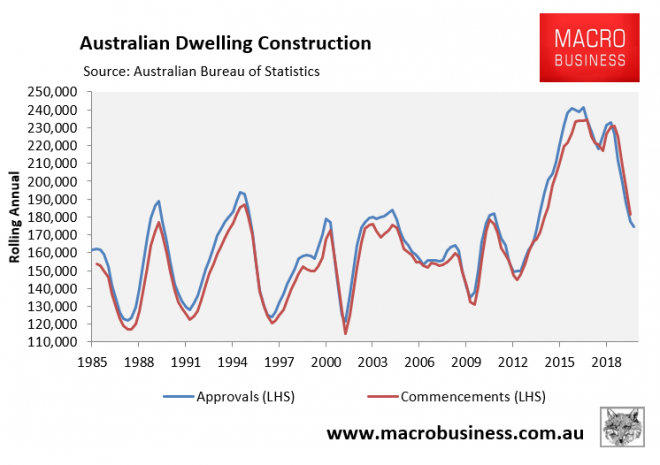 *Now, (the) picture has worsened with Australian Shop & Office Fitting Industry Association CEO, Gerard Ryan, claiming its members are looking at delays to projects of up to six weeks because the corona­virus outbreak is delaying the supply of products from overseas:
Major building projects involving shops, offices, airports and hotels are set to be delayed by at least a month because of the corona­virus…

Australian Shop and Office Fitting Industry Association CEO Gerard Ryan said his members were preparing for delays to projects of between four and six weeks, but the longer the outbreak went on, "the worse that will get".

About 98 per cent of lighting comes from overseas, while marble, tiles, and bathroom and door products are often sourced from Europe.

"Any delay potentially stops the whole project. It's like a jigsaw puzzle — everything needs to ­follow something else," Mr Ryan said.

"If you can't get your tiles or flooring down, that's going to ­affect something else. If you can't get your electrical work, cabling and lighting finished then that also affects something else"…

Bob Richardson, chairman of the Australian Construction Industry Forum's research council, said materials for building ­facades, components and finishes were affected as contractors sought extensions for projects.
Australian construction jobs hit a record high 1.2 million in the August quarter of 2019, in spite of the dwelling construction bust: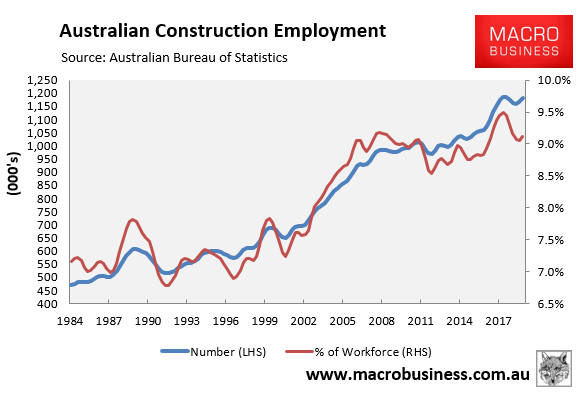 Now it is facing an epic bust as sites across the nation shutdown.
Leith Van OnselenLeith van Onselen is Chief Economist at the MB Fund and MB Super. Leith has previously worked at the Australian Treasury, Victorian Treasury and Goldman Sachs.
SOURCE: https://www.macrobusiness.com.au/2020/03/virus-to-exacerbate-building-construction-bust/