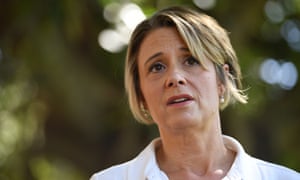 KEY POINTS since the SCOMO GOVERNMENT allowed the online lodgement of tourist visas for Chinese nationals …
This perhaps explains why there are so many Chinese nationals on the bus or the train you catch … apart from the Real Estate Tours , student and work Visas …
–from March 2017 to February 2018, 7,304 Chinese nationals on tourist visas made claims for asylum
.compared to just 1,060 in the 12 months prior. *
–from February 2017 to September 2019, the total number of Chinese nationals to have claimed asylum is 13,462
–a work scam; with increased number of people on bridging visas for an extended stay in Australia to access the labour market…
–costing Australian taxpayers; each migrant and refugee case reviewed by the AAT costs between $2137 and $3036 to review
–aided and abetted by online travel visas for automated access to Australia: bogus asylum seeker claims from Malaysia and China
Online travel visas drive boom in bogus asylum seekers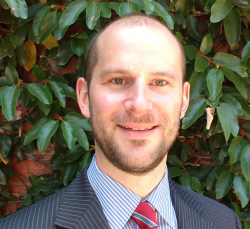 By Leith van Onselen in Australian Economy, Immigration
March 6, 2020 | 12 comments
Labor's immigration spokesperson, Kristina Keneally, has once again taken aim at the blow-out in migrants arriving on online tourist visas whom are subsequently attempting to claim asylum:
In a speech to the Law Council of Australia's immigration law conference on Friday, Keneally will release new figures showing that since the government allowed the online lodgement of tourist visas for Chinese nationals, there has been an almost 700% increase in the number of people arriving by air from China and claiming asylum. *

In the 12 months after online lodgement was introduced, from March 2017 to February 2018, 7,304 Chinese nationals on tourist visas made claims for asylum compared to just 1,060 in the 12 months prior. *

From February 2017 to September 2019, the total number of Chinese nationals to have claimed asylum is 13,462.

Keneally said the surge was contributing to the system being overloaded by often spurious claims, with about 90% of the 100,000 airplane arrivals who have claimed asylum in the past five years found to be unmeritorious.

"This is not an issue of a person's nationality – it is about the integrity of our migration system – and an insight into how backlogs have grown so quickly," according to a draft copy of Keneally's speech…

Keneally also warned that with an increased number of people on bridging visas, the backlog leads to a growing "honeypot" for people smugglers who facilitate travel to Australia for the specific purpose of having an extended stay in our country, often to access the labour market…

"Plain and simple – this is a work scam."
The "gaming" of Australia's visa system is perhaps best illustrated by the blowout in temporary bridging visas, which are typically given to migrants awaiting decisions on applications for permanent residency, and are considered a broad indicator of the robustness and efficiency of the visa system.
As shown in the next chart, the number of bridging visas on issue have more than doubled under the Coalition's term in government, to 230,000 as at September 2019: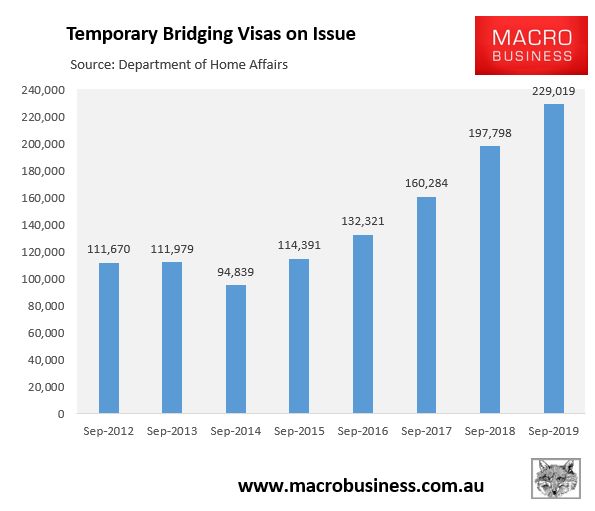 This boom in dodgy asylum seeker claims has caused a massive backlog at the Administrative Appeals Tribunal (AAT):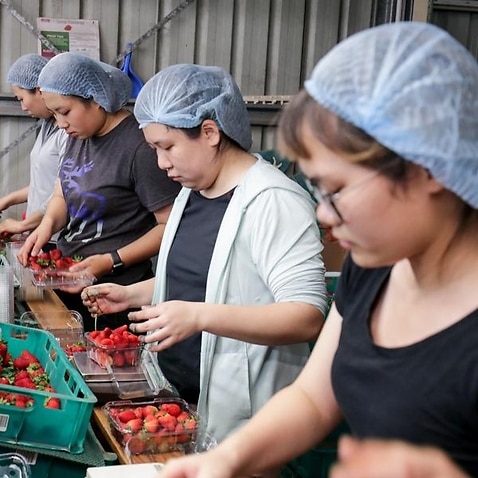 Photo: SBS News; Migration tribunal predicts appeals backlog to surpass 60,000 after surge in visa rejections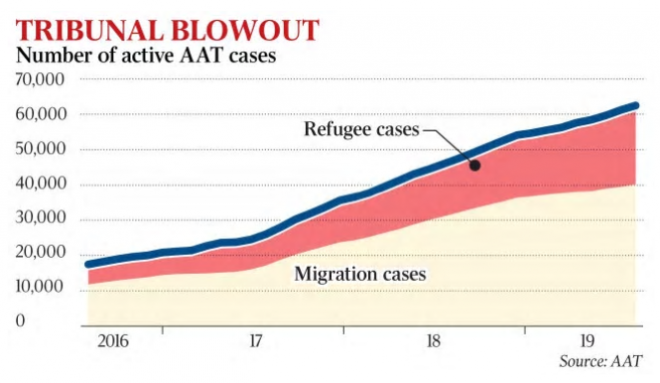 As noted by former High Court justice, Ian Callinan:
[Ian Callinan] said "almost everyone" with migration law experience had told him there were applic­ants and representatives who "game the system, well knowing there is an automatic entitlement to a bridging visa"…
Meanwhile, this fake refugee influx is costing Australian taxpayers dearly, given each migrant and refugee case reviewed by the AAT costs between $2137 and $3036 to review.
The reality is that an entire industry exists to game Australia's immigration system. *
When visa holders do not want to go home they contact the immigration industry and this sets in motion the never ending AAT process, thereby allowing visitors to extend their stays in Australia and enabling them to work.
This gaming is obviously being aided and abetted by online travel visas, which give automated access to Australia and are behind the explosion of bogus asylum seeker claims from Malaysia and China: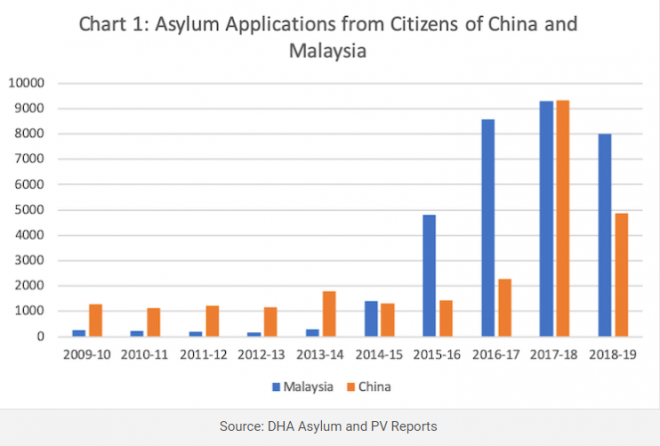 A large number of Malaysians and Chinese are travelling to Australia on online tourist visas for the express purpose of gaining permanent residency or to work, knowing that as soon as they land by plane they can apply for asylum and gain a bridging visa.
It is time to shut the rort pathway down by abolishing online visas for these nations alongside tightening the AAT process via shutting down avenues of appeal to foreigners that have been refused a visa.
Leith Van Onselen Leith van Onselen is Chief Economist at the MB Fund and MB Super. Leith has previously worked at the Australian Treasury, Victorian Treasury and Goldman Sachs.
SOURCE: https://www.macrobusiness.com.au/2020/03/online-travel-visas-drive-boom-in-bogus-asylum-seekers/