THOUGHTS FROM COMMENTATORS …
-The property/debt parasite spreads through the media, affecting behavioural changes in consumers that makes marketing crap seem like common sense.
-Well, this is going to really help with the RBA's stated aim of keeping wages up and unemployment low.
-We need a national broadcaster. Make it politically impartial. Call it, say, the ABC.
-You're killing me. What happened to this country?
Tweet
Gregmus Kelly@gregmus_kelly·ABC MEAA staff say we must #saveAAP. Australia relies on its wire service and dedicated team of journalists. We are dismayed by reports of cuts to this vital service.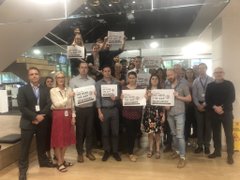 The dumbening deepens with AAP shutter
By David Llewellyn-Smith in Australian business media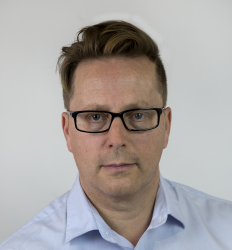 March 3, 2020 | 9 comments
The media duopoly will now be able to distort every single story towards happy clappy real estate:
AAP chairman Campbell Reid and chief executive Bruce Davidson brief staff at Rhodes on Tuesday.
AAP staff at Tuesday's briefing on the newswire's closure. It is believed at least 180 jobs will be lost.
The Australian Associated Press will shut down its news wire service on June 26 in an historic development for Australia's media landscape after its two biggest clients and shareholders decided to pull out.
Major shareholders Nine Entertainment Co and Rupert Murdoch's News Corp will sever longstanding partnerships with AAP in an effort to cut costs amid a challenging media advertising landscape.
Nine is the owner of this masthead. It is believed at least 180 jobs will be lost in the closure.
…AAP chairman Campbell Reid said to staff: "The loss of AAP's voice in the Australian conversation bothers me deeply. The fact that too many companies have chosen not to pay to publish that voice is the root of the problem."
Carn mate, we can't have you blokes writing real stories to upset the property market.
Breaking:
Coronavirus to lift Australian property prices by 147% in 2020: source.
David Llewellyn-SmithDavid Llewellyn-Smith is Chief Strategist at the MB Fund and MB Super. David is the founding publisher and editor of MacroBusiness and was the founding publisher and global economy editor of The Diplomat, the Asia Pacific's leading geo-politics and economics portal.
He is also a former gold trader and economic commentator at The Sydney Morning Herald, The Age, the ABC and Business Spectator. He is the co-author of The Great Crash of 2008 with Ross Garnaut and was the editor of the second Garnaut Climate Change Review.
SOURCE: https://www.macrobusiness.com.au/2020/03/the-dumbening-deepens-with-aap-shutter/#comments