DESPITE the warnings from the Productivity Commission … the Darling of the LNP and Infrastructure Australia the Coalition Governments persist with the disruption of construction ….
footpaths became roads … don't walk there as pedestrians are diverted by signs on barriers … roads become more like mazes … the walk of the worker through the chaos!
WHY is this so? What's in it for them?
Australia's infrastructure "pipe dream"
By Leith van Onselen in Australian Economy, Immigration
February 26, 2020 | 10 comments
Finally, the 'Big Australia' shills at the ABC have come to the realisation that governments can never build enough infrastructure to keep pace with mass immigration:
In our booming cities, one construction project rolls into the next and those living through them are left asking: will we ever get ahead?..

Experts say when it comes to construction projects, Australia will always be "chasing a ball down a hill".

Across the country, our capital cities are in the middle of an unprecedented infrastructure spend…

"Our main cities, our metropolises, have been going through major surgery," University of Melbourne urban policy professor Brendan Gleeson said.

"Particularly in the past decade, there's been unprecedented growth, both in population and the built environment.

"But state governments across the nation recognise there's been a severe infrastructure lag"…

The population debate, and its impact on the country's infrastructure needs, remains a political football…

Australian National University demographer Liz Allen said investment in the physical infrastructure of Australia's major cities had been "financially and strategically inadequate for the last two decades at least".
She said Australia did not need to take a breath on population growth from immigration, but instead leaders needed to "get a grip".

"We don't have cities and people spring up overnight," Dr Allen sai
"The trouble for Australia, and its major cities, has been that political short-termism has prevented investments in major infrastructure because they extend beyond a couple of years"…

*Marcus Spiller, an economist and urban planning expert for SGS Economics and Planning… said that companies and governments tended to downplay the disruption costs and promote long-term benefits — a concept known as "optimism bias" in the industry…

*Planning and infrastructure experts are in almost universal agreement on one thing: Australia needs continual major infrastructure investment to catch up to population growth…

With Australia's population predicted to hit 30 million as soon as 2029, major infrastructure projects will continue to define our cities and disrupt our lives…

Professor Gleeson… said: "We're never going to catch up in Australia, we're just staying on the tail of need…

It's a view also shared by both Dr Spiller and Ms Terrill, who deem the concept of "getting ahead" on infrastructure in Australia a "pipe dream".
Let's cut the bull. Australia is never going to catch up on infrastructure as long as the federal government continues to run a mass immigration policy that grows Australia's population by around a Canberra every year: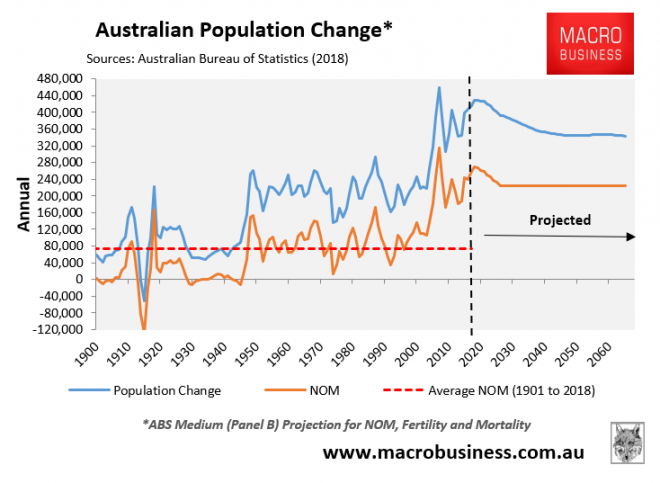 And our major cities double in size over the next half century: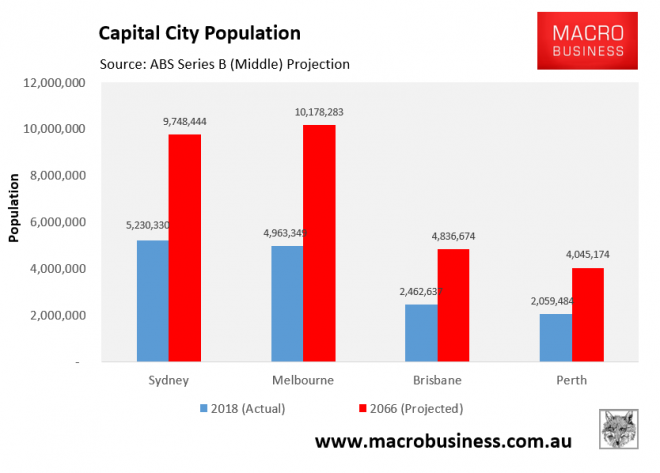 Don't walk there! ABC News: Brendan Esposito
CAAN: Sydney has been a mess like this now for years
This was made abundantly clear by Infrastructure Australia's modelling, which projected increasing traffic congestion, slower commute times, and reduced access to jobs, schools, hospitals and open space as Sydney's and Melbourne's populations balloon to 7.4 million and 7.3 million respectively by 2046 (let alone around 10 million by 2066), irrespective of whether these cities build up or out: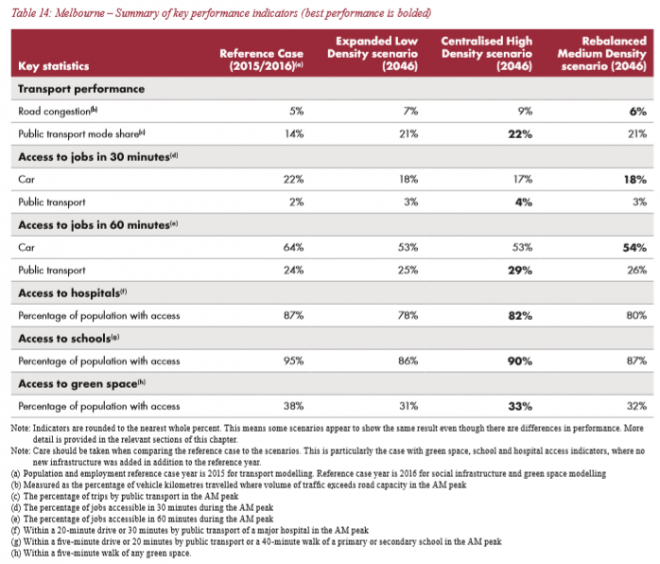 The reason is simple.
*In already built-out cities like Sydney and Melbourne, the cost of retrofitting new infrastructure to accommodate greater population size and densities becomes prohibitively expensive as we buy back, bridge over or tunnel under existing assets, and as each new project disrupts more heavily-trafficked services causing greater productivity losses. These are what economists call 'dis-economies of scale'.
The Productivity Commission has been at the forefront highlighting the huge infrastructure costs associated with excessive population growth.
In its 2016 Migrant Intake into Australia report, the Commission noted:
*Physical constraints in major cities make the costs of expanding infrastructure more expensive, so even if a user-pays model is adopted, a higher population is very likely to impose a higher cost of living for people already residing in these major cities…

Funding will inevitably be borne by the Australian community either through user-pays fees or general taxation…
The Commission's 2018 Shifting the Dial: 5 year productivity review similarly noted that infrastructure costs will balloon due to Australian cities' rapidly growing populations:
Growing populations will place pressure on already strained transport systems… Yet available choices for new investments are constrained by the increasingly limited availability of unutilised land.

Costs of new transport structures have risen accordingly, with new developments (for example WestConnex) requiring land reclamation, costly compensation arrangements, or otherwise more expensive alternatives (such as tunnels).
Infrastructure Australia has also regularly warned on the rising cost of infrastructure provision caused by rapid population growth. For example, its 2018 Planning Liveable Cities report noted:
… construction of new infrastructure is often more expensive, due to the need to tunnel under existing structures or purchase land at higher costs.

The small scale, incremental nature of growth in established areas can also lead to an over-reliance on existing infrastructure, which can result in congestion and overcrowding.
Instead of gaslighting the Australian public into chasing infrastructure pipe dreams, policy makers must address the problem at its source and halve immigration back to historical levels.
Stop the bullshit.
Roads become more like mazes; ABC
The walk of the worker; ABC News: Brendan Esposito
Leith van Onselen is Chief Economist at the MB Fund and MB Super. Leith has previously worked at the Australian Treasury, Victorian Treasury and Goldman Sachs.
SOURCE: https://www.macrobusiness.com.au/2020/02/australias-infrastructure-pipe-dream/
LIKE CAAN ON FACEBOOK!
https://www.facebook.com/Community-Action-Alliance-for-NSW-744190798994541/?ref=aymt_homepage_panel
WEBSITE:
https://caanhousinginequalitywithaussieslockedout.wordpress.com/