Premier Gladys Berejiklian and Transport Minister Andrew Constance at a metro site in August.CREDIT:BEN RUSHTON
THIS Comment sums it up …
'dumbest dumb fkning dumb country on the planet – its just so fkng dumb its honestly depressing to think about for too long … '
RELATED ARTICLE …
From the China Vision Times
https://caanhousinginequalitywithaussieslockedout.com/2020/02/24/23234/?fbclid=IwAR1gH8NvnW08Vk-pUrMwud3z-UAOWejsiGLRE9EArHKj6yb2uQ8A0-5haRo
Immigration ponzi fleeces NSW taxpayers for another $3b
By Leith van Onselen in Australian Economy, Immigration
February 24, 2020 | 15 comments
Incessant claims that Australia just needs to 'plan better', invest more and build more, ignore the increasingly costly and constrained options for further infrastructure in the face of such unprecedented numbers of people pouring into our major cities.
In already built-out cities like Sydney and Melbourne, the cost of retrofitting new infrastructure to accommodate greater population size and densities becomes prohibitively expensive as we buy back, bridge over or tunnel under existing assets, and as each new project disrupts more heavily-trafficked services causing greater productivity losses. These are what economists call 'dis-economies of scale'.
*The Productivity Commission has been at the forefront highlighting the huge infrastructure costs associated with excessive population growth.
In its 2016 Migrant Intake into Australia report, the Commission noted:
Physical constraints in major cities make the costs of expanding infrastructure more expensive, so even if a user-pays model is adopted, a higher population is very likely to impose a higher cost of living for people already residing in these major cities…

Funding will inevitably be borne by the Australian community either through user-pays fees or general taxation…
The Commission's 2018 Shifting the Dial: 5 year productivity review similarly noted that infrastructure costs will balloon due to Australian cities' rapidly growing populations:
Growing populations will place pressure on already strained transport systems… Yet available choices for new investments are constrained by the increasingly limited availability of unutilised land.

Costs of new transport structures have risen accordingly, with new developments (for example WestConnex) requiring land reclamation, costly compensation arrangements, or otherwise more expensive alternatives (such as tunnels).
Infrastructure Australia has also regularly warned on the rising cost of infrastructure provision caused by rapid population growth. For example, its 2018 Planning Liveable Cities report noted:
… construction of new infrastructure is often more expensive, due to the need to tunnel under existing structures or purchase land at higher costs. The small scale, incremental nature of growth in established areas can also lead to an over-reliance on existing infrastructure, which can result in congestion and overcrowding.
The latest example of these escalating costs comes from Sydney's Metro train line through the city to the south-west, which was originally predicted to cost between $11.5 and $12.5 billion but may now blow out to $15.5 billion:
The Berejiklian government concedes the cost of its signature metro rail project under Sydney Harbour and the central city is set to blow out by up to $3 billion, laying blame primarily on an "overheated" market for contractors.
An extra $3 billion to complete the 30-kilometre metro rail line from Chatswood to Bankstown via Sydney's CBD within the next four years will drive up the final cost to $15.5 billion…
"I am sorry it happened this way but it is very much market forces at play in terms of the build. We are not denying there hasn't been significant cost pressures on the project"…
"If you go back five years ago, I think it's fair to say that not even Treasury could predict the escalation increases in the infrastructure market. And it's not just in Sydney," Mr Constance said, citing blowouts in transport projects in Melbourne.
"There has been an overheated infrastructure market for contractors and, of course, that means that … it has been very much an uplift for suppliers as opposed to procurers".
This latest cost blowout follows the bungled Sydney Light Rail Project which, after lengthy delays, was delivered way over budget and received widespread condemnation from transport experts and the Auditor-General.
If the New South Wales Government cannot deliver these projects on Budget, what hope is there that the other $80 billion of projects will be delivered?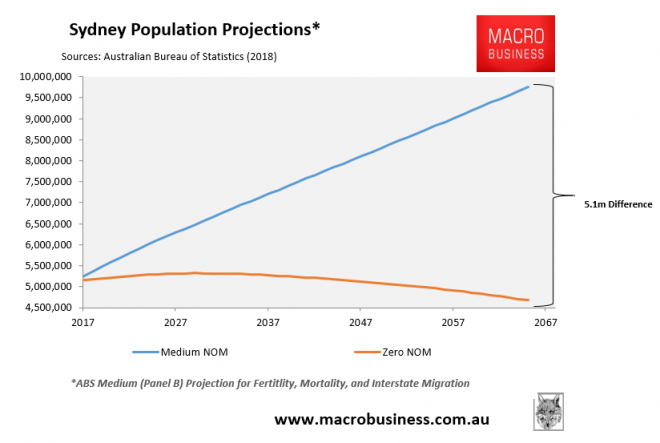 Prepare for billions of dollars of cost blowouts as Sydney tries in vain to keep pace with the population ponzi.
Leith van Onselen is Chief Economist at the MB Fund and MB Super. Leith has previously worked at the Australian Treasury, Victorian Treasury and Goldman Sachs.
SOURCE: https://www.macrobusiness.com.au/2020/02/immigration-ponzi-fleeces-nsw-taxpayers-for-another-3b/