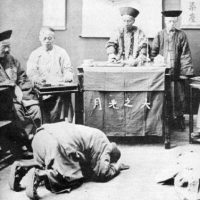 FROM A COMMENTATOR …
"It's a matter of historical fact that the CCP has been busy trying to corrupt Canberra."
Wrong: The CCP has already corrupted Canberra. Canberra sold out long ago:
– Julie Bishop's "Glorious Foundation" sold out for $450,000 while she was foreign minister.
– Bob Carr also got richer in a similar way.
– Andrew Robb sold out on trade deals and the Port of Darwin for $800,000
– The current LNP government owes it majority to CCP member Gladys Liu.
Magellan legend demands Canberra kowtow to Beijing
By David Llewellyn-Smith in Australian Politics
February 21, 2020 | 12 comments
At The Australian:
Magellan Financial Group chairman and chief investment officer Hamish Douglass has accused the nation's parliamentarians of whipping up "xenophobic" sentiment about China and playing "national security out as a political issue", undermining Australia's most important economic relationship.

…"I don't see the coronavirus issue being in any way tied in the geopolitical and economic issues between and Australia and China. The coronavirus is largely a short term economic impact that won't have longer term ramifications,'' Mr Douglass said.

Echoing the warnings of former prime minster Paul Keating and Kerry and Ryan Stokes about the dangers of ­demonising China, Mr Douglass said any moves to undermine the nation's open and productive economic relationship with its biggest trade partner "would be incredibly damaging to the long-term future of Australia".
Lordy. What xenophobia? If Douglass means Andrew Hastie and company's observations about the Nazi parallels in the CCP then he's way off base. None of those objections target the Chinese people. They aim to defend them. Describing such as xenophobic is preposterous.
Perhaps Douglass means the pushback against CCP bribery and largesse in Canberra? It's a matter of historical fact that the CCP has been busy trying to corrupt Canberra.
Defending the integrity of your democracy is hardly xenophobia either.
To be honest, I don't know who Douglass is attacking. Or why.
If anything, the Government has gone out its way to abuse Australians for being racist for being concened about openly dodgy MPs like Gladys Liu or worrying about coronavirus. *
A word of advice, Hamish. I wouldn't be too trusting of the CCP. When you're investing in China, make sure you're very liquid. You never know when the CCP will turn its baleful gaze upon you and simply close the exit, as it did in 2015/16 stock market crash.
David Llewellyn-Smith is Chief Strategist at the MB Fund and MB Super. David is the founding publisher and editor of MacroBusiness and was the founding publisher and global economy editor of The Diplomat, the Asia Pacific's leading geo-politics and economics portal.
He is also a former gold trader and economic commentator at The Sydney Morning Herald, The Age, the ABC and Business Spectator. He is the co-author of The Great Crash of 2008 with Ross Garnaut and was the editor of the second Garnaut Climate Change Review.
SOURCE: https://www.macrobusiness.com.au/2020/02/magellan-legend-demands-canberra-kowtow-to-beijing/#comments
LIKE CAAN ON FACEBOOK!
https://www.facebook.com/Community-Action-Alliance-for-NSW-744190798994541/?ref=aymt_homepage_panel
SEARCH CAAN WEBSITE for more Reports!
https://caanhousinginequalitywithaussieslockedout.wordpress.com/