Photo: The Australian; Toorak, dubbed the "ghost mansion", is being sold off market for $80m
IS a Pandemic what it takes to restore the property market for Australian First Home Buyers?
Will the Property Sector get their act together?
Even developers are closing the gates … cancelling launches and investment seminars for the target overseas market …
And even Scomo can't prop up the mates market … with the Pandemic worsening …
BECAUSE many comments on Facebook are not readily visible we SHARE it with you here
From George Smilas …
WOW, really? are we supposed to be devastated? ….devastating that the flow of wealthy international investors from China have stalled because of a real risk of a deadly infectious disease threatening our people here?
…Not buying up apartments built for the sole purpose of further increasing the riches of our ELITES?. I feel really sorry,…. But WHY you think? …Why are they cancelling investment seminars?
…Are there not other investors around the world aside from CHINA?…Or is it because there is no $$$$$$ to be made elsewhere other than CHINA?….I want to know.
Have we put our efforts all in one basket and relying on just CHINA? …. Is that the case?…I want to know…… I seem to remember this notion of affordable housing being bandied around….is this our chance to get our homeless into a HOME now?…..I want to know.
Otherwise, if not… Let's shop around for another market for our illustrious high density precincts….SHOCK HORROR ….I'm sure there are others who are used to living this type of lifestyle. BANGLADESHIS perhaps?…….Why not?…open up our options?…….Oh… OHHH wait, they haven't got the $$$$$$'s…..
Well, I say to the developer lobby groups and spruikers of residential trash….suck it up and realise all good things come to an end….diversify your market.
Shut down your spruiking trash seminars to Chinese only investors and avail your apartments for what they are worth to our domestic market….fill them up!!… and maybe …just maybe start building quality buildings that don't fall apart.
COVID-19 spreads to Aussie property
By David Llewellyn-Smith in Australian Property
February 13, 2020 | 37 comments
Via The Australian:
Developers are cancelling launches of new apartment blocks and investment seminars targeting offshore buyers as they confront a potential fall in sales due to the coronavirus outbreak.
The property industry had hoped the new year would be marked by a pick-up in demand. While local buyers are out in force, a predicted surge in offshore investors into the top end of the residential market has been delayed.
Measures to contain the spread of the coronavirus in China and travel restrictions are causing problems for agencies as buyers can't get to Australia.
…Investorist founder Jon Ellis said sales volumes coming out of China would remain low.
"The whole industry is in a bit of a pickle," Mr Ellis said. "No property developers are going over there and also no agencies."
He expects investment in Australia will slow as Chinese outflows fall off globally but he predicted they could pick up again after the scare dissipates. "Once coronavirus settles down and is under control, I think people will look back to Australia and will see it as very favourable. But certainly for the next month or two, I would not expect to see many contracts coming out of China," Mr Ellis.
*But when will that be, Mr Ellis? And if it comes too early, as the CCP appears to be planning for, what will the private reaction to travel as the virus spreads globally? As well, students won't return now until mid-year enrolments.
Given we already have a meaty property construction bust underway this is poor timing: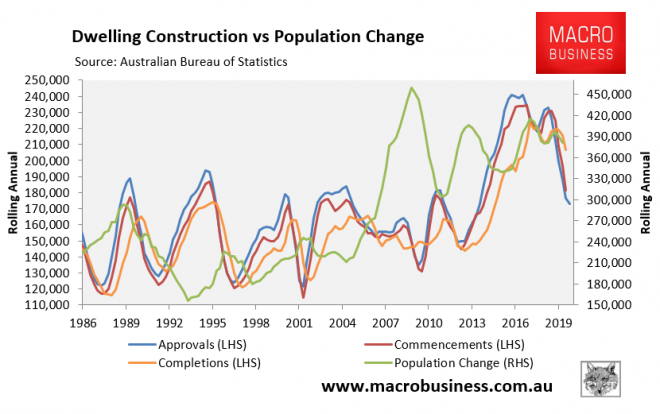 I expect house prices to slow and construction to bust all year.
David Llewellyn-Smith is Chief Strategist at the MB Fund and MB Super. David is the founding publisher and editor of MacroBusiness and was the founding publisher and global economy editor of The Diplomat, the Asia Pacific's leading geo-politics and economics portal.
He is also a former gold trader and economic commentator at The Sydney Morning Herald, The Age, the ABC and Business Spectator. He is the co-author of The Great Crash of 2008 with Ross Garnaut and was the editor of the second Garnaut Climate Change Review.
SOURCE: https://www.macrobusiness.com.au/2020/02/covid-19-spreads-to-aussie-property/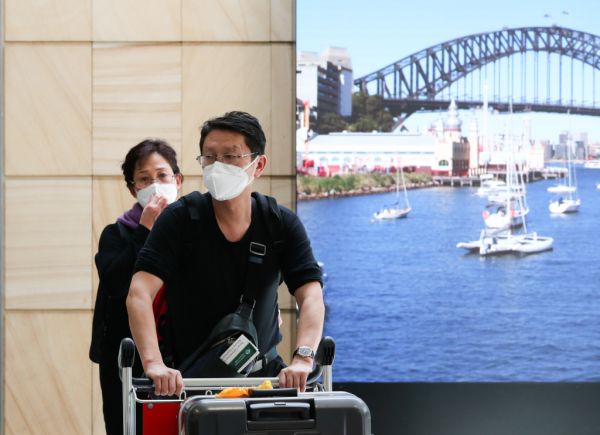 The coronavirus and subsequent ban on non-citizens travelling to Australia from China has left prestige vendors short of foreign buyers. Photo: Janie Barrett