When the HOUSING PONZI first emerged in NSW in 2012 we recall a handful of high-rise Precincts were proposed … the talk of the URBAN TASKFORCE was that Sydney was growing and the people had to be housed somewhere, and the solution was high-rise precincts close to public transport …
GREEN SQUARE PRECINCT includes the suburbs of Alexandria, Zetland, Waterloo, Rosebery and Beaconsfield …
-2016 Census more than 38,000 people lived there
-the population is expected to hit 61,000; more dense than London and New York
-Heffron MP, Ron Hoenig called for the Planning Minister to revoke approved Green Square developments
-December 2018 it was standing room only on the trains
–more than 7,000 dwellings in Waterloo alone may exceed the population of Hong Kong
DESPITE inadequate infrastructure and amenity for residents the profits to be made by developers from the endless line of Vibrants … it's so easy they fly in to buy lured by Permanent Residency …
Tzannes, Fender Katsalidis design Sydney housing complex
Tzannes, Fender Katsalidis design Sydney housing complex
NEWS | Editorial Desk AAU 7 Feb 2020
1/2VIEW GALLERY
Epsom Road Apartments by Tzannes in association with Fender Katsalidis.
Image: Synthetica
Tzannes and Fender Katsalidis have jointly designed an apartment complex in Sydney's Roseberry that will add to the enormous level of development taking place in the area.
The project site lies close to the Green Square district and is bounded to the east by Southern Cross Drive and the Australian Golf Club.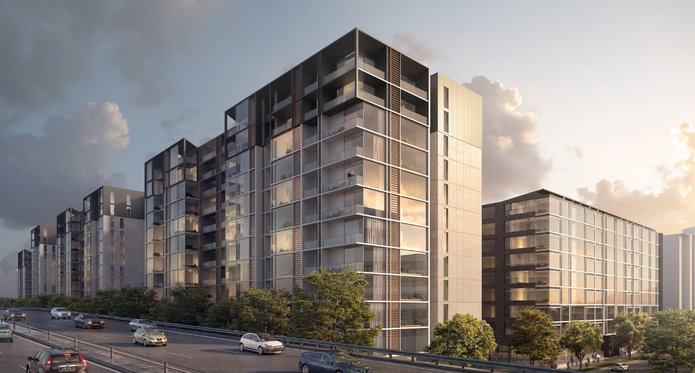 The complex will comprise five apartment buildings arranged around three sides of the proposed Garraway Park, designed by Oculus. The facades of the buildings facing the park will feature green walls that act as "bookends" to the space.
Two U-shaped buildings in the north and south, rising to seven stories, will centre on a landscaped space, while the "wall" of buildings flanking Southern Cross Drive will reach 12 stories in height. McGregor Coxall is the landscape architect for the project.
The apartments are a mix of studios and one-, two- and three-bedroom units.
The project's proximity to Green Square places it in Australia's most intense development area and most densely populated precinct, with a population density approaching that of Hong Kong.
The City of Sydney has attempted to serve the booming population with a series of prominent new public projects, including Green Square Library and Plaza by Stewart Hollenstein in association with Stewart Architecture, Peter Stutchbury Architecture's Joynton Avenue Creative Centre and the under-construction Green Square Aquatic Centre by Andrew Burges Architects with Grimshaw and Taylor Cullity Lethlean.
SOURCE: https://architectureau.com/articles/tzannes-fender-katsalidisapartment-complex/?utm_source=dlvr.it&utm_medium=twitter&fbclid=IwAR0llPaUR4_BffVxdPxbycqG0dBBOcKHl89S1_yf2qZJCgJcQJTgGMwL-u0
LIKE CAAN ON FACEBOOK!
https://www.facebook.com/Community-Action-Alliance-for-NSW-744190798994541/?ref=aymt_homepage_panel
SEARCH CAAN WEBSITE for more Reports!
https://caanhousinginequalitywithaussieslockedout.wordpress.com/