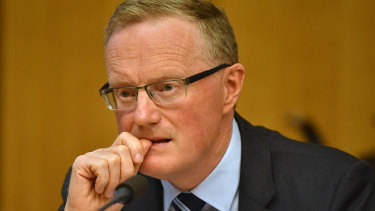 RBA governor Philip Lowe thinks mortgage-holders are using their money to pay down their house debts. CREDIT:AAP
What was achievable … the Great Australian Dream of Owning Your Own Home has become a nightmare with a Whole Cohort of Australians locked out!
SEARCH CAAN WEBSITE TO LEARN WHY!
-Proxy Buyers
-Real Estate Gatekeepers (RE Agents, Lawyers and Accountants) excluded from Anti-Money Laundering Laws
.Scomo Government exempted them in October 2018
Read more:
https://caanhousinginequalitywithaussieslockedout.com/2018/10/09/2665/
.foreign buyers lured by our domestic housing to gain a 'Permanent Resident Visa'
.the huge competition for Australian Housing escalated house prices
Related Article: Ross Gittins: The Great Australian Dream is Keeping the Economy Weak
https://caanhousinginequalitywithaussieslockedout.com/2020/02/12/the-great-australian-dream-is-keeping-the-economy-weak/
AS long as the economy relies on mass immigration and the housing ponzi to juice growth via consumption and pushing the capacity envelope, productivity and growth will remain poor.
Tell others … start the conversation …
Gittins: Blame housing for weak economy
By Leith van Onselen in Australian Economy, Australian Property
February 12, 2020 | 9 comments
Ross Gittins has blamed Australia's record high mortgage debt for hamstringing the economy:
Do you worry about the enormous size of your mortgage? If you do, it seems you're not the only one. And the way Reserve Bank governor Dr Philip Lowe sees it, people like you are the main reason consumer spending is so weak and the Reserve and the Morrison government are having so much trouble getting the economy moving.

Until the global financial crisis in 2008, we were used to an economy that, after allowing for inflation, grew by about 3 per cent a year.

The latest figures show it growing by barely more than half that. (This, of course, is before we feel the temporary effects of bushfires and the coronavirus.)

This explains why the Reserve cut its official interest rate three times last year, dropping it from a record low of 1.5 per cent to an even more amazing 0.75 per cent. Cutting interest rates is intended to encourage people to borrow and spend. So far, however, it's shown little sign of working.

Similarly, the first stage of the massive tax cuts that were Scott Morrison's key promise at last year's election, a new tax break worth more than $1000 a year to middle-income-earners, was expected to give the economy a kick along once people started spending the much bigger tax refunds they got after the end of last financial year…

So, rather than increase their spending on goods and services, they cut it and used whatever spare money they could to pay down their mortgage…
Gittins isn't wrong.
Australian households are carrying one of the highest debt loads in the world: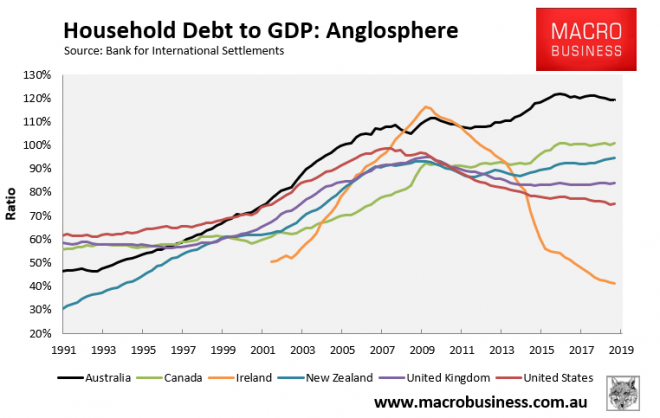 They have also experienced a prolonged period of stagnant income growth: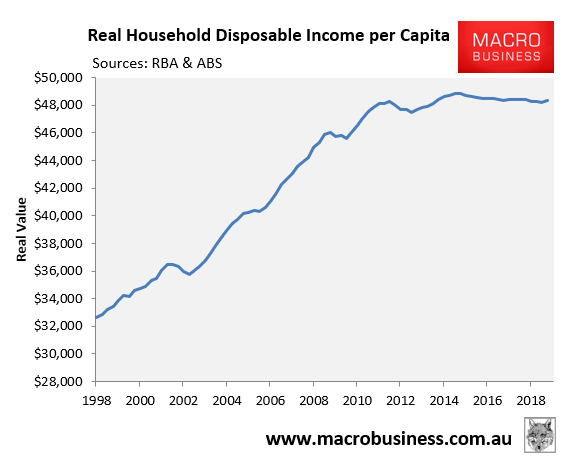 Instead of spending the extra disposable income from tax cuts and lower mortgage rates, households are instead cutting consumption and paying down debt.
This is reflected in falling mortgage and personal credit growth: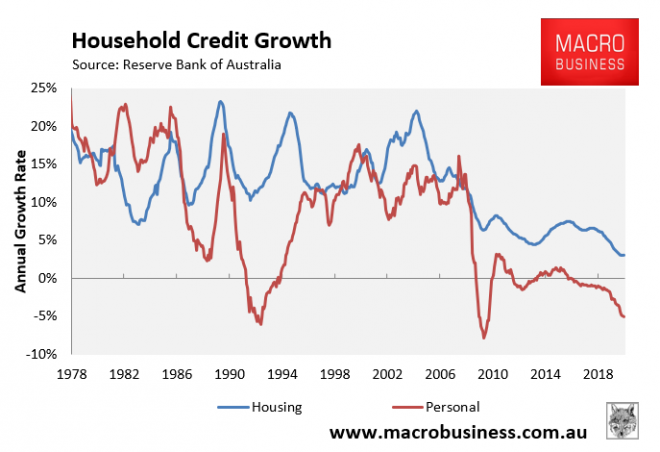 Rising housing equity injection: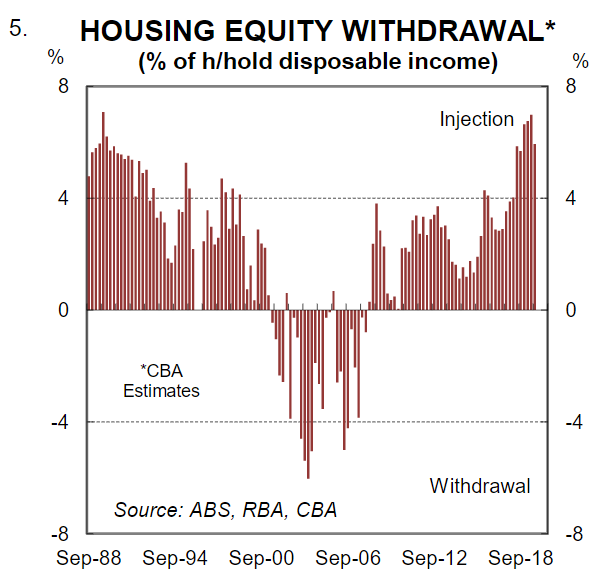 Falling new car sales: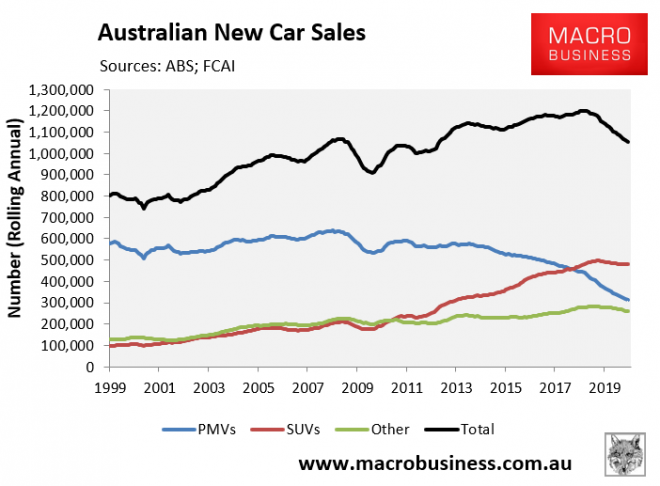 Weak retail sales: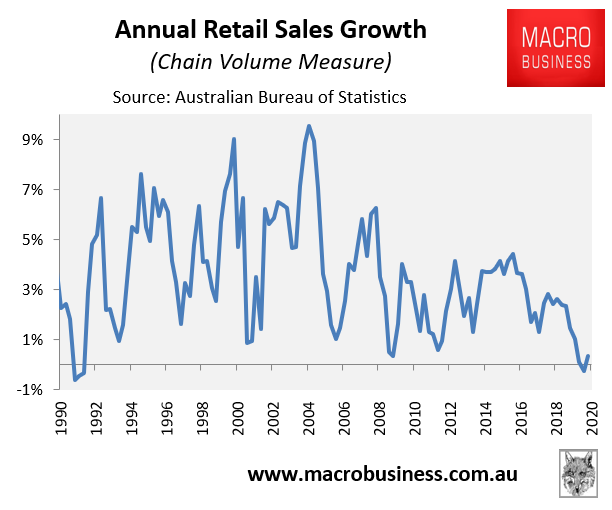 Weak household consumption growth: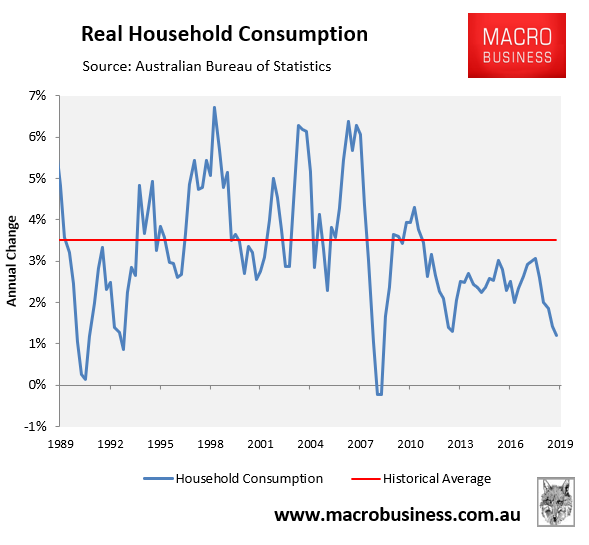 And a private sector that is in recession: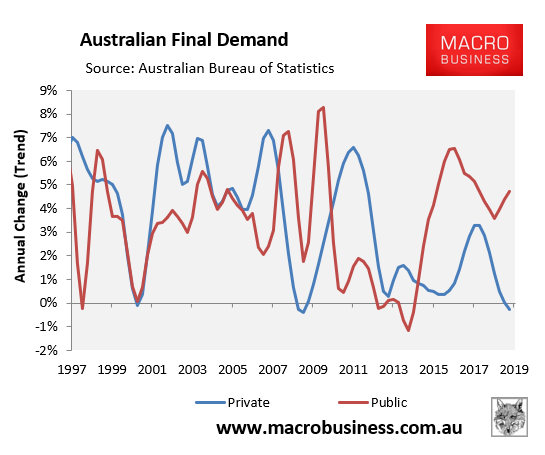 That's the cyclical story.
But the more important structural story is that Australia's housing obsession is one in a series of factors that has crushed multifactor productivity (the driver of living standards) and lowered the economy's long-run growth potential, namely:
Crush-loading infrastructure via the immigration ponzi, thus diluting Australia's capital stock and requiring expensive new infrastructure to be built that is less efficient than what was already in place;
Massive over-investment in unproductive capital via the housing bubble;
Massive mis-allocation into white elephant energy infrastructure;
Over-inflated land costs; and
Oligopolies and rent-seeking across almost all facets of the economy, thus destroying innovation, efficiency and good management.
In short, Australia's economic structure is stuffed. And as long as the economy relies on mass immigration and the housing ponzi to juice growth via consumption and pushing the capacity envelope, productivity and growth will remain poor.
Leith van Onselen is Chief Economist at the MB Fund and MB Super. Leith has previously worked at the Australian Treasury, Victorian Treasury and Goldman Sachs.
SOURCE: https://www.macrobusiness.com.au/2020/02/gittins-blame-housing-for-weak-economy/