TELL others … they need to know … to cut through the RE SPIN!
DEBUNKING THE REAL ESTATE HOUSING AFFORDABILITY MYTHOLOGY … IT IS THE FAULT OF 'THE BABY BOOMERS'
We will go back a way … to the late 1990s during the term of the Howard Government when …
'Middle Class' Chinese people were lured by the prospect of investing in Australian homes and/or education to gain 'Flexible Citizenship' … following which in the early 2000s there was a Housing Boom in Australia!
The latter years of Mr Howard's prime ministership delivered significant increase to net overseas migration as a proportion of the population.
By the time of the 2007 election, his government had doubled the permanent intake.
In both the 457 — temporary business visa — and overseas student categories, Mr Howard oversaw significant growth from the turn of the century.
https://caanhousinginequalitywithaussieslockedout.com/2019/05/30/11797/
Photo: ABC
IMAGINE … the headline … 'High-Rise Titan pulls off Property Sting' … with the 'Foreign Investment Review Board (FIRB) Ruling … 2008/09'
Photo: AFR Rich List: Top 10 Property Players; Harry Triguboff
Following the GFC … that allowed developers to sell 100% of 'new homes' to overseas buyers … up from 50% particularly in China ….
Obviously seeking large numbers of High Net Worth buyers!
Photo: Lang Walker, AFR; Rob Homer
In NSW the O'Farrell Government in 2012 introduced its Green Paper for high density with …
High-Rise Residential Apartment Precincts
It is readily seen how both the FIRB Ruling and the Green Paper are linked!
The NSW Community were spun the line 'have your say' and wrote thousands of submissions to be ignored!
Followed by the 'White Paper' and the NSW Planning Law Changes …
For more than 12 years the Second Tranche of the Anti-Money Laundering Laws to be applied to the Real Estate Gatekeepers were shelved … that allowed the 'Hot Money' aka 'Black Money' to be awash in Australian Real Estate … a number of organisations have raised issue with this sadly to no avail … including Transparency International, and the Financial Action Task Force (the FATF)
Search CAAN Website to find out more!
https://www.transparency.org/whatwedo/publication/doors_wide_open_corruption_and_real_estate_in_four_key_markets
IN October 2018 in the lead-up to the May 2019 Federal Election the Morrison Government exempted (excluded) the Real Estate Gatekeepers (Real Estate Agents, Lawyers and Accountants) from the Anti-Money Laundering Laws (the second tranche) …
READ MORE!
Real Estate Agents, Lawyers & Accountants avoid Money Laundering Laws = Keeping Australian FHBs locked out …
https://caanhousinginequalitywithaussieslockedout.com/2018/10/09/2665/
SINCE the May Election in 2019 from late 2019 to date there has been another Property Boom following a Big Fall!
-this allows the onshore Proxy to flourish
-home prices again escalate
-first home buyers are outbid at auctions or deals are done behind closed doors prior …
–despite loan approvals Australian First Home Buyers continue to miss out
-what it has meant is that the CCP Diaspora is growing across Australia
-with their high net worth they are buying up residential property close to the CBD, in the most desirable locations
.buying up commercial property, and agricultural property
IS this not an almighty betrayal of the Australian People … with more businesses exchanging hands for CCP Buyers on a daily basis?
BACK TO 'THE BABY BOOMERS'
Contrary to the suggestion 'put about' that it is Baby Boomers who own property investment portfolios, and are 'Millionaire Home Owners' this is what Fact Check found …
Fact Check: Negative gearing used most by higher income earners
FOR every taxpayer that negatively gears 9 others do not
-they pay more tax to subsidise the minority of negatively geared investors
ABC Fact Check has debunked the Coalition's and property lobby's incessant claim that negative gearing is used primarily by 'ordinary mum and dad' middle-income earners with taxable incomes below $80,000:
https://caanhousinginequalitywithaussieslockedout.com/2018/11/16/4237/?fbclid=IwAR0CPLY3l0HpI48u_Cz0ocCZRDN8xdFdh8lwrKb_s4TijadR13SwAzqJjD8/
Australian Temporary Visa numbers surge past 2.3 Million
The Department of Home Affairs temporary visa statistics for the March quarter of 2019 have been released with the total number of temporary visas on issue ballooning past 2.3 million:
https://caanhousinginequalitywithaussieslockedout.com/2019/05/31/11824/
With many seeking both Australian Real Estate and a Permanent Resident Visa!
CANNOT find more up-to-date figures but based on the observation of those Boomers who own their own home there are many who, through divorce, illness, job loss or other misfortune have lost their home, and many elderly women are now homeless!
OTHERS who, so far, have managed to hang onto the 'Family Home' are doing so to provide their Children some security!
Photo: Domain
HOW can those small percentages compare to the high influx of foreign investment?
A typical Real Estate Agent response to aspiring First Home Buyers is that they should 'cut their cloth' …
'Buy house and land packages with small lots, a suburb not right on the coast, part of a cheaper development, it's not that they can't afford but that they want all the bells and whistles.
In this market that attitude will keep them out of their own home forever!'
MEANWHILE the Real Estate Gatekeepers display no hesitation in negotiating with money launderers, despite the loss of our Sovereignty … and despite the warnings from Australia's foremost strategic thinkers and expert analysts, and that of Transparency International, the FATF, the OECD and others!
AS more of Our Families due to flat wages, soaring house prices … a consequence of the property industry contrived incursion from the overseas buyer … that now one in four Australians are now living in a privately rented home.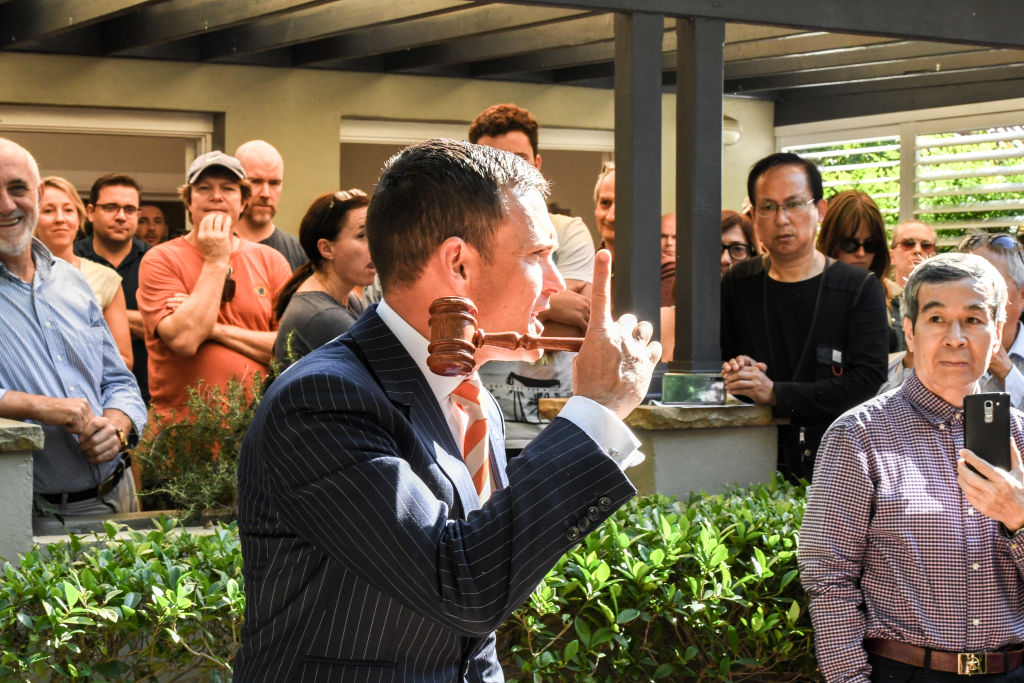 Photo: Domain has been seeing boom-time bidding tactics again. Photo: Peter Rae
LIKE CAAN ON FACEBOOK!
https://www.facebook.com/Community-Action-Alliance-for-NSW-744190798994541/?ref=aymt_homepage_panel
SEARCH CAAN WEBSITE:
https://caanhousinginequalitywithaussieslockedout.wordpress.com/