SINCE late 2019 there has been a reported increase in inquiries from Hong Kong and China's buyers …
https://caanhousinginequalitywithaussieslockedout.com/2020/02/08/owen-wilson-re-group-speaks-to-the-business-about-increased-inquiries-from-hk-and-china/?fbclid=IwAR2wAvJlayaTZPT1d7RUafPbBaqMS5vMdvZC9Bc8k28L1vabMUPZHl_yra4
PERHAPS that is why there are no longer any affordable homes in Sydney or Melbourne … it's a NUMBERS GAME!
–50,000 people from China were flying into Australia every week … until they were stopped by the CoronaVirus!
BUT that will not stop them …. they can buy online! All REA GROUP Agents operate digitally …
IN the Year of the Rat … 2020 … more Australians will have insecure work, continue to work for low wages, and be locked out of the home market by the foreign intrusion into our housing market … facilitated by scummy government policies …
Foreign buyers can launder 'hot money' in our Real Estate with the Real Estate Gatekeepers excluded from anti-money laundering laws!
–the exemption occurred in October 2018!
PLEASE SHARE … and/or COPY AND PASTE into an Email … chat with others to let them know … they need to be updated! WHY not question your local MPs about this??
There are no affordable houses left in Sydney or Melbourne
By Leith van Onselen in Australian Property
February 7, 2020 | 29 comments
CoreLogic has released alarming research showing that there are no affordable houses in either Sydney or Melbourne:
While the median property value provides a useful reference point for the 'typical' home value in an area, buyers on a tight budget might find it more practical to narrow down their property search by examining lower quartile values…
The lower quartile (or the most affordable 25% or properties in a region) provides a better view of the market entry point, while the upper quartile (most expensive 25% of properties) gives an indication about premium values…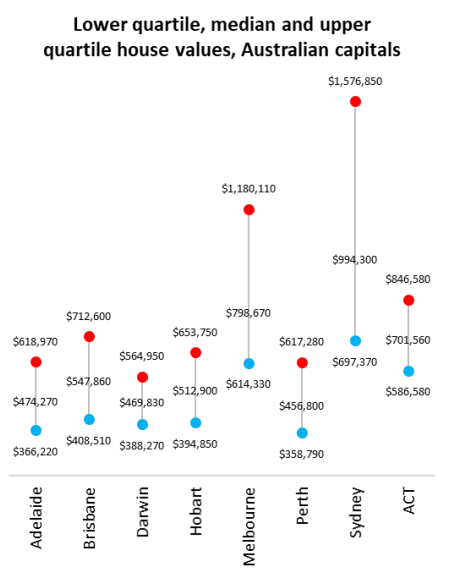 Sydney Australia's most expensive housing market has a median house value of $994,300. However the lower quartile house value, at $697,370, provides an entry point to the market that is almost $300,000 lower than the median.
In some cases, such as the North Sydney & Hornsby subregion or the Eastern Suburbs, the difference between the median and lower quartile can be more than half a million dollars.
Across Sydney's sub-regions, there are three areas with a lower quartile house value below $600,000. These are the Central Coast ($525,590), Outer South West ($564,730) and Outer West & Blue Mountains ($575,890).
Additionally, Sydney has the largest inter-quartile range (the difference between the upper and lower quartile) with the upper quartile 126% higher than the lower quartile, implying a significant level of diversity in housing values across the city.
Melbourne With a city-wide median house value of $798,670, Melbourne is Australia's second most expensive capital city housing market (after Sydney). The lower quartile value for Melbourne houses, at $614,330, is $184,300 lower than the median. This provided an easier entry point for budget-constrained buyers. Three sub-regions of Melbourne have a lower quartile house value that is greater than one million dollars (Inner, Inner East and Inner South), and four regions have a lower quartile house value below $600,000: North West ($549,790), South East ($573,590), West ($524,820) and Mornington Peninsula ($580,130)…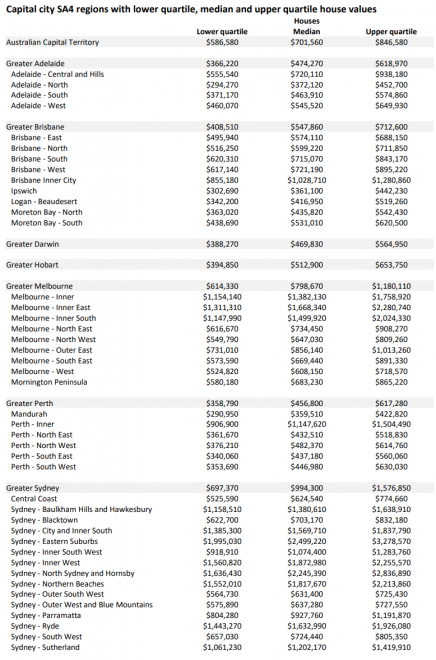 The situation will obviously worsen as the 'Big Australia' mass immigration policy doubles the size of Sydney and Melbourne over the next half century, swelling their populations to around 10 million each: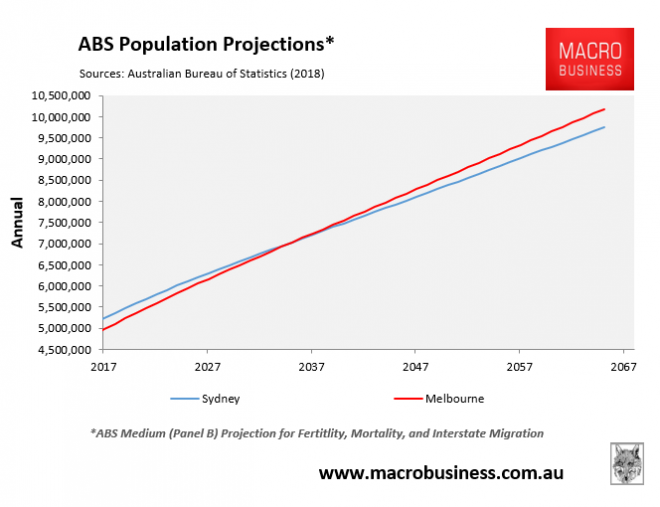 Full report here.
Leith van Onselen is Chief Economist at the MB Fund and MB Super. Leith has previously worked at the Australian Treasury, Victorian Treasury and Goldman Sachs.
SOURCE: https://www.macrobusiness.com.au/2020/02/there-are-no-affordable-houses-left-in-sydney-or-melbourne/