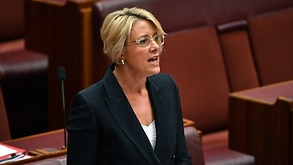 Opposition Home Affairs spokeswoman Kristina Keneally. Source: AAP
WHY are migration agents attacking Labor's temporary visa crackdown?
WITH more than 2.3 MILLION VISA Holders in Australia … of which 1.6 MILLION are Visa Workers!
–obviously it is a very lucrative occupation
-among the 2.3 Million visa holders many are wealthy, and are seeking Permanent Residency through real estate tours
WHY are there such high numbers of Visa Workers? … Cough … cough … LVO lists some examples of exploitation from 2016 …
This Comment sums it up!
'As usual the people making out like bandits in this scam are the earlier migrants who use their one skill, speaking the same language, to exploit their fellow countrymen on arrival. ….
These people are laughing at us, breaking the law as a matter of course, and then complaining that we won't allow them to bring in their parents as free babysitters to then go on Medicare… '
CAAN: It seems like we Australians are under attack on all fronts … whether it be from our so-called leaders acting contrary to our interests … migration agents exploiting Visa workers … thus undermining our employment conditions and wages … our living standards have deteriorated with the high influx … and we are called 'Racists' …
Migration agents attack Labor's temporary visa crackdown
By Leith van Onselen in Australian Economy, Immigration
February 7, 2020 | 29 comments
Last week, Labor's immigration spokesperson, Kristina Keneally, rightfully attacked the explosion in temporary visas (see next chart) across the Australian economy, claiming migrant workers were undercutting locals and contributing to Australia's chronically low wage growth.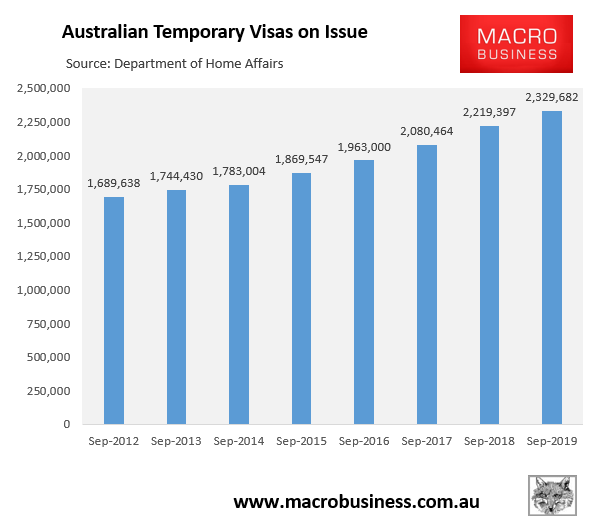 According to Keneally:
Australia currently hosts the second-highest number of temporary migrants in the world, second only to the United States…

Senator Keneally says temporary migration to Australia has been able to continue unchecked, with migrants being filtered into an "underpaid, under-class being used to cut wages and conditions across the country".

"In the name of lower wages and cheap labour, this government is risking a new and damaging form of social and economic exclusion," she will say.

According to Senator Kenneally, estimates suggest temporary migrants currently make up 10 per cent of Australia's younger aged workforce.
Keneally's testimony has drawn a strong rebuke from migration agents, who have labelled her "a union foghorn":
Photo: The Australian
[Keneally's] views drew the ire of Migration Alliance, which has more than 4000 members and represents registered migration agents in Australia, with the group telling the senator to "stop playing dirty politics".

"Effectively what Senator Keneally is trying to do is rob New Zealanders, international students, and working holidaymakers from countries such as Canada, the UK, Ireland, France, South Korea and Japan of the opportunity to live and work in Australia," Migration Alliance said.

"It is abundantly clear that Senator Keneally is the foghorn for the unions. The unions have long detested the working holiday­maker program, and have been pushing to have it abandoned for years."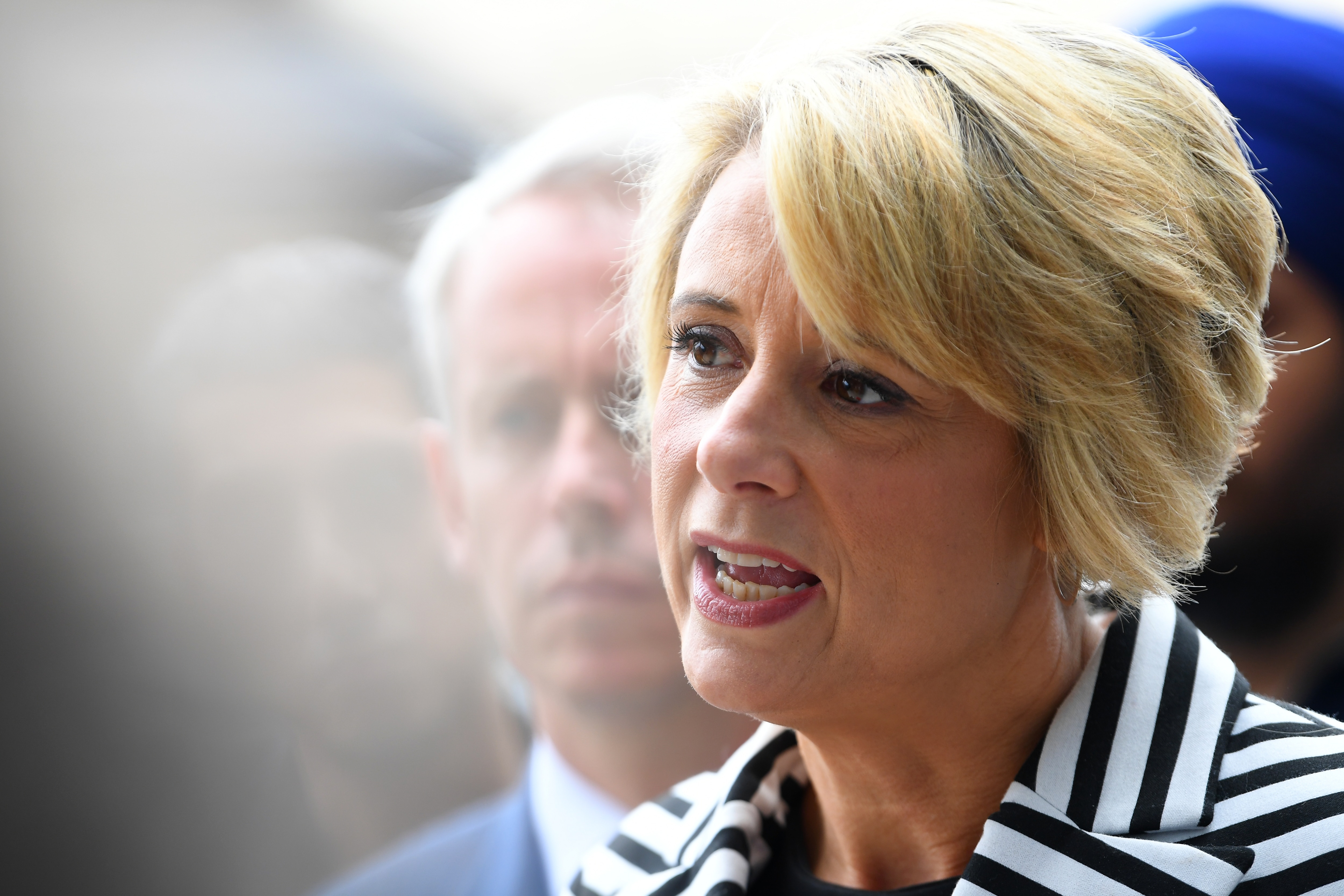 Labor Senator Kristina Keneally will warn against relying on temporary migrants to bolster the workforce during a speech on Thursday night.AAP
This is hilarious stuff from the Migration Alliance, given the working holiday­maker program has been found by multiple public inquiries to have exploited migrant workers.
Let's list some of these examples of exploitation.
In 2016, the Fair Work Ombudsman completed an inquiry into Australia's backpacker visa scheme, which found that "many backpackers are being subjected to underpayment or non-payment, unlawful deductions, sexual harassment, unsafe working conditions and other forms of exploitation".
The Senate report, entitled A National Disgrace: The Exploitation of Temporary Work Visa Holders, documented widespread abuse of Australia's Working Holiday Maker visa program, which was "consistently reported to suffer widespread exploitation in the Australian workforce".
The 2017 National Temporary Migrant Work Survey found that one in every seven temporary migrant fruit and vegetable pickers were paid $5 an hour or less, and a third $10 an hour or less.
In 2018, a group of academics jointly penned an article in Fairfax claiming that exploitation of temporary migrant farm workers is rampant: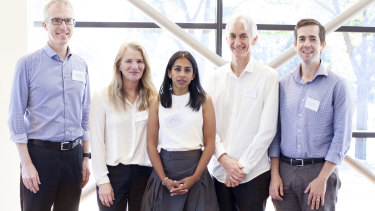 Researchers Stephen Clibborn, Diane van den Broek, Joanna Howe, Alex Reilly and Chris Wright argue changes to the backpacker visa are not a sustainable solution to worker exploitation and labour shortages.
Australia already has more backpackers, and relies more strongly on them for horticultural work, than any country…

Unlike agricultural visas in New Zealand, Canada and the United States, and unlike Australia's own Pacific seasonal worker program, there is no pre-approval of employers.

Nor is there systematic ongoing regulation to ensure compliance with workplace laws…

Story after story after story have exposed exploitation on farms…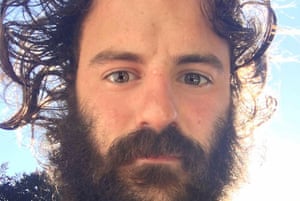 Belgian backpacker Olivier 'Max' Caramin died after picking pumpkins on a farm in Queensland. Photograph: Facebook
And last year, more "chronic exploitation" of migrant workers on Australia's farms was exposed:
PHOTO: The ABC understands the workers are from several villages in a remote part of Fiji. (Stephanie Anderson)
Australian authorities are investigating whether dozens of workers from small, remote Fijian villages may be victims of labour exploitation after allegedly being deceptively recruited to work on farms in north-west Victoria.
…a local Victorian MP said worker exploitation was a "chronic" issue in the Sunraysia region, and that the case would not be surprising.
…several people familiar with the workers in the case told the ABC the Fijians reportedly paid roughly $FJ2,300 ($1,545) to a travel agent in Fiji who obtained tourist visas for them rather than working visas.
It's understood some 40 people arrived in Sydney or Melbourne in small groups in August before being taken to Mildura in north-western Victoria…
AFP Detective Superintendent Jayne Crossling said authorities were investigating the case in Australia and Fiji.
"We're aware of allegations in relation to a number of Fijian nationals, who we believe may be victims of specifically deceptive recruitment and labour exploitation," she said…
The AFP and ABF carried out two raids in Mildura in October as part of their investigations into that group, and discovered 19 foreigners working in Australia illegally — 16 of whom were from Fiji, in addition to two Tongans and a Malaysian.
ABF said nine of them were also in Australia illegally…
Clearly, the only ones "playing dirty politics" here are migration agents.
Leith van Onselen is Chief Economist at the MB Fund and MB Super. Leith has previously worked at the Australian Treasury, Victorian Treasury and Goldman Sachs.
SOURCE: https://www.macrobusiness.com.au/2020/02/migration-agents-attack-labors-temporary-visa-crackdown/