Coronavirus lockdown: Hundreds fear for Australian permanent residency outcomes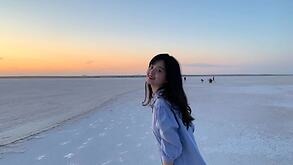 Danni Shen's Australian dreams are on hold while she is stuck in China. Source: Supplied
Migration agents say they've been flooded with calls from Chinese nationals who are worried their Australian visas could expire or become invalid, while they're locked out of the country.
UPDATED 7 FEBRUARY 2020
BY LUCY MURRAY, EMILY JANE SMITH
SHARE!
Lara Huang hadn't been home for three years when she made the journey back to China to visit her parents for Chinese New Year. Unfortunately, her timing couldn't have been worse.
Days after she arrived, the coronavirus outbreak worsened and flights from mainland China to Australia were suspended. Now, Lara is at risk of jeopardising her chance at permanent residency.
Lara applied for permanent residency in the ACT under one of the government's new regional skilled migration schemes after completing her studies in Canberra. Any holiday more than six weeks will affect her application.
"It is very stressful waiting … no-one knows when the travel ban is going to be cancelled," Lara told SBS Dateline from China.
"I understand why the government has chosen to do this …. but all my plans are in Australia and suddenly that is just paused."
As well as the six week limit, Lara needs to secure permanent work before her application is finalised. She has recently graduated and had interviews lined up for her return.
"I've had to tell all these potential employers 'hey, I'm really sorry, I can't come back and I don't know when I can'," she said.
"I hope there won't be any discrimination about [the coronavirus] and I still have the same chance getting a job.
"My friend's highschool kids are saying they are being bullied, other friends in share-houses were told not to use the common kitchen," she said.
Danni Shen (left) has been working toward Australian permanent residency for three years.Dateline
Lara is one of hundreds of hopeful permanent residents who are now in limbo in China.
Kirk Yan is the director of immigration service Newstars Education and Migration and is a migration agent. He said hundreds of people have contacted him for help since the travel restrictions were implemented last weekend.
"I've been working from the morning until 11 or 12 at night. I'm always trying to keep up to date with current announcements from the government, press releases and interviews."
Kirk has five accounts on the popular Chinese social media site WeChat. He said each account receives hundreds of inquiries everyday.
"There is lots of uncertainty," he said.
Kirk said the Department of Home Affairs is changing its policies which is making it difficult for people to plan.
"They are always asking me what is my advice and what I can do. But to be frank, I don't have much of a clue myself. I don't know what the best option is for them," he said.
SBS Dateline requested comment from the department but did not receive a response.
To be a successful permanent resident in Australia, an applicant needs to achieve a certain number of points which can be earned with proof of stable work, completing education courses, and proof of living in that area. Being in China for an extended period of time puts an applicant at risk of missing-out on points.
Danni Shen is in northern China after returning to see family for New Year. She was already due back in Melbourne but was stuck in China after the travel ban.
Danni is enrolled in and paid for courses that will help her achieve permanent residency. Now her education, job and eventual permanent residency is at risk.
"If I can't go back to the class then I don't have attendance, so I can't graduate," she said.
If Danni doesn't graduate her dreams to stay in Australia may be over.
"For three years I have worked to get PR, this right to be Australian.
"I might have to re-enrol in my classes which will be in another one year, but my visa expires in 2021.
"Already the migration process is hard for people, the points can be so high for lots of people, timing is important but lots of people are in a difficult position and they don't know how to proceed."
Kirk Yan is unsure if people can argue special circumstances.
"At the end of the day you have to meet the requirements of the [Department of Home Affairs]," he said.
"So many people have been affected by the travel ban and I haven't seen the Home Affairs or Border Force making any suggestions they would give any special circumstances."
SOURCE: https://www.sbs.com.au/news/dateline/coronavirus-lockdown-hundreds-fear-for-australian-permanent-residency-outcomes?fbclid=IwAR2drZoGzYdFx_fpGTsyjplosDghUbItkOOnldsBPGn_dPHQgTRJNVIi0y4