PHOTO: The WestConnex network will have six toll points once completed. (AAP: Paul Miller)
SYDNEY … has the most toll roads in the World … this must stop!
SINCE … we have not yet got to the point of standing up collectively, and saying 'that's not good enough' to the Libs …
HERE's the way forward …. "all motorists should drive the roads without the 'beeper' in place and 'Return to Sender' all unsolicited mail."
Australia Post would be swamped with a deluge of envelopes …
HILARIOUS … and that's the way!  From a commentator on MB!
It's time to drop the hammer on Transurban
By Leith van Onselen in Australian budget
February 6, 2020 | 11 comments
While residents of Sydney and Melbourne are suffering from crush-loaded roads, trains, schools, and hospitals, as well as smaller and more expensive housing, toll road company Transurban is making out like a bandit.
Last year, ABC News reported that Sydney's toll road network is the most expensive and extensive in the world, most of which are owned and operated by Transurban:
…transport experts have given the city the dubious honour of having the most extensive — and expensive — urban toll road network in the world.
Sydney has nine toll roads that include a total of 15 toll points, and will soon have even more when motorways under construction are completed.
Currently, motorists are charged when driving on the:
M2
new M4 WestConnex
M5
M7
M4
Eastern Distributor
Cross-City Tunnel
Lane Cove Tunnel
Sydney Harbour Bridge
Sydney Harbour Tunnel
There will be at least six additional tolls between now and 2023 upon completion of the:
M4 tunnels
M5 (from Beverly Hills to St Peters)
M5 East (Beverly Hills to General Holmes Drive)
M4-M5 link
NorthConnex
"In terms of the kilometres of tolls in the urban area, Sydney has the most in the world," said Chinh Ho, senior lecturer with the Institute of Transport Logistics Studies at the University of Sydney.
"We have an expensive network of toll roads…
Shortly afterwards, The SMH reported that tolls on some of Sydney's roads are rising at triple the rate of inflation: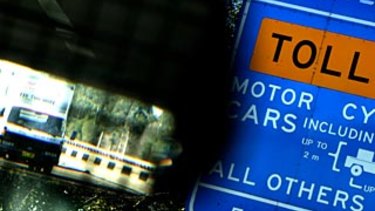 Tolls on some Sydney motorways are rising at more than three times the rate of inflation. CREDIT:ROB HOMER
Against a backdrop of low wage growth, the number of Sydney motorways on which tolls rise by 4 per cent a year will grow with the opening of the first major stage of WestConnex by August, followed next year by the second stage and the $3 billion NorthConnex tunnel.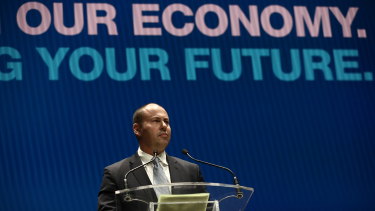 Treasurer Josh Frydenberg said there were positive signs for wages in some sectors such as education and health.CREDIT:DOMINIC LORRIMER
Tolls on three existing motorways – the widened M4 between Parramatta and Homebush, the M2 and the Eastern Distributor – are also escalating by 4 per cent a year…
Martin Locke, an adjunct professor at the Institute of Transport and Logistics Studies at the University of Sydney, said… "If someone is struggling to pay tolls today, in 10 years time it will be significantly worse if the tolls increase at 4 per cent per annum…
The Grattan Institute's transport director, Marion Terrill, said she was concerned that the NSW government was continuing to lock in "extremely long-lived arrangements" for toll roads, citing WestConnex's concession deed lasting until 2060.
Crikey's Stephen Mayne also exposed the unbelievable extortion of motorists by Transurban, which has taken place with the blessing of Australia's governments:
Transurban was created by Macquarie Group and Transfield in 1995 to bid for Citylink, a major Kennett government toll road project in Melbourne. Macquarie pocketed a $25 million success from the deal and Transurban was floated in 1996 at the equivalent of $1 a share.
More than 20 years later, Melbourne's Citylink project is the world's second most valuable privately owned toll road. This has allowed Transurban to extract the following tolls from motorists over the past six years:
2013-14: $535m
2014-15: $577m
2015-16: $660m
2016-17: $687m
2017-18: $780m
2018-19: $813m
That, however, is dwarfed by the story in Sydney where Transurban now controls seven different toll roads which managed to lift total toll revenue from $1.34 billion in 2017-18 to a record $1.53 billion last financial year. This is primarily due to the addition of the M4 motorway, which is part of the monster $9.3 billion Westconnex privatisation deal sealed by the NSW Liberal government last year. *
The story in Brisbane is more modest. Here, Transurban managed to lift tolling revenue from its five different toll roads from $629 million in 2017-18 to a record $644 million last year. All up, motorists in Australia's three biggest cities were stung $2.98 billion for tolls by Transurban last financial year… *
Transurban is the Pac-Man of toll roads, snapping up ownership stakes in all but two of Australia's toll roads…
Only in Australia could a company which has seen its share price go from $1 to more than $15 have a history of never having paid corporate tax. *
Even James Packer has said this is a rort…
Transurban repeatedly outplays state governments by negotiating lucrative bolt-on expansions and acquisitions to its existing monopoly toll road assets up and down the eastern seaboard. *
All of which is part of Transurban's plan to control Australia's road system and become the prime beneficiary of Australia's mass immigration 'Big Australia' policy: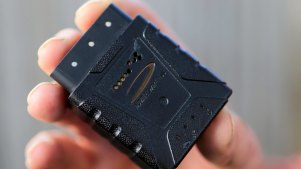 Ask not for whom the road's tolled, it's tolled for thee – or soon will be
Toll road giant Transurban is positioning itself to manage the entire road networks of Australia's three major cities as governments make the "inevitable" shift to road pricing.

A senior Transurban executive told a private meeting of investors this month that the company wanted to be viewed as the "natural custodian" of the nation's motorways, in the likely event of motorists being charged to drive on them.

The Melbourne-based company has a near monopoly on private roads in Australia already, controlling 13 of the 15 toll roads in Melbourne, Sydney and Brisbane.

Analysts Morgan Stanley have described a Transurban-run, user-pays system across all roads as a "meta-monopoly".

Such a move would further entrench the company – which owns Citylink in Melbourne, the M2 in Sydney and all of Brisbane's toll roads – as a de-facto private sector planning agency in those major cities. *

Few, if any, countries in the world have allowed a private operator to control so much of their road network.

Even Jeff Kennett, the man who in effect launched Transurban through its Melbourne CityLink contract in 1996, now warns governments against granting the company more toll road projects, arguing that taxpayers are being "ripped off".
Now, the Victorian Government is locked in a dispute with Transurban over how to dispose of contaminated soil at the build site of the West Gate Tunnel project:
CIMIC and John Holland last week terminated a contract to build the new tunnel for Transurban, claiming they were not responsible for the unexpected cost and difficulty of disposing of contaminated soil…

The contractors claim they were told by Transurban that 85 per cent of the soil they would have to move to build the tunnel would be classified as "fill material" that could be recycled or put into regular landfill sites, but subsequently found that most of the soil was contaminated…

The termination has been rejected by Transurban, which has its own fixed price contract with the state government to deliver the project…

Analysts have estimated the West Gate Tunnel could now cost an additional $1 billion to finish, but the Victorian government is reluctant to pump in additional taxpayer funds…

"There's a contract, it needs to be delivered, that road needs to be completed in 2022", [Premier Daniel Andrews said].
As revealed by Clay Lucas earlier this week, the 1465-page agreement between the Victorian Government and Transurban contained 125 references to "contamination". Transurban also reportedly boasted to the Victorian Government that it was well equipped to deal with the contaminated soil.
West Gate Tunnel construction was delayed when contaminated soil was discovered.CREDIT:JOE ARMAO
Therefore, the Victorian Government must enforce the West Gate Tunnel contract.
Transurban, not taxpayers, must foot any additional costs required to finish the project.
For too long, Transurban has outmanoeuvred and bullied Australia's governments at great cost to motorists and taxpayers. This must stop.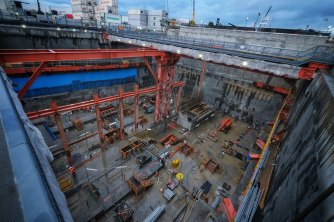 A West Gate Tunnel construction site in Footscray.CREDIT:LUIS ENRIQUE ASCUI
Leith van Onselen is Chief Economist at the MB Fund and MB Super. Leith has previously worked at the Australian Treasury, Victorian Treasury and Goldman Sachs.
SOURCE: https://www.macrobusiness.com.au/2020/02/time-to-drop-the-hammer-on-transurban/
LIKE CAAN ON FACEBOOK!
https://www.facebook.com/Community-Action-Alliance-for-NSW-744190798994541/?ref=aymt_homepage_panel