The Treasury is about to become even more politicised
By Leith van Onselen in Australian Economy
July 13, 2018 | 9 comments
This site has previously lamented the gradual denuding of Australia's public service, which has been stripped raw by decades of government outsourcing, waves of senior redundancies, as well as a preference for governments to seek advice from paid consultants, erroneously named 'think tanks', and political staffers.
The end result has been that the days of "frank and fearless advice" have gone, replaced by spin and bought analysis designed to support a pre-conceived political agenda.
Nowhere is this propaganda more obvious than the Australian Treasury, which has become a blatant shill for the Federal Government.
Evidence of the Treasury's politicisation is hiding in plain sight.
First, there's the Federal Budget, which has continually projected booming taxes: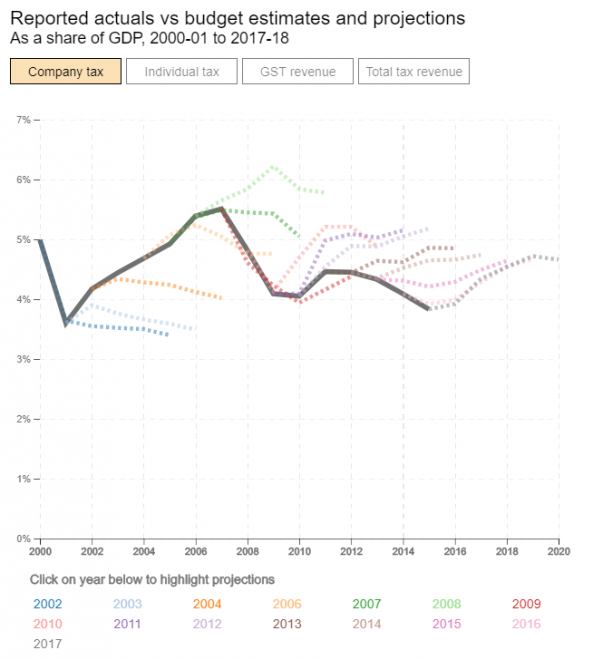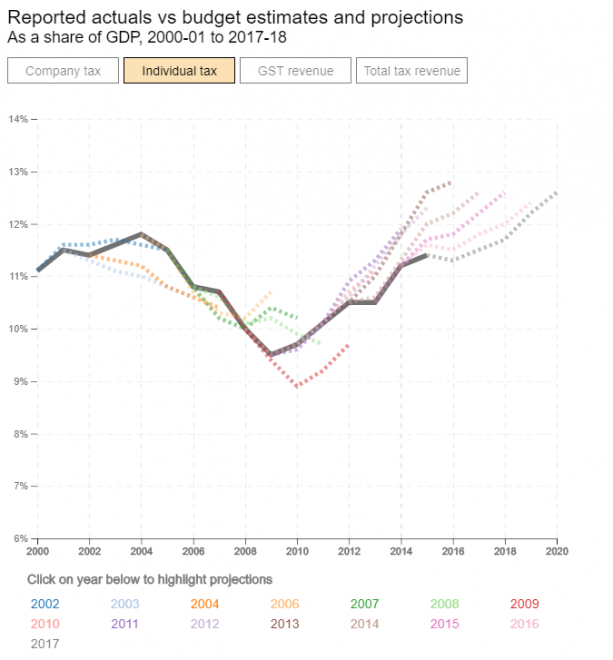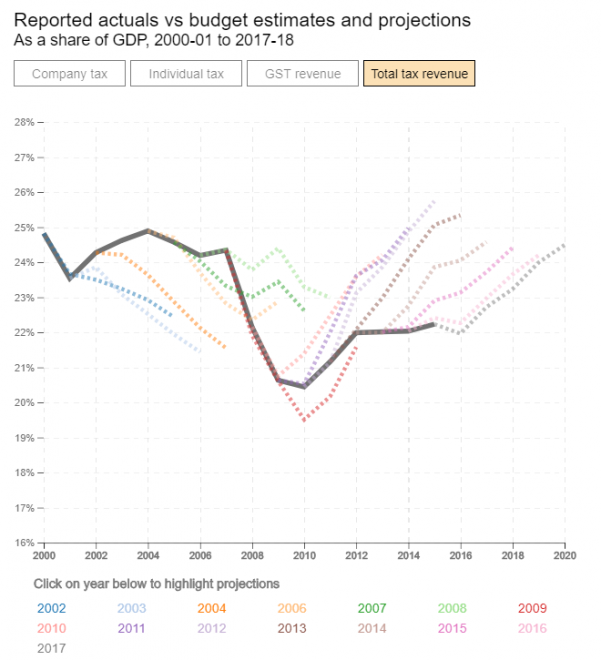 As well as a pending wages explosion: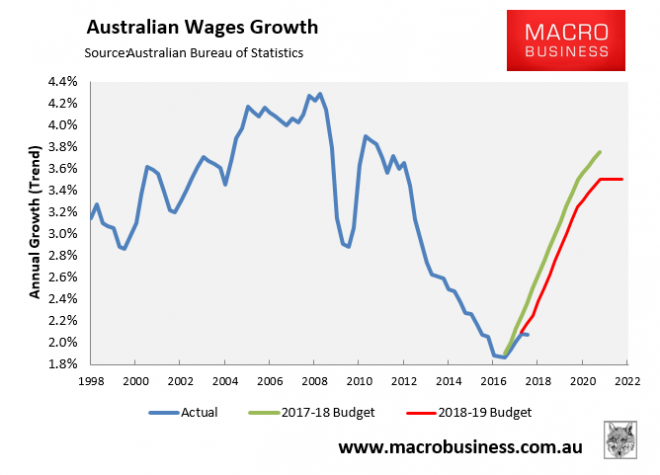 These farcical forecasts have led to calls by economists to shift the responsibility for forecasting the Budget from the politically manipulated Treasury to the independent Parliamentary Budget Office (PBO).
Second, Treasury's dodgy company tax cut modelling shows all the hallmarks of politicisation, as does its recent propaganda report spruiking mass immigration. Both have been torn apart by experts and portray a politically corrupted government agency writing for its master, rather than conducting a rigorous assessment of the evidence.
Further examples of the corruption of the Treasury can be found here and here.
Sadly, the Australian Treasury is about to become even more politicised following the resignation of Secretary John Fraser, replaced by Philip Gaetjens – the former Chief of Staff of both Treasurer Scott Morrison and former Treasurer Peter Costello. From The ABC:
Treasury Secretary John Fraser will quit the job on July 31 after three-and-a-half-years as Australia's chief economic bureaucrat…

Mr Fraser's pending retirement was announced by Prime Minister Malcolm Turnbull in a media statement.

"In the last three-and-a-half years in the role as Treasury Secretary Mr Fraser has led Treasury to new heights, especially in the areas of corporate and personal income tax reform," Mr Turnbull said.

"He has strongly supported the Government's efforts to help repair the budget. He has been a trusted adviser to the Treasurer, ministers and myself on key economic matters…

Mr Turnbull said the Governor-General had accepted his recommendation for Mr Fraser to be replaced by Philip Gaetjens…

The Prime Minister noted that Mr Gaetjens recently departed as the chief of staff to Treasurer Scott Morrison, a role that he also held with former treasurer Peter Costello.
Seriously, we might as well close down the Australian Treasury, give the PBO responsibility for all Budget-related matters, and outsource all policy development to ministerial advisers and the IPA. Because the Treasury that I worked at from 2003 to 2006 no longer exists.
unconventionaleconomist@hotmail.com
Leith van Onselen is Chief Economist at the MB Fund and MB Super. Leith has previously worked at the Australian Treasury, Victorian Treasury and Goldman Sachs.
SOURCE: https://www.macrobusiness.com.au/2018/07/treasury-become-even-politicised/