Don't blame the states for the lack of school funding
By Leith van Onselen in Australian budget
February 4, 2020 | 0 comments
A new report from the Centre for Independent Studies (CIS) claims that concerns around inadequate funding of public schools should be directed at the states given federal government spending on public school students rose by 55% in the decade to 2018, easily beating the 43% increase in funding for private schools:
The Report on Government Services in education, released on Tuesday, shows in 2018 Canberra spent $2387 per student a year in government schools (excluding capital grants). That compares with $1825 a decade ago – an increase of 55 per cent.

In the same time, federal spending per private student went up by only 43 per cent to $8479.

The nominal amount is higher for private school students because the federal government shoulders a bigger share of spending on private schools under its agreement with the states. But the rate of increase is the figure analysts say lobby groups should focus on.

Education policy analyst at the Centre for Independent Studies, Blaise Joseph, said the numbers sent a clear message that challenged the usual claims about spending on education…

"Despite years of fearmongering from education unions about how the federal Coalition was cutting funding for public schools, commonwealth spending on government schools has actually gone up much faster than it has for non-government schools…

If anyone still seriously believes that government schools are underfunded, they should be blaming the states and territories, not the federal government."
Grattan Institute analysis of Productivity Commission data, released last year, also showed that government funding per public school student was nearly 10 times less than for private school students in the decade to 2017, with Grattan also claiming this funding shortfall has been driven by the states:
Public school funding grew by just $155 a student over the decade after accounting for student numbers and teacher wage growth, while private school students each received $1429…

Grattan Institute school program director Peter Goss said funding practice had failed to match up to the theory. "This whole time we've been talking about needs-based funding, we have been heading in the wrong direction," he said…

Between the 2007-08 and 2016-17 financial years, combined state and federal government funding for public schools grew by 22 per cent, adjusted for inflation, while public funding for non-government schools grew by 46 per cent…

The shortfall has been blamed on states' reluctance to contribute enough…

"The states have been shifting their costs to the Commonwealth," said Dr Goss.
It is wrong to blame the states for the lack of public school funding. They are the ones being inundated by the federal government's mass immigration program, which is driving explosive growth in student numbers: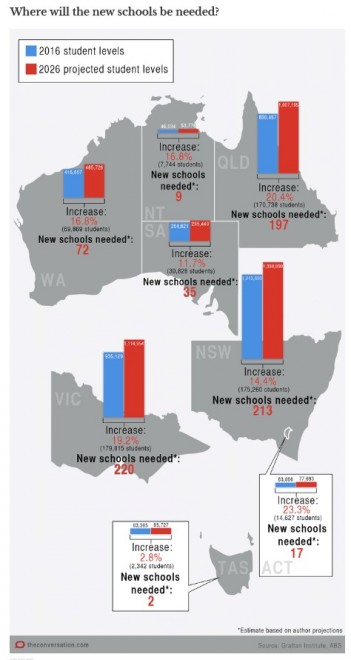 However, it is the federal government that collects more than 80% of Australia's tax revenue, leaving the states cash-strapped and ill-equipped to pay for the public services a bigger population requires.
If the federal government chooses to maintain a mass immigration 'Big Australia' policy, it must pay for the required public services.
Leith van Onselen is Chief Economist at the MB Fund and MB Super. Leith has previously worked at the Australian Treasury, Victorian Treasury and Goldman Sachs.
SOURCE: https://www.macrobusiness.com.au/2020/02/dont-blame-the-states-for-the-lack-of-school-funding/