Keen chess player Gladys Liu: "I have a lot of people who look up to me and believe in me."CREDIT:KRISTOFFER PAULSEN. HAIR & MAKE-UP BY WAYNE CHICK
From the comments …
'More spin, more puff, no substance.
Straight out of the PM's office. As Smoco was under fire for the sports rorts, there's no better time to roll out a puff piece.'
SEARCH CAAN FACEBOOK … for more about Gladys Liu
https://caanhousinginequalitywithaussieslockedout.wordpress.com/
Instead of the sack, "double agent" Gladys Liu gets a makeover
By David Llewellyn-Smith in Australian Politics
February 3, 2020 | 19 comments
Gladys Liu got a makeover Saturday thanks to a puff piece in the Good Weekend:
https://www.smh.com.au/national/pawn-or-player-the-competing-narratives-about-controversial-liberal-mp-gladys-liu-20191205-p53h94.html
Gladys Liu is in her kitchen, rustling up dinner. While the politician stirs and sautés, my eye is caught by a photograph on the wall of a glamorous woman dressed in a cheongsam. Her hair is swept into an elegant coiffure. She clasps a fan and strikes a pose. When I move closer and study the image, I realise with a start who the woman is. At least, I think I recognise her. Spending time with Liu is like falling down a rabbit hole into a world where things are not always what they seem. She glances up. "Yes, that's me," she says.
The photo on Gladys Liu's kitchen wall of the MP dressed in a cheongsam. Photo courtesy of Gladys Liu
The piece was not without criticism but clearly implied that if Galdys Liu is an agent of influence for the Chinese Communist Party then it is owing to passivity and naivety not malice and aforethought.
To me there was zero comfort (or relevance) in this. Naivety is no excuse for channeling CCP money into the Morrison Government. That's absurd.
Liu should have been sacked months ago. Whether she is groomed or not, she is an agent of foreign influence via the money that she so excitedly channels, and is obviously and openly an inappropriate person to hold any ministerial office.
The same standard was applied to Sam Dastayari, who Peter Dutton labeled a "double agent".
That instead Gladys Liu gets top billing with a Good Weekend puff piece, I'd guess negotiated by Government flackers, tells you just how low the Australian political economy has sunk.
David Llewellyn-Smith is Chief Strategist at the MB Fund and MB Super. David is the founding publisher and editor of MacroBusiness and was the founding publisher and global economy editor of The Diplomat, the Asia Pacific's leading geo-politics and economics portal.
He is also a former gold trader and economic commentator at The Sydney Morning Herald, The Age, the ABC and Business Spectator. He is the co-author of The Great Crash of 2008 with Ross Garnaut and was the editor of the second Garnaut Climate Change Review.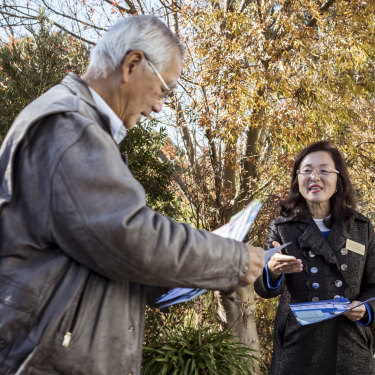 Gladys Liu greets a voter on election day in 2019, having worked polling stations assiduously for weeks.CREDIT:CHRIS HOPKINS
SOURCE: https://www.macrobusiness.com.au/2020/02/instead-of-the-sack-double-agent-gladys-liu-gets-a-makeover/