Photo: AAP
LVO … 'Bring on another evaluation from the Auditor-General.'
And some interesting comments where Labor went wrong in the lead-up to the May election … beyond the discussion on Trump …
Coalition embroiled in another grant rorts scandal
By Leith van Onselen in Australian Politics
February 3, 2020 | 53 comments
Just a day after Coalition MP Bridget McKenzie resigned over rorting the $100 million sports grant scheme (formally the Community Sport Infrastructure program), the Morrison Government has been accused of rorting a regional infrastructure grants program:
A regional infrastructure grants program administered by the Deputy Prime Minister awarded 94 per cent of its grants to electorates held or targeted by the Coalition in the months leading up to the election… *

Analysis by Nine News, The Sydney Morning Herald and The Age reveals 156 of the 166 infrastructure grants announced two months before the election, went to Coalition held seats, or electorates the Coalition was targeting.

"This appears to be another Morrison government rort," [Labor's Infrastructure spokeswoman Catherine King] said…

"There isn't a publicly funded grants program Scott Morrison won't use for his own political purpose," she said…

Nine grants were awarded to the seat of Indi totalling more than $4 million.

The Nationals were trying to win that seat back from an independent.

Grants totalling $7 million also went nine organisations in the Victorian marginal electorate of Corangamite…

Community organisations across the country applied for the grants through the Department of Infrastructure but the final decision on where the money went was made by a ministerial panel chaired by Michael McCormack, in consultation with cabinet.
Bring on another evaluation from the Auditor-General.
Leith van Onselen is Chief Economist at the MB Fund and MB Super. Leith has previously worked at the Australian Treasury, Victorian Treasury and Goldman Sachs.
SOURCE: https://www.macrobusiness.com.au/2020/02/coalition-embroiled-in-another-grant-rorts-scandal/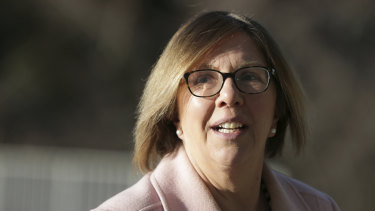 Catherine King, Labor's spokeswoman for infrastructure, transport and regional development, has called for fresh scrutiny of the grants program.CREDIT:ALEX ELLINGHAUSEN
SOURCE: https://www.macrobusiness.com.au/2020/02/coalition-embroiled-in-another-grant-rorts-scandal/#comments