WHAT has happened to 'The Block'?
OPINION
No one considered the cost to Sydney of crushing this vibrant community hub

Columnist, author, architecture critic and essayist
February 1, 2020
The most interesting thing about The Block is that it exists – or at least, existed. And no, by the Block I don't mean the mindless renovation show where couples race to exploit the property market. I mean the oldest Indigenous urban settlement in the country, The Block, Redfern.
For almost a century the Block was synonymous with urban Aboriginal culture. A place of physical shelter, cultural identity and guaranteed refuge, it was a vibrant community hub, a centre of the civil rights movement and a magnet for Indigenous people across Australia. It was where the song-lines converged. Now, with not a dwelling upon it and yet another student-residential tower under construction, it's hard to know if the present tense is even warranted.
Redfern may be the only Sydney neighbourhood with an international reputation. Originally a 100-acre (40-hectare) land grant by Lachlan Macquarie to surgeon William Redfern, it sits immediately south of Central Station. Twenty years ago, when we moved there, Redfern was regarded as dangerous. "Are you seriously proposing to bring up children there?" they'd say. Now it's hipster central.
But Redfern's fame derives not from gentrification but from its intense identification with black culture. Technically the Block isn't actually Redfern but Darlington, part of a 95-acre land grant to William Chippendale in 1819. Nevertheless, Paul Keating's famous 1992 apology – "the problem starts with us non-Indigenous Australians" – is known simply as the Redfern speech. Redfern and Aboriginality are one, so Redfern it is.Advertisement
Established in the 1930s when Indigenous people sought work as fettlers at Eveleigh railyards, the Block occupies just 8,000 square metres. In 1973, acknowledging the rental racism exercised against them, Gough Whitlam created the Aboriginal Housing Company and gave it the land bounded by Vine, Eveleigh, Caroline and Louis streets, and the 27 houses upon it.
Gradually, extra houses were purchased. By 1994 there were 62. Good things began to happen. In the 1980s, there was the Black Theatre, Murawina Childcare Centre and Radio Redfern, founded by Tiga Bayles with Brenda Croft. There was the Aboriginal Legal Service, the Aboriginal Medical Service and the famed Elouera "Tony Mundine" Gym. Although a handful of houses were demolished and rebuilt in 1989, the number 62 acquired talismanic status. The Block was listed on the Register of the National Estate.
But inevitably, bad things also happened. There were drugs – and widespread allegations of police drug-recycling and bribe taking, as later uncovered by the Wood Royal Commission. A few houses were burnt. Others were deliberately demolished by the AHC to prevent their being used to stash drugs. Police raids terrified the community, with dozens of armed police smashing doors in the night for the crimes of a few. In 1985, fire destroyed the Aboriginal Legal Service, including records of Aboriginal complaints against police. And there were riots.
Locals complained of 24-hour police harassment but the media seemed more interested in the Block's high crime rate than the social and economic problems underlying it. Then in 2004, 17-year-old Thomas "TJ" Hickey died from being impaled while police chased him on his bicycle. After the ensuing riot then-opposition leader John Brogden (now head of Landcom, in a leadership so problematic the government is reportedly considering axing the entire agency) made the old mistake of presuming to solve social problems with bulldozers and called for the Block to be demolished.
Within months, planning minister Frank Sartor had declared the Block "state significant", taking jurisdiction from the council to the Redfern Waterloo Authority. This overrode all heritage protections and rezoned most adjacent (government) land for skyscrapers, while allowing the Block only low-rise commercial development and a much-reduced number of houses – first 19, then 42.
It looked like Redfern's Indigenous presence was being dispersed to enable Sydney's business district – surrounded on three sides by water – to expand the only way it could: south. Sartor angrily called this a "big fat lie" but, regardless of the intention, it now seems likely to be the effect.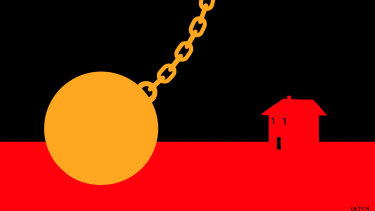 In 2012, the AHC proposed a six-storey student accommodation block opposite Redfern station. But by 2019, when the development was approved, this had quadrupled into a 24-storey tower housing 600 students designed by Turner Studio for Deicorp, which produced the truly hideous clump of towers crammed around Redfern's pretty station. This is now under construction. Next comes a low-rise retail and commercial development fronting Lawson Street, plus 115 underground car spaces – despite being a stone's throw from the train.
Finally, funded by the above, there'll be 62 slightly grim-looking affordable units for Indigenous people. That's the theory, although it's unclear whether these dwellings will eventuate. Or whether, if they do, this once-tight indigenous community can ever recombobulate itself.
At the heart of this question sits AHC chief executive Mick Mundine – "Uncle Micky" – who has helmed the AHC for 45 of its 47 years. Some consider Mundine a visionary. Others, like Jenny Munro, who led a two-year tent-embassy on the Block before the Supreme Court evicted it in 2015, say the AHC "has been a closed organisation to this community for over 20 years … stacked in favour of the CEO".
Pivotal, too, is the role of the supposedly Independent Planning Commission, which (after the ditching of the Redfern Waterloo Authority) approved the scheme. A panel of three (two lawyers and a planner with extensive mining-company board experience) were appointed by Commissioner and computer engineer Mary O'Kane. Showing zero understanding of either the city or the development before them, they focused inanely on public art, the demands of the student housing operator and the precedent of the still unbuilt 20-30 storey towers proposed behind Central Station.
No one said, how can you possibly need 600 students to subsidise 62 dwellings? No one wondered whether any Indigenous spirit could survive the onslaught of corporate profiteering. No one considered the cost to Sydney if it lost this historic presence. "They've effectively erased our community footprint here on the Block," says Munro.
The development is named for Pemulwuy, who fought colonisation but was shot by whites. The tower for Col James, beloved architect and activist who died in 2013. I hope to be proved wrong, but can't help feeling both might turn in their graves. Ten years hence we'll be saying to our kids, "whatever happened to the Block"?
Elizabeth Farrelly is a Sydney-based columnist and author who holds a PhD in architecture and several international writing awards. She is a former editor and Sydney City Councilor. Her books include 'Glenn Murcutt: Three Houses', 'Blubberland; the dangers of happiness' and 'Caro Was Here', crime fiction for children (2014).
SOURCE: https://www.smh.com.au/national/nsw/no-one-considered-the-cost-to-sydney-of-crushing-this-vibrant-community-hub-20200130-p53waa.html#comments
LIKE CAAN ON FACEBOOK!
https://www.facebook.com/Community-Action-Alliance-for-NSW-744190798994541/?ref=aymt_homepage_panel