CAAN today starts its 'Shame File' … it will be created as materials surface … or reappear …
PLEASE! Before picking up the daily terror … be sceptical …
ABOUT OVERDEVELOPMENT …
Today in the Daily Terror Facebook: 31 January 2020 this spin was re-issued from the 26 January 2020.
NSW Building Approvals ranked slowest in Country
'It was the secret report commissioned by NSW Treasury to investigate the state's planning system. So dire were its findings, it prompted Planning Minister Rod Stokes to declare "the time is ripe for change".'
Oh yeah … a secret report commissioned by NSW Treasury?
IN response CAAN shared a report from MACRO BUSINESS:
NSW planning minister hands reins to developers
/ CAA4NSW
DESPITE the proliferation of cracking, combustible cladding not only of aluminium composite but now BIOWOOD ….
contaminated sites … sinking homes …
AND 85% of dwellings defective on completion …
Planning Minister Stokes has promised to slash Red Tape … even further?
Read more from Macro Business 'The Unconventional Economist':
https://caanhousinginequalitywithaussieslockedout.com/2020/01/29/nsw-planning-minister-hands-reins-to-developers/?fbclid=IwAR2NWhgVpiuB-xJPV4QQkkjB6cJhSFoHEmcAl2O2aAvzKTd7whlcDG09dKQ
ABOUT PROTECTING WATER V COAL MINING
DAILY TELEGRAPH: Wyong Hospital rejects $15 Million Donation from Wyong Coal
AND … over the last 20 hours or so more Spin …
Green hospital turns down coal money. planet before patients!
Wyong Hospital gives multimillion-dollar donation the coal shoulder
Not enough Nurses, lengthy wait times but Wyong Hospital snubs multi million dollar donation
Wyong Hospital rejects $15 million donation from Wyong Coal
To which a Wyong Hospital board member responded:
'taking money from a mining company was akin to "taking money from a tobacco company".
The 'alleged generous donation' for $14.8M is Korean Mining Company, Kores offer to donate this sum over the mine's 28-year life span … 28 years!
The Australian Coal Alliance is the Community Group opposing the Longwall mine proposal beneath the NSW Central Coast Water Catchment.
"WATER NOT COAL" is the slogan of the "Australian Coal Alliance".
Prior to the 2011 State Government Elections, Barry O'Farrell attended an Australian Coal Alliance rally where he stood on a table in front of the group, the media and other local politicians, and made a promise stating that:

'If elected, the next Liberal National Government will not allow mining here (in the Wyong catchment valleys), or in any other water catchment, sighting a common sense approach, and enforcing the promise with "No Ifs, No Buts, a Guarantee".

And in the SMH … BARRY's PROMISE … WATER NOT COAL
Before the 2011 state election, as opposition leader, Barry O'Farrell said a Coalition government would not approve the mine because of its impact on drinking water catchments. *
WATER NOT COAL!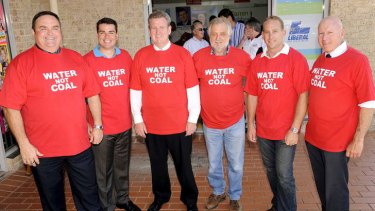 That was then: Premier Barry O'Farrell in 2011 with (from left) Chris Holstein (Member for Gosford), Darren Webber (Member for Wyong), Barry O'Farrell (Premier), Alan Hayes (Australian Coal Alliance), Chris Spence (Member for The Entrance) & Chris Hartcher (Member for Terrigal & Minister for Energy).
Read more:
https://www.smh.com.au/national/nsw/ofarrell-government-breaks-election-promise-by-backing-central-coast-coal-mine-20140219-32zuu.html
This Coast Community News report further reveals that another anti-Wallarah 2 rally was held on the Central Coast on November 2, 2019 with around 400 people peacefully protesting outside the Council Chambers in Wyong.
It was organised by Coast Environmental Alliance (CEA) and spokesperson, Jake Cassar, said apart from the drinking water catchment, the CEA was also concerned about the natural habitat as well as Aboriginal heritage sites in the mining area.
"With deep gratitude for the efforts in the past, especially from the Australian Coal Alliance who are still very active, we need ongoing political action right now that the community can really get behind, " Cassar said.
"We have been pushing the Liberal Party to reverse its decision and support local farmers and communities, rather than their mates in Korea. "We have also been lobbying the Greens and Labor to continue taking the fight to Parliament and oppose this terrible decision, with the spirit and dedication that is needed to get the government to reverse it.
"The Liberal Government is well aware of the threat to our community's water supply, that's why they promised to stop it in its tracks as an election promise, (2011) but as soon as they won the election, they bent to the South Korean government backed project and gave them the green light. "
Read more: https://coastcommunitynews.com.au/central-coast/news/2019/11/drinking-water-catchments-protection-bill-could-see-the-end-of-wallarah-2/
SHARE … AND CHAT ABOUT THIS!
Australians need to talk … please let others know what is happening
Why be Silent?
LIKE CAAN ON FACEBOOK!
https://www.facebook.com/Community-Action-Alliance-for-NSW-744190798994541/?ref=aymt_homepage_panel
WEBSITE:
https://caanhousinginequalitywithaussieslockedout.wordpress.com/