THIS Report would not have been commissioned with instructions … much … would it?
Related Article that spells out what this is really about!
https://caanhousinginequalitywithaussieslockedout.com/2020/01/29/nsw-planning-minister-hands-reins-to-developers/
NSW planning system slowest in country, blamed for housing costs
It was the secret report commissioned by NSW Treasury to investigate the state's planning system. So dire were its findings, it prompted Planning Minister Rod Stokes to declare "the time is ripe for change".
WHAT THE REPORT FOUND
Ben Pike, Urban Affairs Reporter, The Sunday TelegraphSubscriber only|January 26, 2020 6:00amClosePauseLoaded: 0%Current Time 0:04/Duration 0:30FullscreenYour video will play after the ad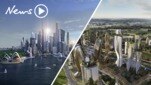 Developers have created a bold vision for Sydney by 2040. So what will these homes look like and where will they go?MORE IN NEWSSydney families 'lying' about China travel, parents sayHero ambos save five greyhounds in floodwatersMurder charge for boy over stepmum's death
A secret report into the state's planning system reveals NSW has Australia's slowest system of building approvals for all types of homes – from greenfield sites to detached houses, townhouses and high-rise apartments.
The report commissioned by NSW Treasury has found average time for a Development Application decision blew out from 59 to 84 days — up 44 per cent — between 2015 and 2018.
And Sydneysiders wait even longer. In 2017-2018, determinations in Sydney typically took 30 days longer than the NSW average.
VIEW SOURCE LINK FOR MECONE /NSW TREASURY INTERACTIVE
Medium density housing developments take 200 days in NSW compared to frontrunners WA with 65 days.
NSW's best result was finishing second-last in low density approval times.
The report, compiled by consultancy Mecone and obtained under freedom of information laws,
was seized on by the developer's lobby group Urban Taskforce to attack DA delays for driving up property prices.
MORE FROM BEN PIKE
Government signs contracts with banned Chinese company
Rookwood Cemetery wants nine bodies to a grave
"This damning report finds that the time taken to approve development in NSW is crippling productivity, escalating housing affordability problems and driving away potential investment," Urban Taskforce CEO Tom Forrest said.
"It is no wonder the government wanted to keep it a secret. The NSW system is slow and it is underdelivering on housing supply.
"This is a crucial factor in driving up housing prices."
The report also exposes which council areas are getting away with building fewer homes than they are supposed to — pushing development onto other areas of Sydney.
Lane Cove, Bayside, Ryde and the Hills have been pulling beyond their weight by exceeding State Government housing targets in the past seven years, with 113-136 per cent of the homes they were asked to approve being built.
But the Blue Mountains, Woollahra, the Hawkesbury and Fairfield councils have chronically underperformed, completing between 37 and 42 per cent.
Housing targets for local councils are a politically sensitive topic. Mr Forrest believes the NSW Government is avoiding making targets mandatory because of the local government elections in September.
NSW Planning Minister Rob Stokes said "the results of this report show the time is ripe for change".
"Last year, the Premier and I announced a package of reforms to boost the timeliness, certainty and transparency of our planning system, by cutting red tape and reducing assessment time frames," Mr Stokes said.
"We'll be mandating online DAs in metro councils, which is proven to reduce assessment times by up to 91 per cent.
"This real-time information sharing will stop the finger-pointing and reduce red tape."
The report has also called for the creation of a minor development matters tribunal, which would save people going through expensive court battles to gain council approval.
NSW is the only state without one.
But Sydney University planning lecturer Professor Peter Phibbs said planning delays can sometimes lead to a better outcome.
"If a DA takes three months longer but we end up with a much better development that people can enjoy for the next 80 years the world probably won't end," he said.
"The issue is whether the extra time generates a better outcome."
SOURCE: https://www.dailytelegraph.com.au/news/nsw/nsw-planning-system-slowest-in-country-blamed-for-housing-costs/news-story/928144c1dade5bfe3f4c754e9b081844?fbclid=IwAR2I1KM0a_sGaIeK6b4BXrf3UbpEm5cjpliNO2YOYln1U-nax7xrpH57XHA