DESPITE the proliferation of cracking, combustible cladding not only of aluminium composite but now BIOWOOD ….
contaminated sites … sinking homes …
AND 85% of dwellings defective on completion …
Planning Minister Stokes has promised to slash Red Tape … even further?
To speed up developments … what gr..dy f.t b.s.t.rds … in the UT and PCA …
P.S. from the Comments …
Local councils should implement Local population caps to restrict development – should local residents agree.
If the Fed wishes for a big Australia, they should consult the locals first.
EMAIL YOUR COUNCIL ABOUT THIS!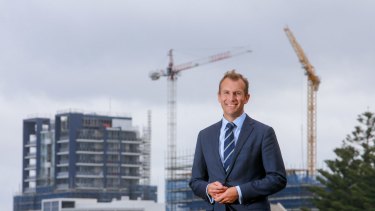 2017: Education Minister Rob Stokes said the NSW was being left to plan cities "in the dark" because of the lack of an overarching national narrative on population size. CREDIT:ADAM MCLEAN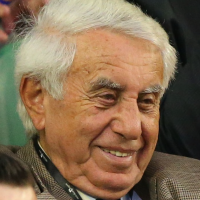 Photo: HT
NSW planning minister hands reins to developers
By Leith van Onselen in Australian Property, Immigration
January 29, 2020 | 12 comments
In 2017, NSW Planning Minister, Rob Stokes, pushed-back against the federal government's blind march towards a 'Big Australia', claiming it is leaving Sydney forever struggling to keep pace:
Rob Stokes said the state government was left trying to retrofit the NSW's infrastructure and services to an expanding population, without a clear, transparent trajectory of NSW's future population.

"It's impossible to plan if you don't know what you are planning for," Mr Stokes said. "There's no overarching narrative of where we are going"…

Mr Stokes said states were at the mercy of the federal government's migration policies while bearing the bulk of the infrastructure costs associated with adapting to a growing population.

"Whether it's planning for patient beds, medical services, the number of new schools and where they are located, housing affordability, or transport routes, ultimately we are planning in the dark if we don't know what the population is going to do.

"Why are we frightened about having a policy on this? We have policies on everything else."
However, since being re-elected in March last year, Rob Stokes has curiously changed his rhetoric, embracing the mass development of Sydney.
In June 2019, Stokes announced a scheme to speed up approvals for higher density developments in suburban developments, telling an Urban Development Institute of Australia NSW annual luncheon that he hoped to ensure that all local councils in the state adopt the 'missing middle' scheme by the end of 2019:
"I am very passionate about providing for the missing middle … there is a large gap between historical housing supply and what the community wants…

Mr Stokes' vision is in line with the federal housing minister's Michael Sukkar's plan to work better with councils to reduce red tape and to come up with smarter density for more homes…
In November, Stokes attacked so-called "NIMBY baby boomers" for opposing high-rise development across Sydney:
Baby Boomers are primarily responsible for hostility toward housing growth and density, Planning Minister Rob Stokes says, accusing the generation of being the drivers of so-called NIMBYism…

*Speaking to developers, planning bureaucrats and community leaders, Mr Stokes said growth had become a concept to be suspected, resisted or treated with outright hostility…

He said many policymakers had grown up during the 1960s and 1970s when "growth started to get its bad name"…

"That idea has seeped into the popular culture and is a pervasive, if unrecognised or almost subconscious mental model in many of the people leading the discussion today," he said.

"So we actually are fighting against a great weight of cultural development over the last 40 or 50 years."
CAAN: 'Subconscious mental model' … would that be akin to the NSW Coalition subliminal messaging that 'Sydney is Growing' and the need for higher density housing since 2012, and with the issue of the 'Green Paper' the overhaul of the entire NSW Planning System … streamlining … and further messaging 'have your say' …. after the fact ….
And then later in November, Stokes claimed that Sydney's runaway population growth is impossible to control:
PHOTO: Wollondilly can feel Sydney's south-west breathing down its neck. (ABC Illawarra: Justin Huntsdale)
In the next 17 years, Sydney's population is expected to grow by 1.5 million people, a large percentage of whom will pour into the south-west growth corridor…

Conceding that the city is spreading too far too fast, Planning Minister Rob Stokes has revealed that he wants a new relationship with councils to help manage growth and infrastructure pressures.

"We want to help shape growth," Mr Stokes said.

"Even if it were a desirable outcome to restrict growth, and I am not sure it necessarily is, but even if that is what people wanted to do that is a completely quixotic quest.

"You can't stop it, so the best thing you can do is work together"…
PHOTO: Some of the farmland at Appin that will be rezoned for homes as part of the new Wilton precinct. (ABC Illawarra: Justin Huntsdale)
*Now, despite the proliferation of cracking, flammable developments across Sydney, Rob Stokes has promised to slash 'red tape' to speed up developments: *
A secret report into the state's planning system reveals NSW has Australia's slowest system of building approvals for all types of homes – from greenfield sites to detached houses, townhouses and high-rise apartments.

The report commissioned by NSW Treasury has found average time for a Development Application decision blew out from 59 to 84 days — up 44 per cent — between 2015 and 2018…

The report, compiled by consultancy Mecone and obtained under freedom of information laws, was seized on by the developer's lobby group Urban Taskforce to attack DA delays for driving up property prices.

"This damning report finds that the time taken to approve development in NSW is crippling productivity, escalating housing affordability problems and driving away potential investment," Urban Taskforce CEO Tom Forrest said.
"It is no wonder the government wanted to keep it a secret. The NSW system is slow and it is underdelivering on housing supply.

"This is a crucial factor in driving up housing prices"…

NSW Planning Minister Rob Stokes said "the results of this report show the time is ripe for change".

"Last year, the Premier and I announced a package of reforms to boost the timeliness, certainty and transparency of our planning system, by cutting red tape and reducing assessment time frames," Mr Stokes said…
But Sydney University planning lecturer Professor Peter Phibbs said planning delays can sometimes lead to a better outcome.
"If a DA takes three months longer but we end up with a much better development that people can enjoy for the next 80 years the world probably won't end," he said.

"The issue is whether the extra time generates a better outcome."
It is true that Sydney's planning system is busted, with low quality high-rise mushrooming across some areas while the wealthy inner-east is left largely unscathed.
But is cutting 'red tape' really the answer? Won't this just lead to a more deregulated market and even worse building outcomes?
The key problem is that Sydney is Australia's immigration capital, with 77,100 net overseas migrants arriving in 2017-18 alone: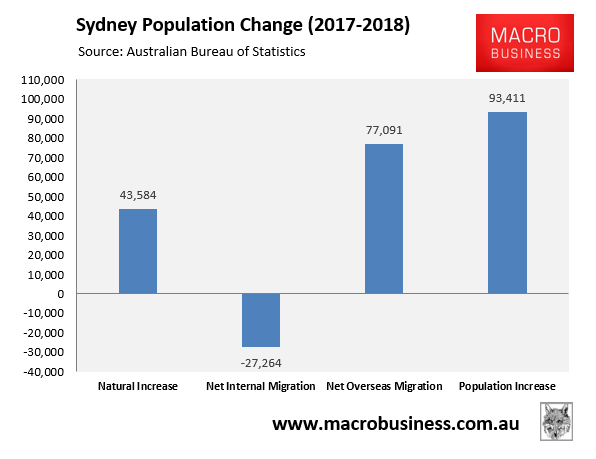 Immigration is also projected to drive all of Sydney's 4.5 million population increase over the next half century: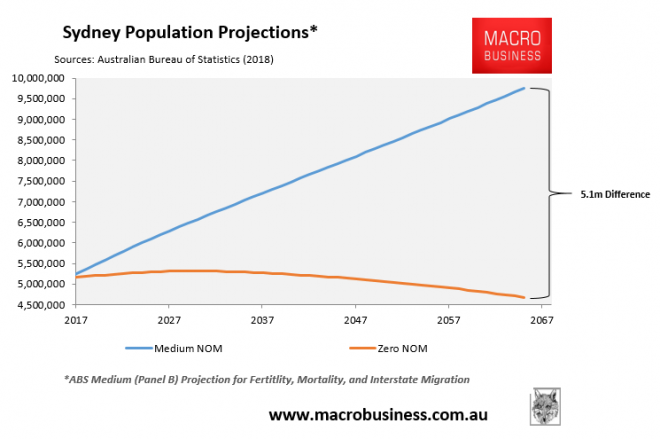 Stokes' plan for greater density is really about stuffing people into high-rise apartments, as projected by the Urban Taskforce: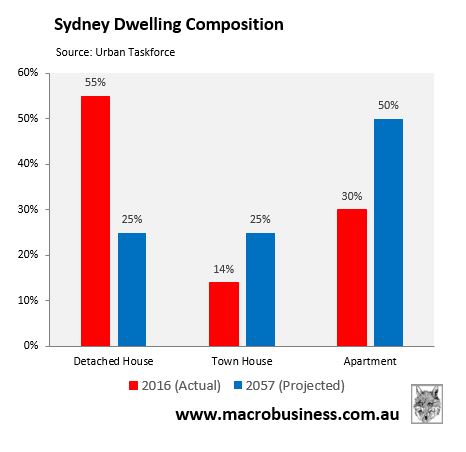 Sydney's population growth and development pressures could easily be mitigated by simply returning Australia's net overseas migration (NOM) back to the historical average of around 70,000, from 250,000 currently:
Apartments, townhouses and terraces will soon outnumber stand-alone homes in Sydney. CREDIT:PETER RAE CHATSWOOD
CAAN: CHATSWOOD, A city being built by CCP money. Search CAAN Website for David Lee, Geopolitical Strategist
VIEW:
https://caanhousinginequalitywithaussieslockedout.com/2019/09/01/a-geopolitical-strategist-on-the-mk-hong-kong-the-u-s-and-australia/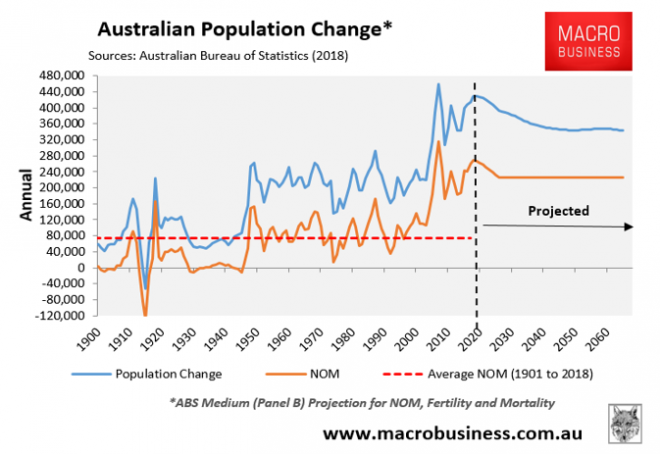 Heck, even cutting NOM to 100,000 – still a generous intake – would greatly reduce Sydney's future population increase and development pressures.
It is true that immigration policy is set by the federal government, so in this sense it is out of the NSW State Government's control.
But why isn't the NSW Government lobbying publically for deep cuts to the migrant intake?
As the nation's largest state, and the centre of political power, it could force the federal government's hand.
After all, the overwhelming majority of NSW residents strongly oppose further population growth: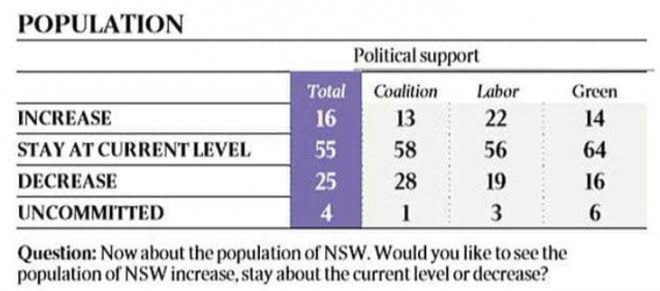 They know that population growth means more over-development, crush-loaded infrastructure and services, and lower living standards.
Their views are also supported by Infrastructure Australia's modelling, which shows projects worsening traffic congestion, longer commute times, and reduced access to jobs, schools, hospitals and green space as Sydney swells to a projected 7.4 million people by 2046 under ongoing mass immigration, regardless of whether Sydney builds up or builds out: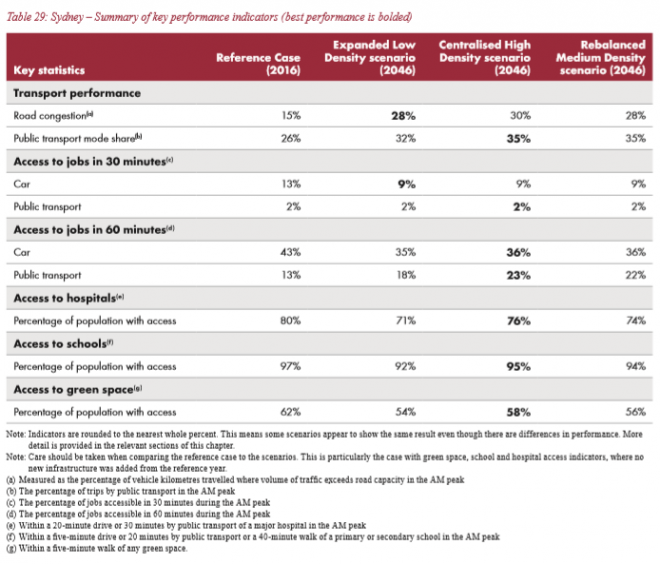 Liveability would obviously worsen further as Sydney's population balloons to a projected 9.7 million people by 2066.
Instead of handing over control to developers, Stokes and the NSW Government should represent its constituents and demand the federal government slash immigration back to historical levels. That's the only way to ease housing pressures and safeguard living standards in Sydney.
Leith van Onselen is Chief Economist at the MB Fund and MB Super. Leith has previously worked at the Australian Treasury, Victorian Treasury and Goldman Sachs.
NSW Planning Minister Rob Stokes.
SOURCE: https://www.macrobusiness.com.au/2020/01/nsw-planning-minister-hands-reins-to-developers/