When you add 200,000-plus migrants to the economy every year, most of working age … does that create a lot of competition for jobs? Is that why we have lost our bargaining power for a fair day's pay?
DOES it seem that this suits the Top End of Town … ?
WHEN Pauline's, PHON called for a stop to mass migration … but then gave Party preferences to the Coalition … what does that tell you?
AND Palmer's UAP campaigned against further immigration … and also gave Party preferences to the Coalition … what does that tell you?
With permanent migration and manipulation of Temp. Visas for a 'Permanent Resident Visa' Australia grows its population!
0% light green ranging to 2%, 4%, 6% 8%, 10%, 12%, 14%, 16%, 18% to 20% dark blue
Source: ABS
Shane Oliver: Underemployment "a chronic problem" for Australia
By Leith van Onselen in Australian Economy
January 28, 2020 | 10 comments
AMP chief economist, Shane Oliver, has warned that labour underutilisation is now "a chronic problem for Australia", is far higher than other developed nations, and will continue to depress wage growth:
"It has been trending up this year and has been high for a while now, since the global financial crisis," he said. "It's indicative of a greater level of hardship for some workers.

"It means we need to run the economy harder and we need more growth to use the excess capacity in the labour force"…

Dr Oliver said the trend in underutilisation was reflected in the relatively low increases in wages and salaries.

"I'd say it's the single biggest explanation for low wages growth," he said.

"Obviously there is a changing nature to the labour market that has contributed to the underutilisation rate but underlying it all is the weakness in the economy"…
ALP MP Dr Daniel Mulino, who was an economist before entering Parliament, agreed with Oliver's assessment:
"When large numbers of Australians are unemployed or underemployed, it means that there's considerable slack in the labour market placing downward pressure on wages."
The Guardian's Greg Jericho separately weighed-in with a similar assessment:
This also continues the story of the past five years, where the rate of people in employment has risen almost back to pre-GFC levels, while the average hours worked remains well below the peak of 2008.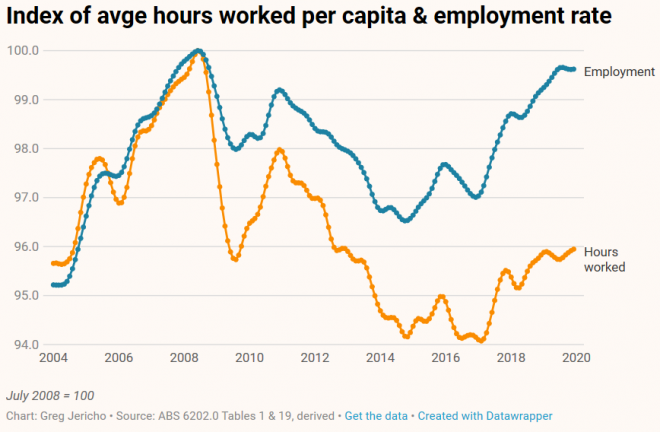 And with that weak growth of hours worked comes the rise in underemployment – the biggest factor keeping wages growth low.
*While there are a range of factors at play suppressing wages, commentators conveniently ignore the biggest single driver of Australia's rising labour supply and overcapacity: mass immigration.
CAAN: And through the backdoor of visa manipulation!
MB: Net immigration into Australia has surged over recent years: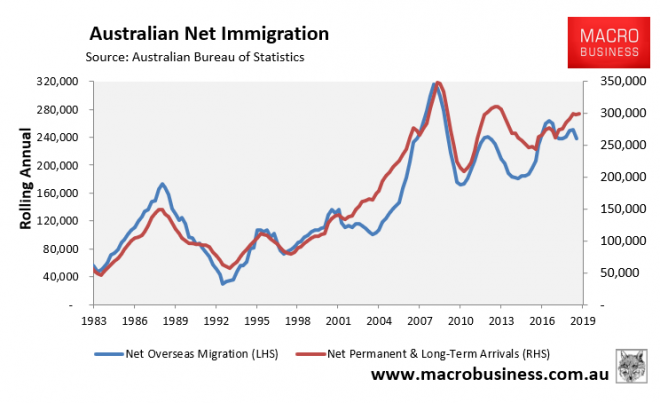 *Net overseas migration is also directly responsible for more than 60% of Australia's population growth.
The lion's share of recent migrants are of prime working age and, therefore, have high labour force participation.
A recent paper by Melbourne University Professor, Peter McDonald, found that around three quarters of employment growth in Australia between 2011 and 2016 was attributed to immigration:
The permanent and temporary skilled migration policies established by the Australian Government from 1995 played an important role in meeting that labour demand, especially in the boom years of the first decade of the 21st century…
CAAN: The late 1990s during the Howard Government!
*MB: From July 2011 to July 2016, employment in Australia increased by 738,800. Immigrants accounted for 613,400 of the total increase…
*Migration has had a very large effect on the age structure of employment with most new immigrant workers (595,300) being under 55 years.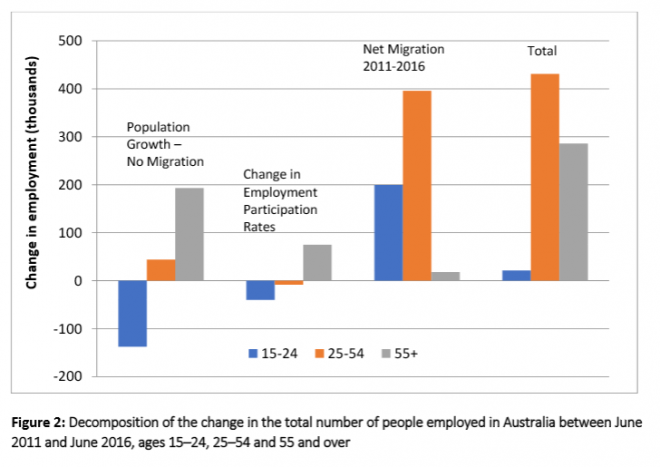 *Therefore, the ongoing supply shock from immigration is a key reason why labour supply continues to outrun demand and why wage growth remains anaemic.
*The systemic wage theft from temporary migrants, which has become entrenched across the economy as temporary visas have ballooned, obviously adds to the problem of low wage growth: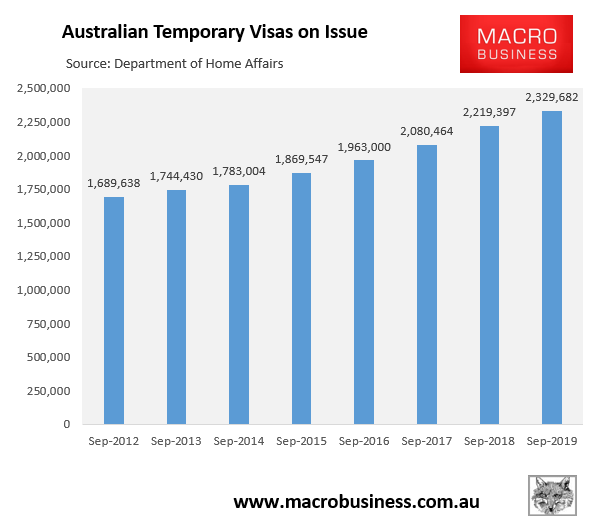 *Entire industries have become heavily reliant on migrant workers to perform low-skilled work in the labour market often for below award rates, which is unambiguously undercutting local workers and lowering overall wage growth.
Independent economist, Gerard Minack, summarised the problem as follows in November for The ABC:
High immigration levels also mean that more people want work.

That, in turn, means there is no need for employers to give people pay rises to keep them on.

"The biggest single problem since the GFC 10 years ago is that we have struggled to get any income or wage growth," Mr Minack said.

"Why is that? A massive increase in labour supply."
Too right. When you add 200,000-plus migrants to the economy every year, most with work rights, then it represents a massive rolling labour supply shock which must be absorbed.
Therefore, if policy makers want higher wage growth, they must slash immigration.
Leith van Onselen is Chief Economist at the MB Fund and MB Super. Leith has previously worked at the Australian Treasury, Victorian Treasury and Goldman Sachs
'While 2019 was a generally fine year for workers, there were not enough full-time jobs around to not just reduce unemployment but – crucially – underemployment.' Photograph: Mick Tsikas/AAP
SOURCE: https://www.macrobusiness.com.au/2020/01/shane-oliver-underemployment-a-chronic-problem-for-australia/
LIKE CAAN ON FACEBOOK:
https://www.facebook.com/Community-Action-Alliance-for-NSW-744190798994541/?ref=aymt_homepage_panel
WEBSITE:
https://caanhousinginequalitywithaussieslockedout.wordpress.com/