Image: Getty Images
SMOCO still doesn't get it … the guvmnt sought help from one of Australia's leading marketing experts … Russel Halcroft … a week before Smoco jetted to Hawaii with all the PM'S staffers attending the workshop …
The guvmnt's approach to climate change was discussed but rather Smoco and Co sought to develop sales strategies for 2020!
'The coal-loving SmoCo Government is now the biggest risk to Australia's tourism brand.
He can spend your money to try to fix the damage but it is well known in marketing that editorial is much more powerful than ads.'
Scotty from Marketing trashes Australian tourism
By David Llewellyn-Smith in Australian Economy
January 28, 2020 | 12 comments
It is a darkly amusing irony. Via The Australian:
You might refer to him as "Scott". Possibly the Prime Minister. Maybe just "the PM". People on both sides of the political fence often use the abbreviation "ScoMo". But for a growing number of Australians there is a different way to refer to our current Prime Minister.

He is now "Scotty from Marketing". Across social media and in day-to-day conversations, more and more people are using the phrase. It's already proven immensely popular on Twitter, with #ScottyfromMarketing trending several times over the festive period. And there seems little doubt that as 2020 progresses use of the nickname will become even more prevalent.
And at the AFR:
The Morrison government sought advice from one of Australia's foremost marketing experts on how to better sell its policies, including those on climate change.

About two weeks before Christmas, and a week before Scott Morrison jetted to Hawaii for his controversial family holiday, all staff in the Prime Minister's office attended a workshop hosted by Russel Howcroft.
…People familiar with events said better marketing of the government's much-criticised approach to climate change was discussed but was not a significant part of the session which sought to develop sales strategies for the new year.
Yet, this, also at the AFR:
Goldman Sachs has estimated the bushfire fallout could strip 0.4 per cent off Australia's GDP, with the international dimension a potentially long-term drag.

"The smoke haze and the international media attention are unprecedented," the stockbroking house said on January 23 in a note. There were "significant tail-risks" over the longer term.
What exactly? Finally at the AFR:
By any measure, it's been a monster perfect storm leading to a public relations nightmare, as the world watches vast tracts of Australia burn in real time on every type of channel from the BBC to Snapchat.

…Proud Queenslander Graham "Skroo" Turner – co-founder and global boss of the world's biggest travel agency Flight Centre – agrees. He's been selling Australia hard on the world stage since he washed up in London in the 1970s as a final year vet student who loved travel more than drenching cows.

…Ask him if "Brand Australia" can survive the fallout of the unprecedented fires that continue to blaze, and Turner is frank that the nation is at a crossroads.

"We've worked hard to be known as a great destination – and you can spend all the money you like on campaigns and ads to re-promote us in light of the fires, and it will probably enhance our image a bit, sure.

"The issue for tourism in terms of Brand Australia is there is a perception that Australia and the Australian government is lacking in moving to accept climate change. Whether it's true or not is another thing. It's the perception that is damaging and will continue to be a negative for tourism."
*The coal-loving SmoCo Government is now the biggest risk to Australia's tourism brand.
*He can spend your money to try to fix the damage but it is well known in marketing that editorial is much more powerful than ads.
If I were a global activist I'd begin a global consumer boycott of Australia. Even without such direct intervention individual global choices will sour on Australia. I expect the damage to tourism to be unusually lingering after this shock.
Not that that is the most pressing concern today, via the AFR:
Thousands of Chinese tourists planning to travel to Australia over the next two months have been forced to cancel their trips after Beijing slapped a ban on tour groups overseas in an effort to control the spread of the coronavirus.

Tour operators in China said on Monday they had been told the ban would be in place for as long as two months, a crippling blow for Australia's tourism industry, which is already reeling from months of devastating bushfires and relies heavily on visitors from China.

A tour group from China does Sydney's famous bridge climb. Groups like these are now banned, at least for a month but possibly two.
This could get much worse than that very quickly.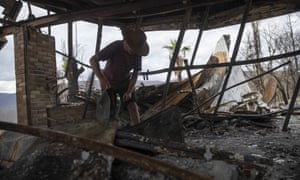 Photo: Guardian Australia
David Llewellyn-Smith is Chief Strategist at the MB Fund and MB Super. David is the founding publisher and editor of MacroBusiness and was the founding publisher and global economy editor of The Diplomat, the Asia Pacific's leading geo-politics and economics portal.
He is also a former gold trader and economic commentator at The Sydney Morning Herald, The Age, the ABC and Business Spectator. He is the co-author of The Great Crash of 2008 with Ross Garnaut and was the editor of the second Garnaut Climate Change Review.
SOURCE: https://www.macrobusiness.com.au/2020/01/scotty-from-marketing-trashes-australias-brand/
LIKE CAAN ON FACEBOOK:
https://www.facebook.com/Community-Action-Alliance-for-NSW-744190798994541/?ref=aymt_homepage_panel
WEBSITE:
https://caanhousinginequalitywithaussieslockedout.wordpress.com/