OVER the next 50 Years the Plan is for Melbourne and Sydney to grow … by 92,000 and 107,000 people annually by bringing in more migrants … read VIBRANTS …
CURRENTLY 47,000 Chinese fly into Australia every week with even more during 'Chinese New Year' and 'Golden Week' …
THAT means a huge amount of homes built very quickly and townhouses and duplex cannot keep up with that demand! How will the 85% defective builds be addressed? How likely is that with the very poooor response from the Berejiklian Grubment?
Read: NSW Government proposes ratings scorecard for builders to prevent construction disasters
https://caanhousinginequalitywithaussieslockedout.com/2020/01/21/nsw-government-proposes-ratings-scorecard-for-builders-to-prevent-construction-disasters/?fbclid=IwAR0S5HrAsQhYUQqA4lILgzADmhTT80zKGkXRmIBNvbmaNHmy1hDU3VaGBwc
Related Article:
Aussies aren't "choosing to live in apartments". They are forced to.
https://caanhousinginequalitywithaussieslockedout.com/2020/01/21/aussies-arent-choosing-to-live-in-apartments-they-are-forced-to/?fbclid=IwAR0ITvPWD-FxFCGp4LmqnL4KeCg4b0QRVz_NznmZ72aaoLNab-TQHzYCaRU
AUSTRAYA runs the World's biggest IMMIGRATION program … how can we ever have affordable housing??
WHAT A SET-UP!
WHY … do we allow the Grubs to get away with this? As they destroy where we live too!
IF you are fed up with the Housing PONZI Scheme and want to change this …. message us through our Facebook link below for a Campaign Plan!
CAAN FACEBOOK:
https://www.facebook.com/Community-Action-Alliance-for-NSW-744190798994541/?ref=aymt_homepage_panel
CAAN Photo: High-rise PRECINCT encroaching on a Sydney urban bushland cul-de-sac! View from home owner's backyard. We no longer have any rights! …. ANYWHERE!
PARENTS, Retirees, Boomers … let's do something … we have the time!
No need for services offering to send a message on behalf of VOTERS for fees! FFS!
–COPY and paste this article into an email and send to your Contacts
.across Sydney, New South Wales, Australia
–EVERYONE share the email
–NEXT start the conversation in your street … among like-concerned people
–SEND a 'community email' to your local MPs with your Demands:
.that the anti-money laundering laws for the Real Estate Gatekeepers be enforced
.return immigration to 70,000 p.a. and stop Visa manipulation
.stop the overseas sell-off of residential property
–FOLLOW-UP with an email to THE EDITOR of both local and major newspapers notifying of the response or non-response to the demands sent to your local MPs
The Sydney Morning Herald:
The Australian:
https://www.theaustralian.com.au/editorial
The Australian Financial Review:
https://www.afr.com/contact-us/letters-to-the-editor
The Daily Telegraph:
https://www.dailytelegraph.com.au/news/opinion/letter-to-the-editor
AND make your objections known to the Editor of the ABC … AND Facebook Pages of other Media outlets
IMAGINE this happening across Australia …
NOW READ the article from Leith Van Onselen from MACRO BUSINESS
Why the "missing middle" will never supply enough homes
By Leith van Onselen in Australian Property
January 24, 2020 |
CoreLogic's Eliza Owen has penned an interesting article on the dearth of medium density housing being built across the "missing middle" of Australia's cities:
The 'missing middle' refers to a paucity of new development that provides low rise, medium density housing options, such as townhouses and duplexes. Some definitions of medium density also include low rise unit builds.
Medium density housing options can be important for young families who seek a more affordable housing option close to city centres, but require more space than in a unit, or older Australians wishing to downsize in their current area of residence to reduce housing costs in retirement.
As populations continue to converge in metropolitan regions, demand for such diverse housing options are likely to grow.
The development of more medium density housing in Australia is particularly efficient for infilling major metropolitan areas, because it takes advantage of established transport and social infrastructure.
The trend of a relatively small portion of dwellings planned across townhouses and smaller unit blocks was fairly persistent across LGA regions.
Of the 478 regions with approved dwellings over the year, an average of 14.9% of dwellings were approved as townhouses, duplexes or in unit blocks with 3 storeys or less.
This is higher than the average across existing stock, with ABS data suggesting councils currently have an average of 11.9% medium-density dwellings.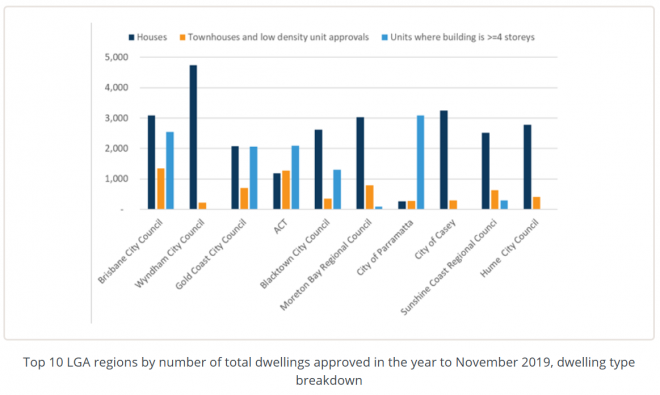 As dwelling prices are expected to continue rising in 2020, and affordability resurges as an issue for buyers, demand for cheaper housing options will only rise. If development continues to focus on the two extremes of density, metropolitan areas may see an erosion of diverse age and family demographics.
The below chart of dwelling approvals summarises the situation at the national level: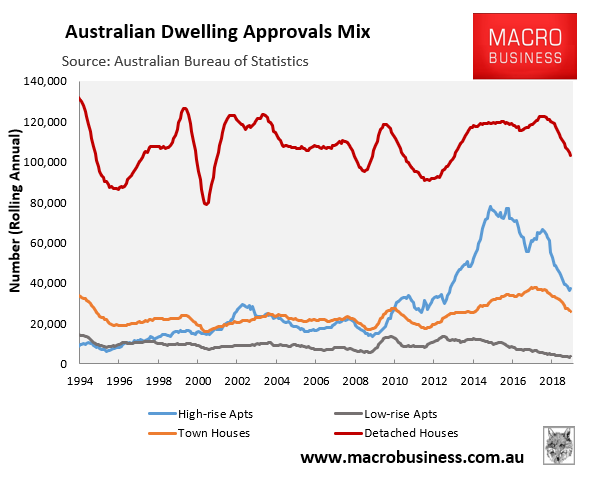 As shown above, there were 26,100 townhouses approved in the year to November 2019, representing only 15% of total dwellings approved across Australia.
The situation is similar in NSW and VIC, which are Australia's two fastest growing jurisdictions: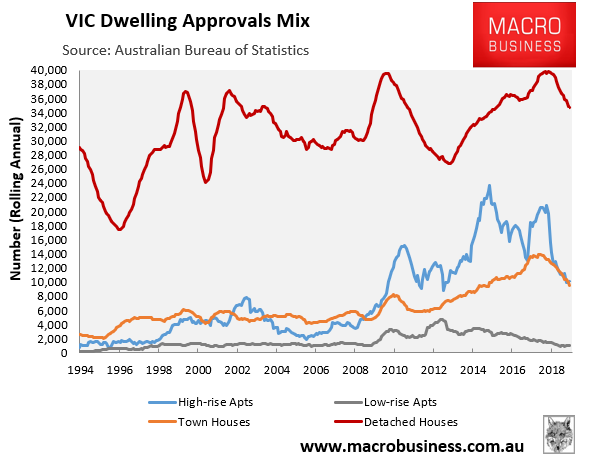 Townhouses represented only 16% and 17% of dwelling approvals across NSW and VIC in the year to November 2019.
That said, believing that the "missing middle" can solve Australia's housing supply and affordability issues is a pipe dream.
Melbourne and Sydney are projected to grow by 92,000 and 107,000 people annually over the next half century, due to mass immigration: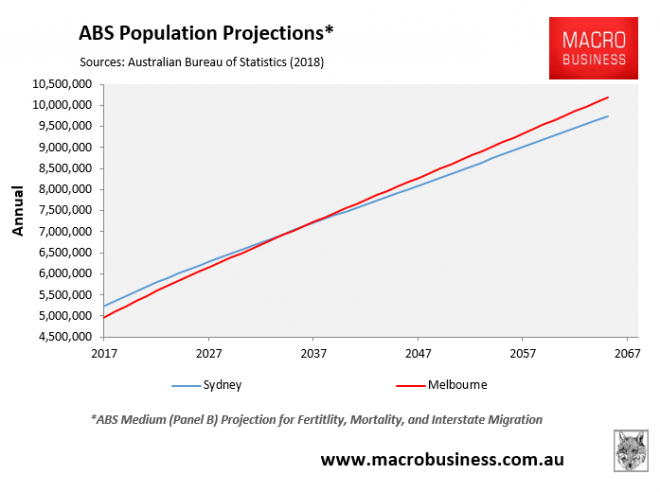 Such a tidal wave of people will necessarily need a huge amount of homes built very quickly to keep up. And this is simply not possible through townhouses and duplexes.
Think about it from a development perspective. What is easier: purchasing 20,000 detached homes in established suburbs, demolishing the existing dwellings and building two townhouses on each (for 40,000 townhouses). Or building 800 high-rises with 50 apartments in each.
CAAN Photo: Chinese developer Greenland 'Lachlan's Line' North Ryde/Macquarie Park and Chinese Country Garden 'Ryde Garden' in the background. Awfulizers towering over the village of North Ryde.
Obviously, development is going to go down the path of least resistance and will continue to be concentrated in high-rise apartments and greenfield houses.
CAAN Photo: Chinese JQZ; Waterloo Road, Macquarie Park
Ultimately, the best way to 'solve' Australia's chronic housing supply issues and housing affordability woes is to remove the artificial demand-driver of the problems. That is, slash immigration back to the historical norm of less than 100,000 a year: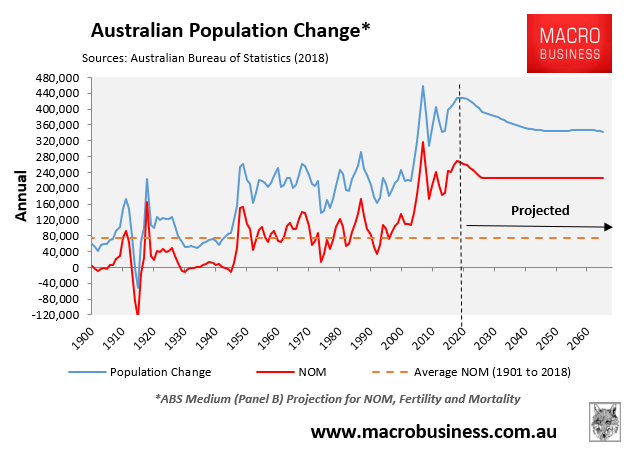 Australia will never have affordable housing while it runs one of the world's biggest immigration programs.
CAAN Photo: JQZ Chinese Precinct development … view from carpark; an eyesore that has replaced commercial buildings and jobs for local Australians
Leith van Onselen is Chief Economist at the MB Fund and MB Super. Leith has previously worked at the Australian Treasury, Victorian Treasury and Goldman Sachs.
SOURCE: https://www.macrobusiness.com.au/2020/01/why-the-missing-middle-will-never-supply-enough-homes/
LIKE CAAN ON FACEBOOK:
https://www.facebook.com/Community-Action-Alliance-for-NSW-744190798994541/?ref=aymt_homepage_panel
WEBSITE:
https://caanhousinginequalitywithaussieslockedout.wordpress.com/