THE missing puzzle in Australia's wage growth crisis … according to the ANZ …
EXTRACT
THE ANZ reckons …
'Weak business investment is eating into productivity and forcing down wages, according to ANZ bank.
Businesses are trapped in a vicious cycle of weak investment feeding into lower wages and reduced household spending, which in turn is discouraging firms from investing.'
AND …
Ai Group chief executive Innes Willox wrote in an op-ed for The Australian the government must revive the ailing economy by introducing "a generous investment allowance to bring forward and increase business investment".
But John Quiggin, Australian Laureate Fellow in Economics at the University of Queensland, told The New Daily such policies missed the point and would likely fail to boost wages.
Dr Quiggin dismissed Mr Willox's proposal, though, telling The New Daily past experience demonstrated that such policies "don't seem to deliver the goods".
"We've had business tax cuts, investment allowances … lots of union-busting policies which are supposed to increase productivity," Dr Quiggin said.
"We've had lots of stuff in which the agenda set by business has been followed … and obviously ANZ is calling for more of the same because that benefits them. But there's no evidence that that's going to achieve what's needed."
If the government is serious about lifting wages, it could reverse recent union-busting policies and increase the bargaining power of workers, Dr Quiggin said.
"Everything the government has done has been with the aim of weakening unions and driving wages down," he said.
"So it's not surprising that that policy has succeeded."
CAAN: WHY not copy and paste this into an email to your local Coalition MPs … send it as a street or community group … because this is about robbing our families …
It's free! Just takes a little time to send …
SHARE!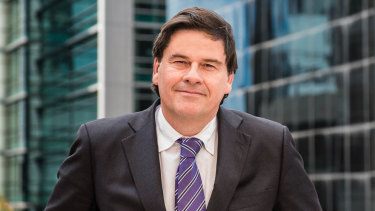 Photo: SMH: Innes Willox, chief executive of the Australian Industry Group
READ MORE! 'Soft business investment is the key to understanding weak economy: ANZ'
SOURCE: https://thenewdaily.com.au/finance/finance-news/2020/01/21/business-investment-wages-growth/?utm_source=Adestra&utm_medium=email&utm_campaign=Morning%20News%20-%2020200122