NSW moves too late on dodgy high-rise builders
By Leith van Onselen in Australian Property
January 21 2020
After experiencing an unprecedented boom in high-rise apartment construction over the past decade: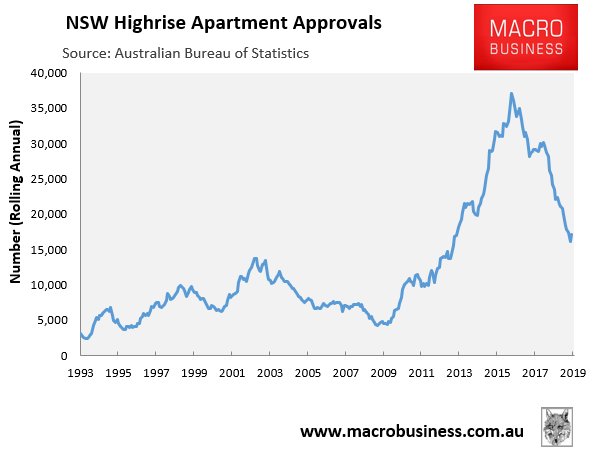 And with flammable cladding and structural faults proliferating across Sydney, the NSW Government has finally taken action by giving the NSW Building Commissioner the power to block dodgy developers from building high-rise:
Designed to prevent repeats of the Opal and Mascot Towers ­crises, the reform package — likely to form a blueprint for a national ­industry shake-up — will grant sweeping powers to the NSW Building Commissioner to stop defective apartment blocks from being built, particularly if they are linked to contractors with poor track records…

The new regulations will for the first time rank builders, developers and certifiers according to their record on workplace safety, their track record on customer complaints, the age of their business, financial credibility, suspicions of phoenixing, and dozens of other metrics.

They would be given a score akin to a credit rating. Those with poor scores would be flagged on a database to ensure their practices were heavily scrutinised…
The reforms, while better than nothing, amount to shutting the gate long after the horse has already bolted.
Going by the ABS' approvals data, around 200,000 high-rise apartments were built across NSW over the past decade, many of which likely contain faults.
The cost of rectification will be huge and will likely fall on both apartment owners and taxpayers alike, with most developers getting away scot-free.
The NSW Government is too late the hero and should never have allowed this situation to develop in the first place.
Perhaps we need a blitz on the politicians that allowed this mess to occur in the first place and have actively cheered on the boom?
Leith van Onselen is Chief Economist at the MB Fund and MB Super. Leith has previously worked at the Australian Treasury, Victorian Treasury and Goldman Sachs.
SOURCE: https://www.macrobusiness.com.au/2020/01/nsw-moves-too-late-on-dodgy-high-rise-builders/