Photo: AFR
WHY?
Is it because … they have a massive market across China and Asia not yet tapped?
WHAT you need to know is that the Scomo Govt exempted the Real Estate Gatekeepers from the Anti-Money Laundering Laws in October 2018
-real estate agents, lawyers and accountants
https://caanhousinginequalitywithaussieslockedout.com/2018/10/09/2665/
Allowing the Chinese to splash their cash in our domestic housing and gain Permanent Residency along with Medicare benefits!
MEANWHILE it is sh.t for Aussies with the lowest wages growth for 60 years, insecure contract work, competing with Visa workers willing to work for slave rates (not union members) … as property prices again rise.
PERHAPS this explains why Jean Nassif wants to convert residential apartments to serviced apartments in Castle Hill to accommodate more Chinese money launderers flying into Sydney?
-like Harry T serviced apartments
WHAT CAAN wants you to do is share this post … AND … copy and paste it in an email and send to your Contacts …
THEN we ask everyone to send an email/letter to the Editor of your local paper and other media demanding enforcement of the AML Legislation second tranche!
"Very strong" growth tipped for Aussie housing market
By Leith van Onselen in Australian Property
20 January 2020
A bunch of forecasts have been released predicting strong house price growth, driven by Sydney and Melbourne.
First, global realtor Savills expects Sydney's high-end market to lead the world in house price growth in 2020:
Savills predicted Sydney's prime market will grow between 6 and 7.9 per cent, putting it in the top band of global performers…

"Luxury property in Sydney's key markets have [sic] definitely bounced back," Savills Australia residential director Chris Orr said. Savills defines prime property as the top 5 per cent of housing stock…
Second, both CoreLogic and HSBC are tipping double-digit price growth for Sydney and Melbourne this year:
CoreLogic and HSBC expect price gains this year to be less than those seen in the second half of last year. HSBC forecasts a national dwelling price rise of between 5 per cent and 9 per cent this calendar year, with Sydney values gaining between 8 per cent and 12 per cent and Melbourne values rising between 10 per cent and 14 per cent.
These price expectations are fair enough given the current momentum across both markets amid low supply: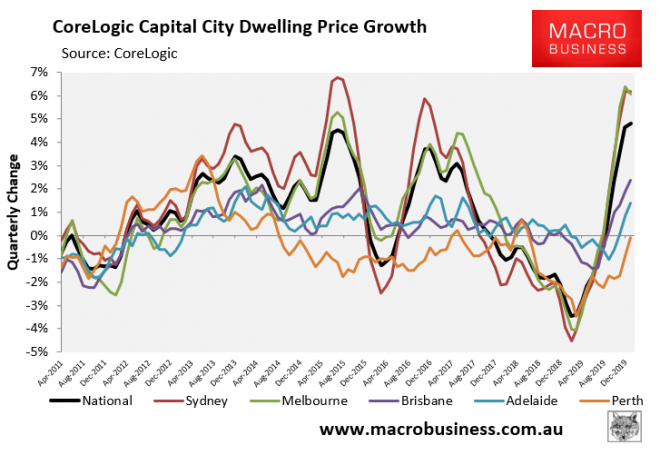 However, rising unemployment and falling sentiment are going to be mounting headwinds for the housing market as the year progresses.
We discussed these issues in detail in our Christmas Special Report.
Leith van Onselen is Chief Economist at the MB Fund and MB Super. Leith has previously worked at the Australian Treasury, Victorian Treasury and Goldman Sachs.
Photo: AFR
SOURCE: https://www.macrobusiness.com.au/2020/01/very-strong-growth-tipped-for-aussie-housing-market/
LIKE CAAN ON FACEBOOK:
https://www.facebook.com/Community-Action-Alliance-for-NSW-744190798994541/?ref=aymt_homepage_panel
WEBSITE:
https://caanhousinginequalitywithaussieslockedout.wordpress.com/