A development c/- a developer and a former Liberal politician, Ronney Oueik
The Lidcombe building owners are paying strata levies of up to $12,000 a year on average, up from about $3000, after they collectively took out a $2.5 million loan to repair the block, which suffered further water damage in June 2016 from another storm because it was still without a roof five months after it was torn
IT seems that 'political donations' may lead to a form of protection for the perpetrators of defective development … what a grubby business …
RELATED ARTICLES…
NSW Liberals ordered to Repay $250,000 in Unlawful Election Donations
https://www.smh.com.au/politics/nsw/nsw-liberals-ordered-to-repay-250-000-in-unlawful-election-donations-20180227-p4z20c.html?fbclid=IwAR2erJTn7ZCZNO1FXHJe-_xd6YIqUBUjsTdadrlVuFa-rILD4PbutBuMEPI
AIG claimed the roof of the building, which was developed by controversial Auburn councillor Ronney Oueik, contained structural defects and the storm was not the cause.
Auburn Council approved the modifications in 2008.
Auburn Council takes legal action against its own councillor Ronney Oueik
https://www.smh.com.au/national/nsw/auburn-council-takes-legal-action-against-its-own-councillor-ronney-oueik-20160303-gn9ayp.html#ixzz431BOTgp0
"Former Auburn councillor and Mr Mehajer's political nemesis Irene Simms said the financial pain may not be over yet.
"I have counted 19 court cases since the wedding," she said.
Ms Simms is pushing for a state government inquiry into the council to tackle a major, state-government approved rezoning of the Auburn local government area.
The sweeping changes raised the height limits on buildings owned by Mr Mehajer and his council ally Ronney Oueik.
"This is where these two own all their properties and [the changes] were worth millions, possibly tens of millions," Ms Simms said.
Salim Mehajer misses debt deadlines and mortgages family property
https://www.smh.com.au/national/nsw/salim-mehajer-misses-debt-deadlines-and-mortgages-family-property-20160324-gnq96y.html
CHOICE: Apartment Building Defects
https://caanhousinginequalitywithaussieslockedout.com/2019/01/23/7438/
'Angry, depressed': Owners in dire straits years after roof ripped off

Robin Son had planned to move out of his parents' West Ryde home soon after he bought an apartment in a Lidcombe building in late 2014.
But ever since a storm ripped off the building's roof in January 2016, causing millions of dollars in damages, the 34-year-old has been unable to afford to move with his wife into the two-bedroom apartment they poured their savings into.
Instead, they have been forced to rent it out so they can cover strata fees, which have soared five-fold to pay for the building's repairs, and a large mortgage.
Their financial predicament is similar to other owners in the Water Street building. It was developed and constructed by a company whose director was Ronney Oueik, a property developer and former Liberal politician on the now defunct Auburn council.
"The government says there is nothing they can do; the builder says it's not their fault; and the insurer says it is the builder's fault," Mr Son said.
"Thinking about it just makes me angry and depressed."
The owners launched legal action more than a year ago against Mr Oueik, his company BBC Developments and Cumberland Council – the successor to Auburn council – under consumer law seeking more than $10 million in damages.
They claim there were defects in the roof and BBC and Mr Oueik, who was its director and the nominated supervisor of its contractor licence, knew the structural stability of the roof had not been considered in its design or during inspections or certification. The company is alleged to have not informed the owners of this when they purchased their apartments.
There is no suggestion of wrongdoing by Mr Oueik in his role on the council.
New legislation aimed at increasing protections for owners will be of little help to those in the Lidcombe building – if passed in its present form – due to exemptions.
While it will establish a duty of care between a builder and a purchaser, it will not apply to the owners because they have a legal case under way and their building – completed in September 2008 – is older than 10 years.
"There is no law that is on our side. This [Design and Building Practitioners] bill is a step in the right direction but these exemptions do not help," said Phil Thai, an owner and chair of the building's strata committee.
NSW Greens MP David Shoebridge said the Lidcombe owners predicament highlights inadequacies in changes to building laws proposed by the government to remedy the situation.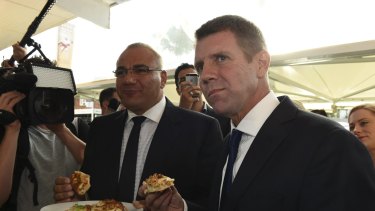 "Why would you protect some owners and not others. The protections should be provided for anything that has been built following this disastrous experiment with private certification," he said.
The Lidcombe building owners are paying strata levies of up to $12,000 a year on average, up from about $3000, after they collectively took out a $2.5 million loan to repair the block, which suffered further water damage in June 2016 from another storm because it was still without a roof five months after it was torn off.
Owner Mihi Chung, 59, said she had planned to retire in five years but would now be forced to work longer. "It is too much stress. I cannot sleep sometimes," she said. "Nobody is helping us."
Another owner and church minister, Yeon Sil Ha, has taken on a second job as a cleaner to help pay about $3200 in strata fees.
RELATED ARTICLE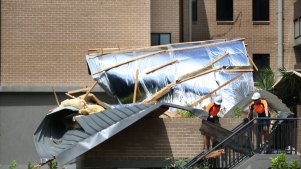 EXCLUSIVE
But Better Regulation Minister Kevin Anderson accused Labor and the Greens of hijacking the Design and Building Practitioners Bill, which passed the lower house last year but not the upper house, by demanding "unrelated amendments".
Cumberland Council said the matter was "inherited from the former Auburn council" and denied any liability in respect of the alleged loss. It declined to comment further.
Mr Oueik said he did not want to comment on the case because it was before the court.
Matt O'Sullivan is City Editor at The Sydney Morning Herald.
SOURCE: https://www.smh.com.au/national/nsw/angry-depressed-owners-in-dire-straits-years-after-roof-ripped-off-20200113-p53r1l.html
CAAN FACEBOOK:
https://www.facebook.com/Community-Action-Alliance-for-NSW-744190798994541/?ref=aymt_homepage_panel
WEBSITE:
https://caanhousinginequalitywithaussieslockedout.wordpress.com/