IT appears the Chinese students have called on their Embassy to push their demands … view this earlier report:
Chinese students accuse Australia of 'politically motivated' visa delays
https://caanhousinginequalitywithaussieslockedout.com/2020/01/11/chinese-students-accuse-australia-of-politically-motivated-visa-delays/
WHAT you need to know …
–PhD Student Visa in Australia – Your Gate pass to Permanent Residency in Australia
https://caanhousinginequalitywithaussieslockedout.com/2019/03/24/9594/
–The ANU hack came down to a single email — here's what we know
https://caanhousinginequalitywithaussieslockedout.com/2019/10/02/the-anu-hack-came-down-to-a-single-email-heres-what-we-know/
VIEW the links within the article!
SHARE!!
Based on the evidence to date this intimidation from the Chinese embassy warrants rejection!
AND isn't this criticism from the embassy a 'bit rich' in view of China's torture of Yang Hengjun?
MEANWHILE … Australian society is at risk from the current deadly outbreak of a coronavirus related to Sars that could lead to a pandemic in view of the thousands of Vibrants flying here weekly!
https://www.bbc.com/news/health-51148303
A major concern is that the Scomo government proposes to outsource Visa processing!

SHARE!!
'Great concern': Chinese embassy hits out at visa delays

January 19, 2020
The Chinese embassy has raised its "great concern" with the Australian government that hundreds of Chinese PhD students hoping to start their studies here have endured long visa delays.
"The reasons for the delays have not been clearly explained," an embassy spokesman told The Sydney Morning Herald and The Age via email. "We have raised this issue with relevant Australian agencies. We will continue to do that and hope it could be properly addressed."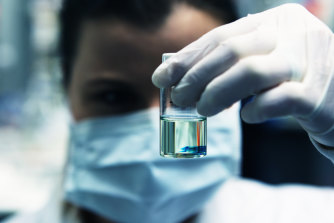 Australian experts have warned about the risk of Chinese researchers' work here being applied in ways that are contrary to Australia's interests when the researchers return home to China, and the United States is increasingly competing with China in the academic sphere.
Against that backdrop a group of about 230 Chinese students, who have connected on social media platforms, said they had been waiting months — and in some cases more than a year — longer than normal for a visa.
*Most of them are studying in the science, technology, engineering, maths and medical fields, with many supported by scholarships.
The delays have prevented them taking up jobs, separated couples and cost some students their scholarships, the students said. Using publicly available visa processing data, the students said Chinese postgraduate students were less likely to get their visas than applicants from other countries.
A spokeswoman for the Department of Home Affairs disputed those claims. "The [students'] analysis … uses incorrect methodologies to draw conclusions from Home Affairs data," the spokeswoman said.
Chinese international students are subject to the same requirements as other students, the spokeswoman said, and applicants are overwhelmingly likely to get their visa. Processing times for Chinese students, which includes undergraduates, are no longer on average than those for other students.
How long students wait depends on a "complexity of assessments in relation to health, character and national security requirements," the spokeswoman said.
Chi Ming, whose long-term girlfriend's visa has been delayed since August, forcing her to reapply for a scholarship, said his partner's life was in limbo while she waited to hear whether she could come to Australia.
RELATED ARTICLE
EXCLUSIVE
"During this waiting period, since you have no idea when the result will be released, you cannot be involved in a long term job," said Chi Ming, who declined to give his real name due to concerns his girlfriend's application might suffer.
Some of the students said they were afraid they were caught in the middle of a geopolitical conflict.
A geologist who has been waiting for more than a year for his visa said he was afraid an element of his work involving natural uranium reactions in stone had been misinterpreted as having nuclear applications.
But, the geologist said, "it's just to count how many fission tracks are in the stone to tell you how old is the stone".
*John Fitzgerald, a China expert at Swinburne University, said Australia was right to carefully scrutinise the research students it allows into the country because the Chinese government selects students to go overseas through its scholarship programs whose research interests align with its priorities.
"It's not just about defence at all, it's also about geo-strategic competition on innovation," Professor Fitzgerald said.
Jia Xu, another student who spoke under a pseudonym and is hoping to study at Monash University, said he appreciated Australia could reject his application for its own reasons. But he is angry the government has provided so little information on the progress of his application, beyond a status in an online account.
"Even though they have the right to reject me, they just let me wait and didn't tell me any reasons," Mr Xu said.
Nick is a journalist for The Sydney Morning Herald.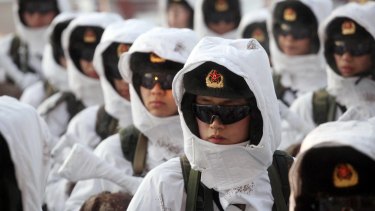 The Chinese People's Liberation Army doing winter drills.CREDIT:AP
SOURCE: https://www.smh.com.au/politics/federal/great-concern-chinese-embassy-hits-out-at-visa-delays-20200118-p53sm9.html
CAAN FACEBOOK:
https://www.facebook.com/Community-Action-Alliance-for-NSW-744190798994541/?ref=aymt_homepage_panel
WEBSITE:
https://caanhousinginequalitywithaussieslockedout.wordpress.com/