HERE's why!
AND from the commentators offering explanations …
IF the developed world stopped allowing people from third world countries to immigrate at will, then those countries might be incentivized to tackle their over population problem. Currently all they do is export it.
-if crushing living standards of locals isn't a strong enough argument to get immigration reduced
-nothing matters except feeding the machine and maximizing profits for the Top End
-how can having migrants from the Third World living First World lifestyles in Australia not be worse for our Environment?
-how is frequent flying sustainable?
-there are three Golden Weeks per year
THIS SWINBURNE UNIVERSITY STUDY compared the carbon footprints of Chinese living in Box Hill against Australian born Box Hill residents … to understand the urban consumption behaviour of China-born C21st migrants (as measured by their ecological footprint) in Box Hill.
BOX HILL is a middle-class middle ring suburb of Melbourne with the greatest concentration of China-born residents
Box Hill is known as the 'Chatswood' of Melbourne or a mini Shanghai!
In Melbourne, Box Hill, Glen Waverley, Mount Waverley is where modest houses were demolished to make way for gigantic McMansions.
Go to Chadstone and rabid consumerism is on full display.
The same could be said for Sydney in Chatswood, Lindfield, Roseville … across Ryde in North Ryde …
Also, a higher proportion of Chinese live in apartments … and as raised by Jago Dodson in his report in fact high-rise urbanism exacts a high carbon price … it cannot be said to be more environmentally friendly!
https://caanhousinginequalitywithaussieslockedout.com/2019/05/21/2011-the-carbon-devil-in-the-detail-on-urban-density/
How can the Chinese be the second lowest paid diaspora when the majority operate in the 'cash economy'? In cafes, markets with signs displayed of 'Cash Only'?
Chinese born migrants have biggest carbon footprints
By Leith van Onselen in Carbon Economy, Immigration
January 15, 2020
EXTRACT …
Australia can only control what happens within its own borders.
And growing the population so fast is unambiguously negative for Australia's environment, water security, liveability, housing affordability, as well as meeting our emissions reduction targets. So why go down this path?
While climate change is a global problem, most commentators (myself included) believe that Australia should act locally. The only difference is that, unlike me, many of these same commentators do not believe that Australia should act locally on population growth, even though it too is a global problem. Spot the contradiction?
There is another problem with their view that it doesn't matter where people live. The fact is that when migrants from developing nations come to Australia, their carbon footprints grow significantly.
A case in point is China, which is now Australia's second largest migrant group, as well as one of the fastest growing: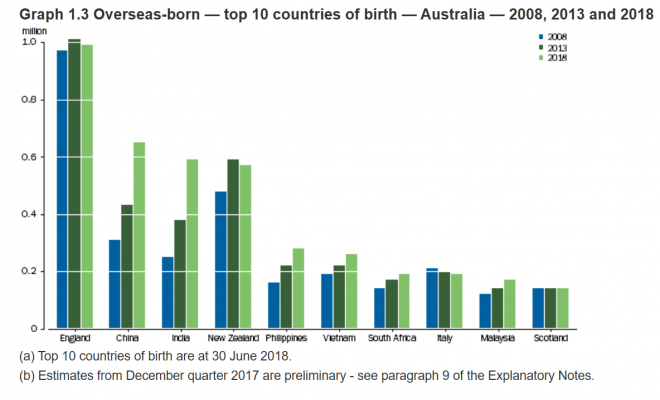 A recent Swinburn University study showed that Chinese-born migrants have giant ecological footprints that dwarfs the Australian-born population:
In 2010, China overtook the United Kingdom as Australia's largest source of permanent migrants (a position now held by India). Since then, China-born migrants have averaged around 15% of the annual intake…
Our findings are based on an extensive face-to-face survey of 61 China-born and 72 Australia-born residents. The main findings were as follows.
Within a decade of arrival in Melbourne, China-born urban consumption patterns were more than three times their consumption before their migration…
It is apparent that consumer acculturation is the major process by which Chinese migrants have come to mirror the host society in Australia. Cultural integration is less evident – it lags consumer acculturation. This was clear from a comparison of scores on a Cultural and Linguistic Difference (CALD) Index.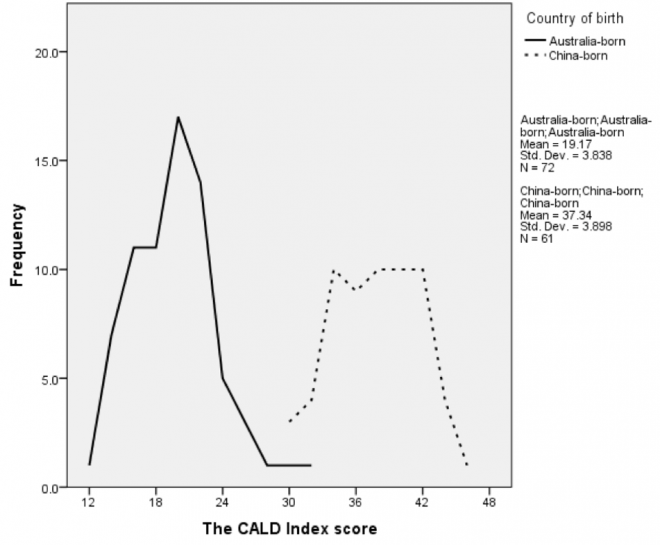 The index incorporated measures of birthplace, English proficiency, religion, food preferences, participation in entertainment and festivals, avenues of social interaction and engagement with neighbourhood communities.
The gap between the China-born and Australia-born groups' scores on the CALD Index was significant (see Figure 1). This suggests a strong cultural influence on the China-born group's urban consumption behaviours is likely…
A comparison of the different components of the ecological footprints of China-born and Australia-born residents was also revealing.
*Housing footprints measuring the size and type of dwelling occupied by the China-born residents were 18% larger overall.
This may be due to the role housing plays in reflecting an attained status (mien-tzu, or "to save face") within the host society.
*Consumption levels that outstrip those of Australia-born residents indicate the potential danger of housing consumption being used to indicate "successful" settlement in Australia.
*Food footprints of the China-born were 16% larger than the Australia-born. This reflected higher consumption of meat and dairy products and lower consumption of home-grown vegetables. Carbon footprints of the China-born were 37% bigger, mainly as a result of more frequent overseas travel.
Thus, while Australia's mass immigration program is unambiguously hampering its ability to meet the Paris Agreement emissions reduction targets, it could also be raising Australia's per capita emissions (other things equal).
*As an aside, the glutenous consumption and high carbon footprint of Chinese-born migrants comes despite them being the second lowest paid diaspora, earning considerably less than the Australian-born population, according to the ABS: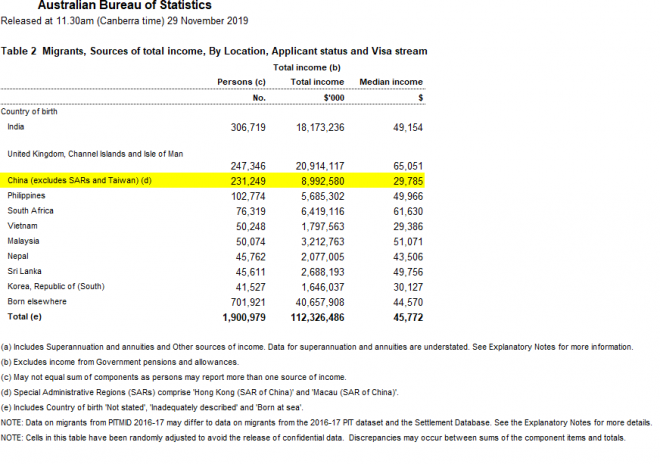 In any event, it is a bad result for Australia and the world.
Photo: ABC: © Provided by Australian Broadcasting Corporation Some people say the streets in Box Hill are comparable to those in cities like Shanghai. (ABC News: Kai Feng)
Leith van Onselen is Chief Economist at the MB Fund and MB Super. Leith has previously worked at the Australian Treasury, Victorian Treasury and Goldman Sachs.
SOURCE: https://www.macrobusiness.com.au/2020/01/chinese-born-migrants-have-biggest-carbon-footprints/
CAAN FACEBOOK:
https://www.facebook.com/Community-Action-Alliance-for-NSW-744190798994541/?ref=aymt_homepage_panel
WEBSITE:
https://caanhousinginequalitywithaussieslockedout.wordpress.com/