*CAAN will talk about what it seems cannot be talked about … *
REMEMBER the Scomo Coalition ran fear and lies campaigns before the May 2019 Election about negative gearing and capital gains?
*WHAT the Scomo Coalition did not share with you … was that they EXEMPTED the Real Estate Gatekeepers from the second tranche of the ANTI-MONEY LAUNDERING LAWS in OCTOBER 2018
*AND Temp Visa Holders can buy Aussie Domestic Housing to gain a 'Permanent Resident Visa' with MEDICARE Benefits thrown in!
-1,700 (Sydney) and 2,300 (Melbourne) population increase each week
-developers can sell 100% of 'new homes' to foreign buyers (FIRB Ruling)
-led to the creation of the high-rise Precinct boom for foreign buyers
'HOT MONEY' = HOUSE PRICE BUBBLE
SEARCH CAAN WEBSITE FOR THE FACTS
SHARE! AND TELL OTHERS …
Photo: Also View Website for 'First-Home Buyers use Govt Deposit Schyeme to pay Thousands in extra interest!
First home buyers locked-out again as bubble returns
JANUARY 13 2020
By Leith van Onselen in Australian Property
With Australian dwelling values rising at the fastest quarterly rate in a decade, according to CoreLogic, driven by Sydney and Melbourne: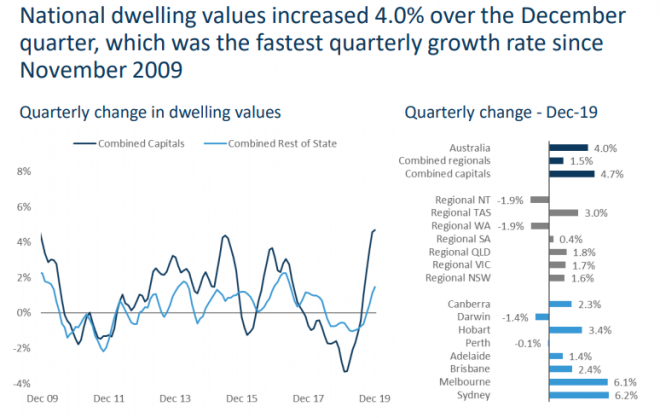 The ABC's Michael Janda …
… has penned an article lamenting that first home buyers (FHBs) are again being shut-out of Australian housing:
*While Sydney and Melbourne, as well as the national average, are still below their 2017 peaks, at the current pace of growth those record price levels are set to be broken by March this year.

Data on vendor asking prices for houses from SQM Research also has them back around record levels, with Sydney again above $1.3 million and Melbourne above $1 million…

These prospective buyers have been hit with a triple whammy of factors good for those who already own property, but bad for those wanting to buy — lower interest rates, looser mortgage lending restrictions and the retention of negative gearing and the 50 per cent capital gains tax discount…

In the end, it is only a fall in property prices relative to incomes that will genuinely improve long-term housing affordability for first home buyers.

That is only likely to happen through an increase in the number of properties for sale and/or a reduction in the number of existing property owners buying more real estate.

Basically, until you make it less attractive for existing owners to buy more property, or even give them a reason to dump some of their current holdings, first home buyers are not going to see a genuine improvement in affordability.

One of the most logical ways to achieve this is to remove the tax breaks that currently make it feasible and attractive for investors to buy and hold loss-making properties in the hope of future capital gains.

But such changes to negative gearing or capital gains tax look further off than ever after May's election result.
Michael Janda's sentiments are justified. But like most of his ilk, he has failed to mention that Sydney's and Melbourne's explosive population growth, driven by mass immigration, is making the affordability situation much worse: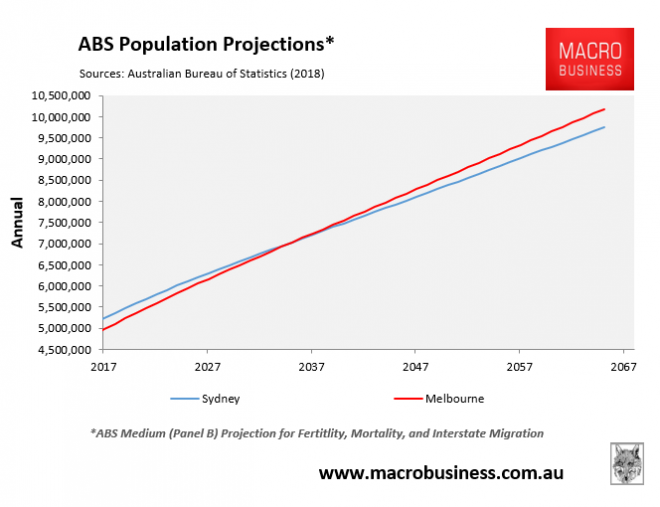 Sydney's and Melbourne's populations are growing by between 1,700 (Sydney) and 2,300 (Melbourne) people each week. And this manic growth is projected to continue indefinitely, with both cities' populations to double to around 10 million people each by 2066.
This permanent demand shock created by the mass immigration means that continuous upward pressure will remain on dwelling values, crushing affordability and forcing future generations to live in shoebox apartments.
If you don't like this situation, Michael Janda, perhaps you should start lobbying against a 'Big Australia', rather than focussing purely on tax distortions.
Leith van Onselen is Chief Economist at the MB Fund and MB Super. Leith has previously worked at the Australian Treasury, Victorian Treasury and Goldman Sachs.
Sydney prices are expected to keep growing despite already being expensive. realestate.com.au
SOURCE: https://www.macrobusiness.com.au/2020/01/first-home-buyers-locked-out-again-as-bubble-returns/
CAAN FACEBOOK:
https://www.facebook.com/Community-Action-Alliance-for-NSW-744190798994541/?ref=aymt_homepage_panel
WEBSITE:
https://caanhousinginequalitywithaussieslockedout.wordpress.com/