Certifier accused of letting people live in tower while 'still a building site'

January 13, 2020
A prolific building certifier is fighting to save his career after allegations he allowed people to move into two Sydney apartment towers while they were "still a building site".
Valerio "Vic" Lilli is challenging the Building Professionals Board's decision to reprimand him and strip him of his accreditation for five years for signing off on the "Atmosphere" buildings at Castle Hill.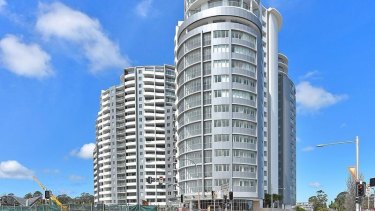 Developer Toplace was behind the $86 million project, which has seen the construction of 378 apartments spread across two towers neighbouring Castle Towers shopping centre.
Toplace is headed by colourful property developer Jean Nassif, who became an internet sensation over a video in which he is heard to say, "Congratulations Ms Nassif. You like?" as he gifts his wife a yellow Lamborghini. Toplace and Mr Nassif are not accused of any wrongdoing.Advertisement
The Building Professionals Board has alleged the private certifier employed by Toplace, Mr Lilli, issued a final occupation certificate allowing people to move into the towers while they were a building site in 2018, posing a "hazard" to residents.
In the decision handed down in November, Mr Lilli was also accused of signing an earlier interim occupation certificate when the buildings were not "suitable for occupation".
This was due to blocked emergency exits, missing firefighting equipment and "no evidence" the buildings met requirements for fire safety, cladding, insulation, water and gas supply, the board alleged.
Mr Lilli, 57, strenuously denies the allegations and has lodged an appeal with the NSW Civil and Administrative Tribunal, which will be heard in April.
Mr Lilli asked the tribunal to put the disciplinary action against him on hold in the meantime, and to allow him to continue certifying buildings subject to an internal peer review by other certifiers working for his business, Vic Lilli & Partners.
The business has completed about 2000 projects across NSW in the past five years, while Mr Lilli is currently personally appointed the certifier on about 400 matters.
Mr Lilli said the revocation of his accreditation would force him to "almost immediately" close down the business and sack his 11 employees.
He argued the five-year cancellation period was "extremely harsh", would make it "impossible" to re-establish the business and he would "cease to have a livelihood". Mr Lilli was also concerned about "irreparable" damage to his reputation.
"The goodwill of my business has been developed by me over the last 20 years," he told the tribunal.
The Building Professionals Board argued the full penalty should be put into effect immediately, warning that to grant Mr Lilli a temporary reprieve would not be in the public interest and would undermine confidence in the certification process.
The tribunal agreed to put the cancellation of Mr Lilli's accreditation on hold. But it would not allow Mr Lilli to continue doing the type of certification work under investigation, ordering that he must hand the responsibility over to other accredited certifiers working for him.
The tribunal accepted that Mr Lilli would suffer loss as a result but found ensuring public safety "outweighs the financial consequences for Mr Lilli or his business".
"On the limited material available … it is difficult to determine the strength of Mr Lilli's case," the tribunal noted.
It is not Mr Lilli's first run in with the Building Professionals Board over his certification work. In September 2018, the board reprimanded Mr Lilli and fined him $25,000 for issuing a construction certificate for a Summer Hill boarding house after building work had already commenced. The fine was reduced to $20,000 on appeal.
In 2015, Mr Lilli was reprimanded and fined $2000 for issuing a construction certificate and occupation certificate for a property at Towradgi, near Wollongong, without ensuring the storm water requirements were met.
In 2010, he was reprimanded and fined $2000 for signing off on property at Yowie Bay, in southern Sydney, which exceeded height limits.
Mr Lilli could not be reached for comment.
SOURCE: https://www.smh.com.au/national/nsw/certifier-accused-of-letting-people-live-in-tower-while-still-a-building-site-20200103-p53ojk.html