Harris Scarfe in Rundle Mall, Adelaide. Picture: Kelly Barnes/AAPSource:AAP
STRANGE … isn't it that despite the population growth we are not doin' so well …
IN HOBART Harris Scarfe … still hanging in there … but for how long is anyone's guess it's located in a mall and now not only has to compete in the immediate area with Target but with foreigner H & M ... THREE stores selling the same budget range of goods … what is it with the Shopping Mall developer/managers? How is that helpful?
OH, and of course the rents! That's what is putting a lot of shops out of business …
TASMANIANS are enduring even tougher times with the huge influx of Chinese money launderers and Air-B & B … homelessness has increased in Tasmania … gee … and Wages are low …
BARDOT … 530 people to lose jobs … where will they go? Centrelink?
EB Games … back 20-odd years ago that was an amazing business … our kids frequented this store for video games … the Games Industry too was shut down by the Rarebit …
HOW many are buying on line with low wages growth?
OH … and the high rents … the greedy proprietors rather than discount force businesses out … they'd rather have an emptying mall …
INDEED … we are f..ked … by the best economic managers …
Retail recession drives torrent of store closures
By Leith van Onselen in Australian Economy
JANUARY 10 2020
The retail recession afflicting Australia has been well documented.
Retail sales volumes registered their first annual decline since the early-1990s recession in the September quarter: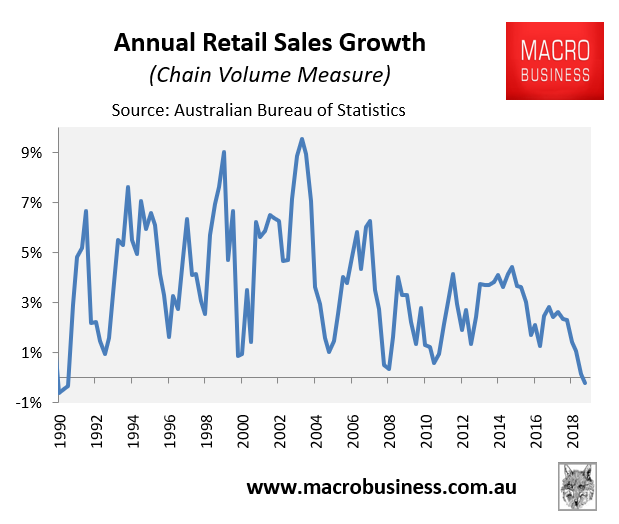 Whereas household consumption spending growth slowed to just 1.2% in the year to September – the lowest level since the Global Financial Crisis: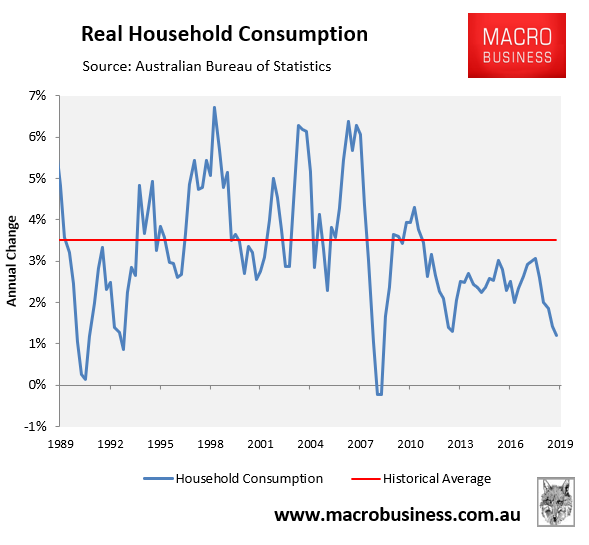 Now the retail closures are piling up, with Harris Scarfe this week announcing 21 store closures across five states after recently being placed in receivership:
Harris Scarfe has been a staple of Rundle Mall for decades.Source:News Limited
Twenty one Harris Scarfe stores across five states will close over the next four weeks after the retailer was placed in receivership in December.

The administrators say 44 stores will continue to trade with the group offered for sale…

The stores to close are in Western Australia, Queensland, NSW, Victoria and South Australia and include the flagship Rundle Mall store in Adelaide.
Fashion retailer Bardot also announced the closure of 58 stores, with 530 staff to lose jobs:
PHOTO: The Bardot store at Westfield Penrith, NSW is one of 58 closing across the country. (Supplied: Westfield)
Women's fashion retailer Bardot will shut the vast majority of its stores over the next two months, with 530 workers to lose their jobs

Bardot will drastically shrink its store network by shutting 58 stores. Only 14 stores will remain open, confined to New South Wales and Victoria.

Fifty-six stores are scheduled to close by March. Two stores — in Hobart and Knox, Victoria — already shut in early December.

The fashion chain entered administration in November, one of a slew of retailers to do so last year as conditions in the sector deteriorated.
Whereas gaming retailer EB Games has announced the closure of 19 stores with more in trouble:
EB Games, Australia's largest game chain store, is closing several locations around Australia. In a statement given to Kotaku Australia, the retailer has said that 19 unprofitable stores around the country are closing; however, 20 stores have disappeared from their online store locator…

EB Games is the Australian subsidiary of major US retailer Gamestop. Their parent company has fallen on hard times itself, and had to layoff over 100 employees in 2019, but there's a plan in place to turn things around.
Expect many more bricks-and-mortar retail closures in 2020 as consumer weakness converges with the shift to online and digital purchases.
Leith van Onselen is Chief Economist at the MB Fund and MB Super. Leith has previously worked at the Australian Treasury, Victorian Treasury and Goldman Sachs.
SOURCE: https://www.macrobusiness.com.au/2020/01/retail-recession-drives-torrent-of-store-closures/#comments
CAAN FACEBOOK:
https://www.facebook.com/Community-Action-Alliance-for-NSW-744190798994541/?ref=aymt_homepage_panel
WEBSITE:
https://caanhousinginequalitywithaussieslockedout.wordpress.com/