Craig Kelly was slammed by the hosts of Good Morning Britain.Photo: Twitter
AUSTRALIA's putrid politics … can it be any uglier? 
MORE about this MP … so you can see where he is coming from … what's in it for him ?
–Chinese gas deal: National security concerns could be eased if it invests in local market, argues Liberal MP
September 2018
Federal LNP MP Craig Kelly DESPITE conceding the national security concerns being raised were well founded has suggested that if Australia sells off our gas pipelines to the Chinese it will enable expansion… BIZARRE!
Of course the Chinese would like to gain control of our gas resources … they have our Ports!
https://caanhousinginequalitywithaussieslockedout.com/2018/09/25/2119/
–The Liberals Religious Right
September 2018
These days Washer's old environment committee is run by Craig Kelly, a Christian conservative, climate sceptic and coal advocate with no scientific background. The seat Washer used to represent, Moore, is now held by Ian Goodenough, a pillar of Globalheart, a Pentecostal church that has deeply infiltrated the Liberal Party in the west.
https://caanhousinginequalitywithaussieslockedout.com/2018/09/15/1771/
–SCOMO's Fixer offered Craig Kelly's challenger a $350,000 Party job to drop out … PART 1
Liberal MP Craig Kelly was saved from a humiliating preselection defeat by the PM's intervention.
https://caanhousinginequalitywithaussieslockedout.com/2018/12/28/6266/
–LABOR asks AFP to investigate $350,000 job offer to Craig Kelly preselection Challenger … PART 2
The Sydney Morning Herald and The Age revealed on Thursday that Mr Briggs had offered Sutherland Shire councillor Kent Johns a $350,000 job for six months' work as the Liberals' federal campaign director in NSW, on the understanding he would withdraw from the contest against Mr Kelly.
Labor senator Don Farrell, the shadow special minister of state, wrote to AFP Commissioner Andrew Colvin on Friday asking him to investigate the matter "to protect the integrity of our democracy", arguing the job offer could be considered a bribe. …
Mr Briggs acknowledged Mr Kelly could "bring down the government" if he did not get his way, and that Mr Kelly "holds the power".
https://caanhousinginequalitywithaussieslockedout.com/2018/12/28/6271/
–Liberal MP Craig Kelly wants Family Home included in Pension Asset Test
July 2019
LABOR has demanded the Prime Minister rule out including the family home in the pension test or delaying the super guarantee after Liberal MP Craig Kelly called for a fresh debate.
https://caanhousinginequalitywithaussieslockedout.com/2019/07/24/liberal-mp-craig-kelly-wants-family-home-included-in-pension-asset-test/
'Climate denier' MP Craig Kelly roasted on British TV
Craig Kelly was slammed by the hosts of Good Morning Britain.Photo: Twitter
Senior Liberal MP Craig Kelly has come under fire over his climate denial in a trainwreck interview on morning television in the UK.
As deadly fires continue burning across the south and east of Australia, Mr Kelly was fronting Good Morning Britain to defend the Prime Minister and his own comments about climate change, oil and coal.
It comes after Mr Kelly told the BBC on Saturday that fires were a result of "drying" of the environment but that Australian scientists had disproved any link between climate change and drought.
Read Tuesday morning's bushfire latest here
While Scott Morrison has stressed in recent days there is "no dispute" about the impact of global warming, Mr Kelly has doubled down on his comments while under questioning from Good Morning Britain hosts, saying the bushfire crisis was due to a lack of hazard reduction burning.
The backbencher was called a "disgrace" and told to "wake up".
"To try to make out as some politicians have to hijack this debate, exploit this tragedy and push their ideological barrow, that somehow or another the Australian government could have done something by reducing its carbon emissions that would have reduced these bushfires is just complete nonsense," Mr Kelly hit back.
Craig Kelly MP defends Australian Prime Minister Scott Morrison's response to the wildfire crisis and says there isn't a link between climate change and bushfires.@piersmorgan | @susannareid100 | #GMB1,5258:24 PM – Jan 6, 2020Twitter Ads info and privacy1,541 people are talking about this
The show's weather presenter Laura Tobin slammed Mr Kelly as "not a climate sceptic" but a "climate denier".
"Australia have just had in 2019 their highest year temperature-wise ever recorded and their driest year ever record with forecast temperatures that go back over 100 years," Tobin said.
"At the moment we want everyone to commit in the world to be one-and-a-half degrees to lower our global temperature rise. You can't even commit to two degrees.
Laura Tobin takes on climate change sceptic and Australian MP Craig Kelly, who believes global warming was not the cause of the Australian bushfires.

Watch here – http://bit.ly/2tBXEQA @Lauratobin1 #Australia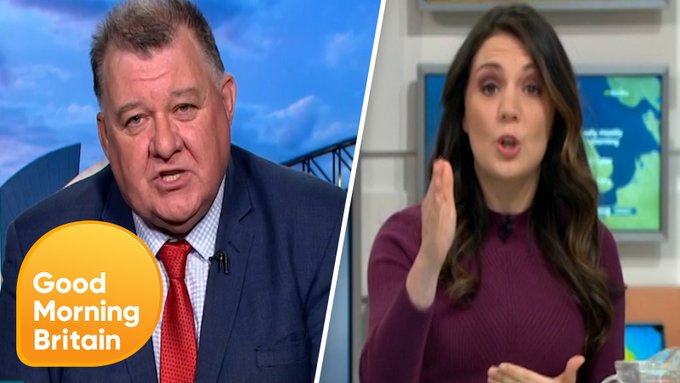 904:30 AM – Jan 7, 2020Twitter Ads info and privacy50 people are talking about this
"You have the second-highest carbon emission per person on Earth and you are burying your head in the sand … this is a climate emergency."
Defending the PM's controversial Hawaii holiday, Mr Kelly said, "The only thing the national leader can actually do on this is basically wait until he gets response from those state premiers asking more resources".
"Any time one of those state premiers has come forward and said we need something, the Prime Minister has done that – he's shown leadership."
Host Piers Morgan hit back, describing Mr Morrison's disaster response as a "dereliction of his duty as leader of Australia".
"The truth is, he was absent when the fires were burning. Scott Morrison thought the right response to these fires erupting in Australia was to go lie on the beach in Hawaii," Morgan said.
SOURCE: https://thenewdaily.com.au/news/national/2020/01/07/craig-kelly-piers-morgan-climate-denial/
CAAN FACEBOOK:
https://www.facebook.com/Community-Action-Alliance-for-NSW-744190798994541/?ref=aymt_homepage_panel
WEBSITE:
https://caanhousinginequalitywithaussieslockedout.wordpress.com/