Greater Sydney Commission boss and former Sydney lord mayor Lucy Turnbull.CREDIT:LOUISE KENNERLEY
THE ANSWER IS SIMPLE … Instead of running around with the same old chooks with their heads cut off, halve immigration and take the pressure off everything …
HAS Lucy Turnbull left the office to view Leppington? Because here is an update for Mrs T from a Commentator:
'It draws plenty of traffic from massive developments at Austral to the north and south of Camden Valley Way. It won't be long until the station is more than fully utilised.

Further, why would anybody … look to make Olympic Park a major residential centre? It is a peninsular so is inherently transit restricted (ask the Commonwealth Bank who are bailing from the district to go to Redfern because staff hate working there).

Learn from the cluster that is Rhodes before you repeat the mistake all over again (but with the added challenge of hosting major events multiple times a year)'
At CAAN we agree! Already Ryde Road is in gridlock for much of the day. The Parramatta River is tidal so the ferries cannot run 24/7, and Sydney Olympic Park is already largely redeveloped!
Yes, GREEN SQUARE is choking … back in December 2018 …
'When News Local visited the station last week, it was standing room only on the trains, with some passengers unable to board. … Mr Hoenig said development had got out of control with little thought for the supporting infrastructure. Green Square is nowhere near finished. "There are hundreds more buildings yet to be finished and tens of thousands more residents to come, some in the very near future."
View: Mirvac is squeezing in another 316 apartments and terraces … into Green Square!
https://theurbandeveloper.com/articles/mirvac-landcom-win-approval-for-four-apartment-towers-in-green-square
Urban wrecking ball, Lucy Turnbull, swings again
23 DECEMBER 2019
By David Llewellyn-Smith in Australian Economy
She is the human wrecking ball for the former Eden turned smoking crater called Sydney:
Greater Sydney Commission boss Lucy Turnbull has warned governments must avoid the mistakes of Green Square and Leppington in a massive redevelopment of Parramatta and Olympic Park over the coming decade.

The commission has developed a draft "Place-based Infrastructure Compact" for the area, which it describes as a world-leading attempt to unite 20 government agencies and align population growth with infrastructure and service delivery.

The GSC estimates the Parramatta and Olympic Park precinct could add up to 95,000 new dwellings and 122,000 new jobs by 2036 under what it calls a "visionary" growth scenario.

Speaking to The Sun-Herald after feedback on the plan closed, Ms Turnbull said the area needed to avoid the pitfalls of Green Square, where homes had come before infrastructure, and Leppington in the south-west, which had trains but no residents.

"Our core mantra is to align infrastructure and growth," she said.
Passengers were standing throughout the carriages, including on the stairs, when we visited the station last week. December 2018: News Local
Oh genius. How much is Turnbull paid to offer this gem after fifteen years of failed development and crush-loading?
Why should the public have any faith in Turnbull or the Growth Lobby or the planning authorities?
To wit, another hairbrained scheme: 'Multiple Sydney Harbours Plan to drought proof NSW with lakes'
https://www.smh.com.au/politics/nsw/multiple-sydney-harbours-plan-to-drought-proof-nsw-with-lakes-20191217-p53knb.html
Are you suspicious?
Could this be very convenient for the Mining Sector and the Developer Lobby?  To boost population growth in Newcastle?
And it would save Miners huge sums for rehabilitation of the sites ….
Is this an exercise in playing wedge politics with both the pro and anti coal groups?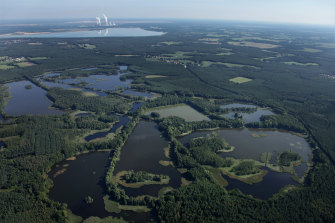 The Upper Lusatian Biosphere Reserve in Germany has been created from disused coal mines.CREDIT:GETTY IMAGES
The Berejiklian government is investigating an ambitious plan to convert open-cut coal mine pits into a vast lake system the size of "multiple Sydney Harbours" to drought-proof parts of NSW.
Three pits in the Hunter Valley are ready to be turned into artificial lakes and, as more mining operations end over the next 10 to 20 years, more voids will become available.
The proposal is modelled on Europe's largest artificial lake system in eastern Germany, where old coal mine pits have been turned into recreational lakes, with cycling paths and watersports.
…."This project can be the modern day Snowy River hydro scheme underpinning economic, social and environmental progress for northern NSW," he said.
…One key concern of the government is understood to be the higher evaporation rates in NSW than in the lakes system in Germany.
I don't want to say that it won't work. I hope it does. But it's hardly an answer when Sydney is going run out of water in a year.
How did it ever come to that?
The first principle answer is simple: stop doing harm. Instead of running around with the same old chooks with their heads cut off, halve immigration and take the pressure off everything.
David Llewellyn-Smith is Chief Strategist at the MB Fund and MB Super. David is the founding publisher and editor of MacroBusiness and was the founding publisher and global economy editor of The Diplomat, the Asia Pacific's leading geo-politics and economics portal.
He is also a former gold trader and economic commentator at The Sydney Morning Herald, The Age, the ABC and Business Spectator. He is the co-author of The Great Crash of 2008 with Ross Garnaut and was the editor of the second Garnaut Climate Change Review.
SOURCE: https://www.macrobusiness.com.au/2019/12/urban-wrecking-ball-lucy-turnbull-swings-again/
CAAN FACEBOOK:
https://www.facebook.com/Community-Action-Alliance-for-NSW-744190798994541/?ref=aymt_homepage_panel
WEBSITE:
https://caanhousinginequalitywithaussieslockedout.wordpress.com/