OPPORTUNITY knocks in Wahroonga, Parramatta, Burwood, and the Sydney CBD … for Churches acting like HOUSING Developer Corporations …
-privatising the benefits of assets subsidised by the public through favourable tax arrangements
-with little, if any, regard for the rights and amenity of their congregation residing in low-rise low density residential areas
DESPITE the Seventh-Day Adventist Church protestations …
-churches may be exempt from local infrastructure contributions levied by councils for projects such as 'affordable housing', childcare facilities and libraries
.will the church be eligible for this exemption if it provides as little as 5% or 10% of 'affordable housing'?
.despite a whole cohort of Australians locked out of the housing market
.190,000 on the Public Housing Waiting List
.more than 116,000 HOMELESS People in Australia
.will up to 95% of the 'new homes' be sold to foreign buyers particularly from China as has been the practice? All members of the CCP!
.to support the growth of Global SYNDEY … and its Casino industry …
SEARCH CAAN's Website to find out more concerning the involvement of the Catholic Church in high-rise residential development … and housing estate in Wilton …
'A beacon of hope': How property development became God's work

Churches are embarking on large-scale residential and office developments across Sydney worth hundreds of millions of dollars, prompting questions about whether religious organisations are paying their fair share of taxes and other property levies.
The churches say their wheeling and dealing in real estate is designed to provide community services such as affordable housing and minister to their congregations.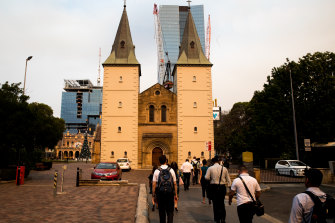 But projects such as a residential development proposed by the Seventh-day Adventist Church in Wahroonga have provoked opposition from residents and church members.
The NSW Greens planning spokesman Jamie Parker said churches were behaving more like corporations than charities when it came to redeveloping property.

"They are privatising the benefits of assets that have been subsidised by the public for decades through favourable tax arrangements," he said.
"The public expects that church properties should be used for good works, not inappropriate overdevelopments."
The Anglican Church plans to build a 46-storey commercial tower and eight-storey residential building next to St John's Anglican Cathedral in Parramatta at an estimated cost of $400 million.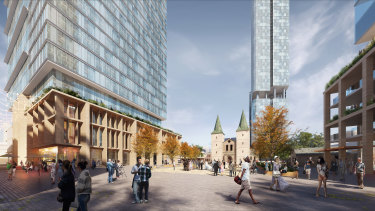 Bruce Morrison, the Cathedral's senior minister, said the project also includes a civic square that will create a new setting for the historic cathedral.
"We will have new parish facilities in the podium of the new northern building and the tower will be set back from the edge of the building," he said.
Mr Morrison said existing facilities were inadequate for the growing and diverse church congregation.
However, the plan also includes demolishing a heritage-listed church hall, which has triggered concerns from the National Trust.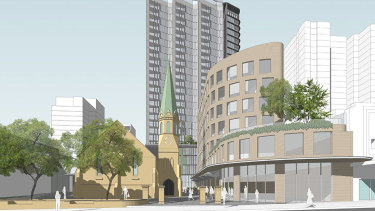 The Uniting Church has unveiled a $108 million development proposal for three buildings, including a 27-storey tower, in Burwood.
A church spokesman said the development would also include a seven-storey residential building for student and affordable housing, with shops on the ground floor and a new church hall.
"The Spire redevelopment will help the Uniting Church to continue to be a beacon of hope," he said.
The Catholic Archdiocese of Sydney submitted plans last year for a 70-storey residential tower in Sydney's CBD, but a spokesman said there were no plans for the building in "the short or medium term".
The Seventh-day Adventist Church's plan to build apartment towers around the Wahroonga Adventist School has also proven contentious, with church members, Ku-ring-gai council and parents raising concerns about the residential development.
The Independent Planning Commission, which will decide the fate of the proposal, was told the apartment buildings would have a "destructive" impact on the school at a public meeting last month.
One resident, Avona Butterfield, raised concerns about the bushfire risks posed by the proposal.
"We do not need bulky blocks of units which are visually toxic and incompatible with our zoned low rise, low density area," she said.
RELATED ARTICLE
A church spokeswoman said the plans had been amended in response to community concerns, with "deep consideration" given to privacy, security and access to sunlight for students and future apartment residents.
"It is also important to note that land in the Wahroonga Estate is not tax exempt," she said. "We are paying rates and taxes on the land as per the relevant zonings."
The Department of Planning, Industry and Environment said in September the project was acceptable.
A DPIE spokesman said planning authorities considered the impacts of a development when assessing projects, not the identity of the developer.
RELATED ARTICLE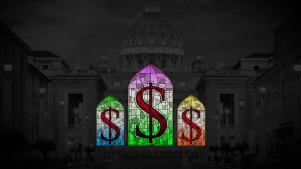 *Yet churches may be exempt from local infrastructure contributions levied by councils for projects such as affordable housing, childcare facilities and libraries – commercial developments are generally not exempt.
*Some charitable and religious institutions are also eligible to receive a land tax exemption.
*Tom Forrest, the chief executive of developer's lobby group the Urban Taskforce, said all developers involved in commercial projects should be subject to the same tax arrangements.
*Mr Parker said the money raised by churches from selling off or developing land should be used to deliver community services and compensate survivors of clerical abuse.
*"It is one thing for a charitable development to get a tax concession, but many of these developments are large mixed-use projects with a minority of the project having a charitable aim while the whole lot gets tax-free status," he said.
Former Brisbane Lord Mayor Jim Soorley told The Courier-Mail in 2014 that all churches should pay rates and taxes, with some of the money raised directed to victims of child abuse by the clergy.
Mr Parker said: "Church attendance has been in decline since the 1960s and given the cover-ups of child rape and abuse that have occurred recently, a growing number of people believe that the tax system should treat churches the same as it does every other business and citizen."
Andrew Taylor is a Senior Reporter for The Sydney Morning Herald.
SOURCE: https://www.smh.com.au/national/nsw/a-beacon-of-hope-how-property-development-became-god-s-work-20191206-p53hk2.html
CAAN FACEBOOK:
https://www.facebook.com/Community-Action-Alliance-for-NSW-744190798994541/?ref=aymt_homepage_panel
WEBSITE:
https://caanhousinginequalitywithaussieslockedout.wordpress.com/