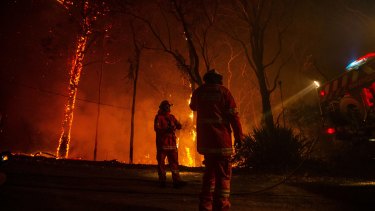 Bushfires are impacting properties across NSW and raise issues for travel startups. CREDIT:WOLTER PEETERS
'I honestly don't know how Millennials don't burst spontaeously into flames of rage'
Nor do we!
Please share the Facts with your Millennials …
SEARCH CAAN Website to learn more about Visa Manipulation, Developers and the Housing Ponzi Scheme, Black Money, Hot Money, AML LAWS and the Real Estate Gatekeepers exempted, Harry Triguboff and Meriton …
Millennial inferno: Tiny homes trailor trash bushfire risk
By David Llewellyn-Smith in Australian Property, Carbon Economy
18 DECEMBER 2019
I honestly don't know how Millennials don't burst spontaeously into flames of rage, via Domain:
With properties hidden away off the grid in remote locations, popular travel startups based out of tiny houses are keeping a careful eye on bushfires.
Mr Mullins says a new plan is needed to determine how state and territories share resources to fight bushfires.CREDIT:NICK MOIR
Startups including Unyoked and Shacky advertise themselves as enabling users to get "easy access to the wild" and promise "getting lost in nature becomes as natural as getting stuck in traffic".
Brothers Chris and Cam Grant with one of their tiny houses.
Unyoked raised $1.2 million earlier this year and operates nine cabins across NSW in "secret" locations that are not disclosed to guests until they book.

The startup's cabins are a tiny house of one room with a gas burner, a bed, a small fridge, a composting toilet, a hot shower and solar power. There is no Wi-Fi or television.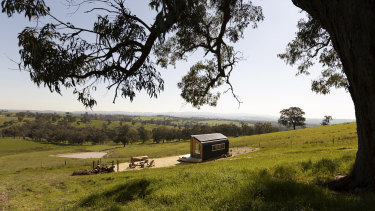 One of travel startup Shacky's tiny houses in Victoria.
Why burn to death when you can roast instead:
Starting at $20,000 I'll be auctioning off this unique and innovative Tiny House shell via Ebay ending on the 25th of June.

This is the second fire resistant house which I have designed and constructed. I have adapted the BAL29 regs and added my own unique 'farmpunk' style. This house is exceptionally strong and well sealed to help it survive all weather and fire events.

Exceptional thermal efficiency; thick walls, argon filled windows and hand crafted doors make it an excellent heat trap. Ive added removable eves and shutters to keep out summer sun so this will be comfortable to live in all year round.

More sustainable than other houses, this Tiny boosts reclaimed materials, salvaged materials, heavily reduced carbon outputs and timber framing which was milled from fire damaged trees.
These caravans should be piled up and burned on the doorstep of parliament house.
David Llewellyn-Smith is Chief Strategist at the MB Fund and MB Super. David is the founding publisher and editor of MacroBusiness and was the founding publisher and global economy editor of The Diplomat, the Asia Pacific's leading geo-politics and economics portal.
He is also a former gold trader and economic commentator at The Sydney Morning Herald, The Age, the ABC and Business Spectator. He is the co-author of The Great Crash of 2008 with Ross Garnaut and was the editor of the second Garnaut Climate Change Review.
SOURCE: https://www.macrobusiness.com.au/2019/12/millennial-inferno-tiny-homes-trailor-trash-bushfire-tinder/
CAAN FACEBOOK:
https://www.facebook.com/Community-Action-Alliance-for-NSW-744190798994541/?ref=aymt_homepage_panel
WEBSITE:
https://caanhousinginequalitywithaussieslockedout.wordpress.com/